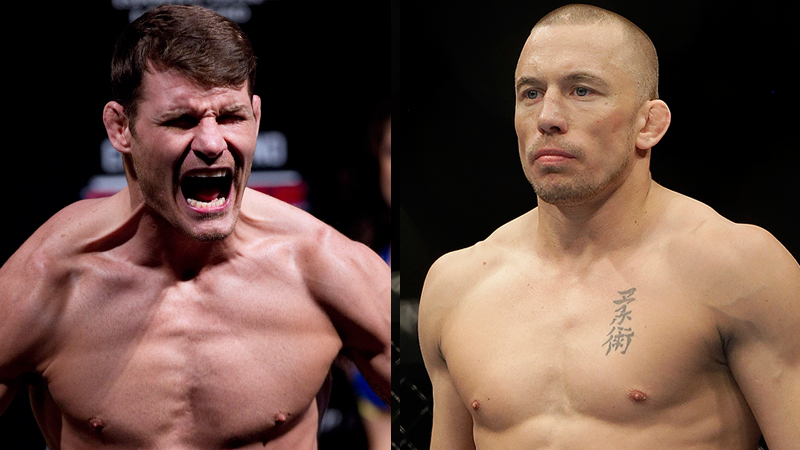 Georges St. Pierre, of Canada, waits to begin a UFC 167 mixed martial arts championship welterweight bout against Johny Hendricks on Saturday, Nov. 16, 2013, in Las Vegas. St. Pierre won by split decision. (AP Photo/Isaac Brekken)
British fighter Michael Bisping gestures during his weigh-in for the Ultimate Fighting Championship, UFC, in Sao Paulo, Brazil, Friday, Jan. 18, 2013. Bisping will compete in UFC in Sao Paulo on Jan. 19. (AP Photo/Andre Penner)
UFC middleweight champion and SiriusXM host Michael Bisping isn't taking George St-Pierre lightly, but he's certainly confident that he'll come away with the win.
The main reasons why? He's been keeping busy while St-Pierre is coming off a three-year layoff. That, and he doesn't think St-Pierre possesses Bisping's mentality when it comes to fighting.
"He's an athlete and he's a martial artist, but I don't think he's a fighter, and that's why he stepped away from the sport," Bisping said. "You've got to be athletic, you've got to have the technique and martial arts, but you've got to have that willpower and that heart of a fighter and champion. Of course, he's got that to a certain degree but there's a reason why he stepped away."
Listen to more of the conversation here, and listen to SiriusXM RUSH, Ch. 93.
Photo Credit: AP Images/Isaac Brekken & Andre Penner
---
---