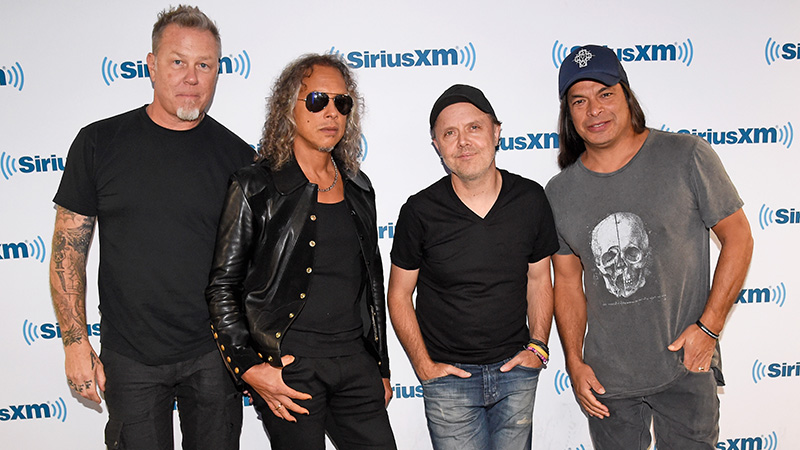 James Hetfield, Kirk Hammett, Lars Ulrich, and Robert Trujillo of Metallica attend SiriusXM's Town Hall with Metallica to air on The Band's SiriusXM Channel Mandatory Metallica at SiriusXM Studios on September 26, 2016 in New York City. (Photo by Kevin Mazur/Getty Images for SiriusXM)
Metallica is known for taking their time between albums, but after an eight-year album drought, fans were understandably chomping at the bit for a new release. During Metallica's Town Hall at the SiriusXM studios in New York, both fans and host David Fricke wanted to know: 'What took so long to make Hardwired… to Self-Destruct?'
According to Lars Ulrich, the wait was easy to explain.
In the time since their last album, 2008's Death Magnetic, the band collaborated with Lou Reed on what would be his final album, they toured relentlessly, released their 3D concert film Metallica: Through the Never, played a concert in Antarctica and popped out a few kids along the way.
The landscape of the band had significantly changed since they last recorded an album, so for the upcoming effort, they decided to keep it in the family and record at home. But what they learned is that once family becomes the priority, the recording process changes drastically.
"When you're at home you have distractions, but I'd like to say that they're good distractions and positive distractions in terms of your domestic responsibilities and dealing with the kids and the families and all that kind of stuff," Ulrich explained. "So the hardest thing is making the time, like if James and I are working on something it's like, 'S**t, three o'clock, I gotta go for school pick-up.' Back in the day the music and the band would trump everything, now the family trumps everything."
Hardwired… to Self-Destruct is set to release on Nov. 18, ending longest album dry-spell of the group's 35-year career. After releasing four albums in five years in the 1980s, the heavy metal legends slowed down their schedule considerably, releasing just five albums since 1991. Bassist Robert Trujillo joined the group in 2003, but Hardwired… to Self-Destruct is only the second project he's played on.
"It's interesting, on this current cycle we had a lot of creative excursions, which I think are important," Trujillo said, pointing out that five children were born into the Metallica family between album releases. "Working with Lou (Reed) was actually very important to us and we learned a lot from that. You get better as you challenge yourself and that's one of the things that I love about this band is Metallica challenges themselves and I think that's very important and that's what makes things great, like this album. Us challenging ourselves has made Hardwired, I think, something special."
The creative spark that ignited it all? James Hetfield's riff for Lords of Summer, which was released as a digital single in 2014 and will be featured on the deluxe edition of Hardwired… to Self-Destruct.
"For us, once you open that riff box, 'Pandora's Box of Riffs,' you can't stop," Hetfield said. "You can't ignore the riff, it speaks to you right then and you have to write it then. If you open it and you sit with it for a while, it's just not fresh. When we did Lords of Summer, that was supposed to be the beginning of the writing and then we started playing that live and that kind of opened the door for the rest of the riffs."
Hetfield points out that despite the wait between releases, the band members paid the same amount of attention to this album as they did to previous projects. As he reiterated, sometimes other things are just more important.
"Like I've heard Lars say, which makes a lot of sense, we recorded the record over a long period of time but we were able to focus on the record probably about the same amount of time as we always have," he said. "There's just lots of other things that are going on."
The Town Hall premieres on SiriusXM Octane (Ch. 37) and Mandatory Metallica (Ch. 40).
The Town Hall will replay on Mandatory Metallica (Ch. 40) on 11/19 at 3 a.m. ET, 11/20 at 3 p.m. ET, 11/21 12 p.m. ET, 11/22 at 9 p.m. ET, 11/23 at 6 p.m. ET, 11/24 at 6 a.m. ET, 11/25 at 12 p.m. ET, and 11/26 at 3 p.m. ET.
It will also replay on SiriusXM Octane (Ch. 37) on 11/19 at 12 p.m. ET; 11/20 at 2 p.m. ET; 11/21 at 11 p.m. ET; 11/22 at 3 p.m. ET; 11/23 at 9 p.m. ET; and 11/24 at 1 p.m. ET and 7 p.m. ET.
Mandatory Metallica will air through Wednesday 11/28 at 3 a.m. ET via satellite on channel 40 and through the SiriusXM app on smartphones and other connected devices, as well as online at siriusxm.com.
For a free 30-day trial, check out http://www.siriusxm.com/freetrial/blog
---
---
---