Meghan Trainor: 'I'm the poster child for no Photoshop!'
Meghan Trainor made her debut appearance on The Howard Stern Show on Tuesday to promote her new album Thank You. The singer, songwriter and producer recently made headlines for having a video for her single, Me Too, removed from YouTube … Continued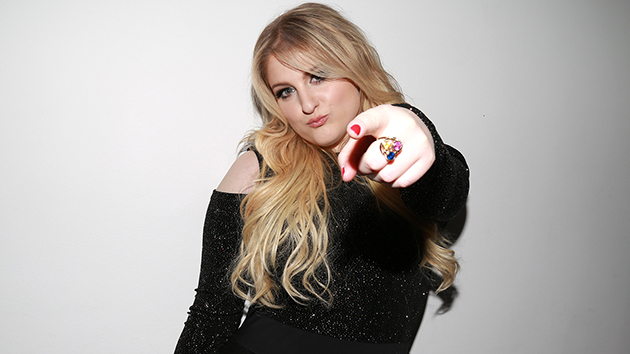 Meghan Trainor made her debut appearance on The Howard Stern Show on Tuesday to promote her new album Thank You. The singer, songwriter and producer recently made headlines for having a video for her single, Me Too, removed from YouTube because she was not happy with the digital manipulation of her body, and she explained further why the situation had her in a frenzy.
Me Too is the second single from Trainor's album, which will be released on May 13, and the music video was released on May 9. Trainor said she did ask the music video producers to make some small edits here and there, but she never requested for her waist to look smaller.
"I asked them like, 'Hey, can you hide my mustache and take off my mole-hair?' Like the peach-fuzz, up close and personal, those close-ups, you never know," she explained. "So I just asked them to do that, but I never said 'cut off my rib.' So I saw screenshots that the fans were taking on Instagram, and I was like, 'why are the fans messing with my waist?' But then I was like, 'Oh my God, that's not the fans, that's my video and I must've not even seen it."
Trainor has been known to pen songs that include themes discussing body image, so this didn't sit well with her and she immediately moved to have the video taken down.
"I called every head of label," she said. "L.A. Reid, Sylvia Rhone, I called all of them up and said, 'Take this video down. I don't care what it takes, take it down.'
"I'm the poster child for no photoshop," she continued. "That is my thing! I was skinnier than those dancers, who were also very skinny. So when you do that, everybody knows that's not real."
Trainor said she has never been obsessed with her weight, and her label-heads haven't ever pressured her to look a certain way.
"I workout nowadays just to stay healthy, that's the only thing keeping me alive so far. But I haven't fluctuated since high school … I've had no complaints to stop eating, I've even gotten [compliments] like, 'Wow, you look slim.'"
For more coverage of The Howard Stern Show, follow @sternshow on Twitter.
For a free 30-day trial, check out siriusxm.com/freetrial.
---
---
---