Matthew McConaughey tells Howard Stern how he wooed his wife Camila Alves
Camila Alves played hard-to-get when she first met Matthew McConaughey, he said on The Stern Show.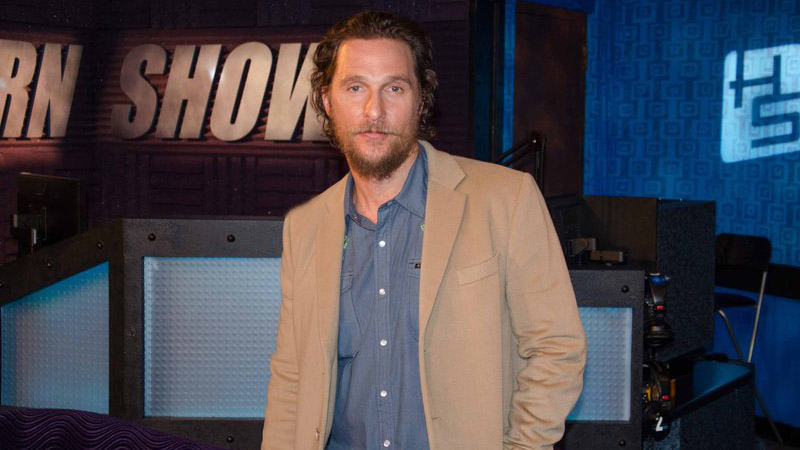 Matthew McConaughey's own love story could be straight out of one of his rom-coms.
On Tuesday, the Gold actor told Howard Stern on Howard 100 (Ch. 100) how he wooed Camila Alves, his wife of four years, joking, "I kidnapped her for our first date."

"So I'm healthily single at a club on Sunset," he recalled. "I'm not even a club guy, but this night I was a club guy. And I'm making margaritas at the end of the table, and this figure moves across the room, and I remember to myself I go, 'What is that?' I didn't say, 'Who is that?' I said 'What is that?'"
"Like an extraterrestrial," Stern said.
"Yeah! She sits down and I can't get my eyes off her and I'm waving trying to get [her attention], 'Hey, over there!' Finally catch her eye, and as soon as she looks at me the Jiminy Cricket in me says, 'Boy, get off your a**, this is not the type of woman you call across the room,'" McConaughey said. "I go over and introduce myself, I do the smart thing of inviting her and her friends over."
But the Brazilian model left her group to join McConaughey's table alone.
"That night, I spoke 25 minutes of the best Spanish I've ever spoken in my life," he joked. "She spoke Portuguese. I don't think I've ever understood Portuguese as well as I did that night."
As fate would have it, Alves' car had been damaged on her way to the club and was in an auto repair shop — so McConaughey gallantly offered her a ride to his home.
"We go back to the house and continue to party for a while, and I'm trying to extend the time. Now she's like, 'Okay, I'm gonna go, I'm gonna get a cab.' I'm like, 'No, no, no, don't do that it's way too late. Take the guest bedroom.' Talk her into that," he said, adding with a laugh, "I did sneak down to the guest bedroom twice that night and got booted out."
The "cool moment" McConaughey realized he'd met the one? He woke up the next morning and peered into the kitchen.
"Coming down the stairs I hear this laughter, the kind of laughter that you hear from people who hang out a lot. And I walk in and there sits this woman in the same green, turquoise dress she had on last night, holding court with my buddies and our housekeeper eating breakfast, acting like they'd been buddies for 10 years," the father of three said.
And a few days later, she accepted his offer for a date.
For more coverage of The Howard Stern Show, follow @sternshow on Twitter. Hear more Howard on SiriusXM Ch. 100 and 101.
For a free 30-day trial, check out http://www.siriusxm.com/freetrial/blog.
---
Check out these interview clips of Matthew McConaughey from SiriusXM:
---
---
---