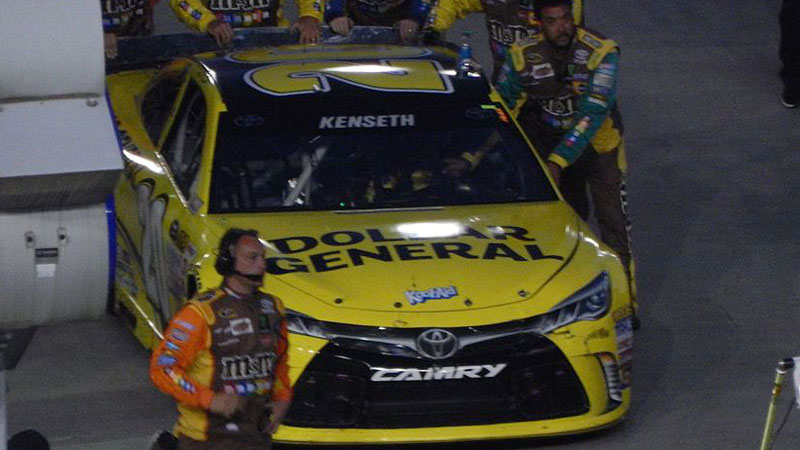 Matt Kenseth (Photo Credit: Wikipedia)
Matt Kenseth's big win at the New Hampshire 301 was clouded by the #20 car's post-race inspection failure this weekend, but he's not "really worried about that."
Kenseth joined SiriusXM NASCAR Radio and said he's sure that his car is clean, and he'd be shocked if NASCAR found anything that would be considered illegal.
"I don't think they're going to find anything wrong when they take it apart, tomorrow, at all," Kenseth said.
NASCAR executive Steve O'Donnell joined SiriusXM NASCAR Radio earlier in the day to discuss the situation.
Penalties for the failure have become more predictable in recent past, usually resulting in a" P3 penalty" and a $25,000 fine. What makes this unusual is that none of those cars have belonged to the winner. When O'Donnell was asked about a possible penalty, he said several factors would need to be reviewed before a final decision was made.
O'Donnell said it was important to note that just because the car failed the inspection at the track doesn't necessarily mean the car would fail once it' inspected at the NASCAR Research & Development Center. O'Donnell said when the car returns to the center, NASCAR engineers will look to see what damage, if any, the car endured; what parts may have been broken; and if any parts were "manufactured to possibly break."
"If, after that, we determine that it's still a violation, we would issue a penalty," O'Donnell said. "That'll take place tomorrow as we go through all the details with the race car."
Jason Ratcliff, crew chief for the #20 Toyota in question, also spoke to SiriusXM NASCAR Radio about the inspection failure. He noted that the car passed an inspection before the race, and that stringent checks are common in the world or racing.
"We know what the rules are, we know what the tolerances are, but we also know that our competition is going to be pushing it right to the edge, and if we're going to be competitive, we're going to have to do the same."
NASCAR is set to inspect the race-winning car on Tuesday.
Stay up-to-date on this developing story and more by tuning into SiriusXM NASCAR Radio on Ch. 90. Photo Credit: Nascarking/Wikipedia
---
---
---