Marvin Gaye honored as SiriusXM's Black Music Month Artist of the Year 2017
After a month of online voting, the people have spoken. Marvin Gaye has been named SiriusXM's Black Music Month Artist of the Year 2017!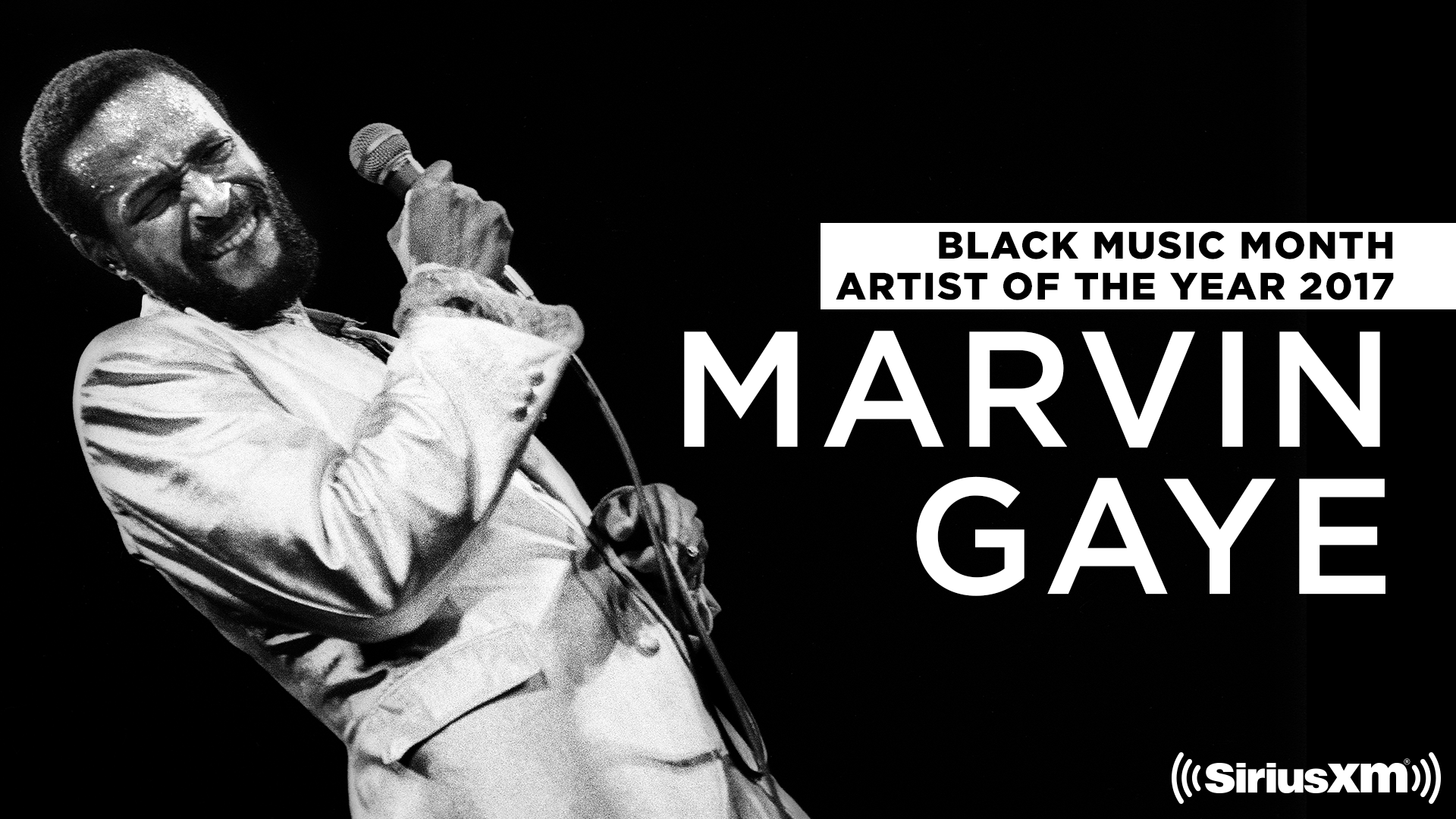 After a month of online voting, the people have spoken. Marvin Gaye has been named SiriusXM's Black Music Month Artist of the Year 2017!
More than 33 years since his passing, Gaye continues to be a revered and influential artist. His songs like Let's Get It On and I Heard it Through The Grapevine are staples engrained into the minds of music lovers of all generations. Tracks like Got To Give It Up and Sexual Healing continues to be sampled even to this day. Marvin Pentz Gay Jr. was, and still is, the Prince of Soul.
Gaye's first success came in 1962 with his song Stubborn Kind of Fellow, which peaked at  No. 8 on the R&B charts. His follow-up, Hitch Hike, saw mainstream success as a dance track. Gaye would continue to release songs that saw mainstream success, including Once Upon a Time, What's The Matter With You Baby, and How Sweet It Is (To Be Loved By You), a duet that would begin a trend.
Gaye released a slew of duets with singer Tammi Terrell including Ain't No Mountain High Enough, Ain't Nothing Like The Real Thing, Your Precious Love, and You're All I Need To Get By. After Terrell fell ill, Gaye returned to a solo career, recording the  No. 1 hit I Heard It Through The Grapevine in 1968.
On March 16, 1970, Tammi Terrell passed away following a battle with brain cancer. The loss heavily affected Gaye, who took a break from music and attempted to join the Detroit Lions as a football player.
Gaye returned to music with the release of What's Going On in 1971, however, it was considered controversial and "too political" at the time. A battle with his record label ensued with Gaye refusing to work until they agreed to release the track. Gaye would spend the decade performing live shows and releasing even more hits like Let's Get It On and Mercy Mercy Me (The Ecology).
Toward the end of the '70s, Gaye's career and personal life struggled. Following a divorce and trouble with the IRS, Gaye relocated to Europe as he struggled with drug abuse. He eventually rebounded and signed to a new label as he prepared for a revival of his career. His next album saw his biggest success to date with the track Sexual Healing becoming one of the biggest R&B songs of the decade. The track also earned Gaye his first Grammy Awards including Best Male R&B Vocal Performance.
On April 1, 1984, following an altercation with his father, Gaye was fatally shot at his home. After his death, his mother founded the Marvin P. Gaye Jr. Memorial Foundation to help those suffering from alcoholism and drug abuse. Gaye would also posthumously be awarded a star on the Hollywood Walk Of Fame, a Grammy Lifetime Achievement Award, and induction into the Rock and Roll Hall of Fame.
Director of Music Programming for Gospel & Reggae, Pat McKay, gives some insight into what separated Gaye from his peers, saying, "Marvin's subtlety and creative choices are part of what made his music compelling. The crescendo of a given work divine and built on firm notes."
But it was also his unwillingness to bend to others that made him a force, she explained.
"We loved him as a Bro' especially since, increasingly, his work bravely expressed social concerns reflective of the times."
Gaye's work broke beyond the bounds of genres. "Marvin remains in the Top 10 R&B sales of all time, but his crossover appeal makes him a legend in American pop culture" offered BK Kirkland, Program Director for SiriusXM's The Groove and Soul Town. "Marvin's vocals helped shape the Motown Sound in the 60's, 70's and 80's."
Thanks to everyone who voted, and congratulations, Marvin Gaye.
You can hear Marvin Gaye's music every day on Soul Town and The Groove.
---
---