Mark Knoller, 'the keeper of the lists,' prepares for Trump
"We're going to cover the president as best we can, no matter what the conditions."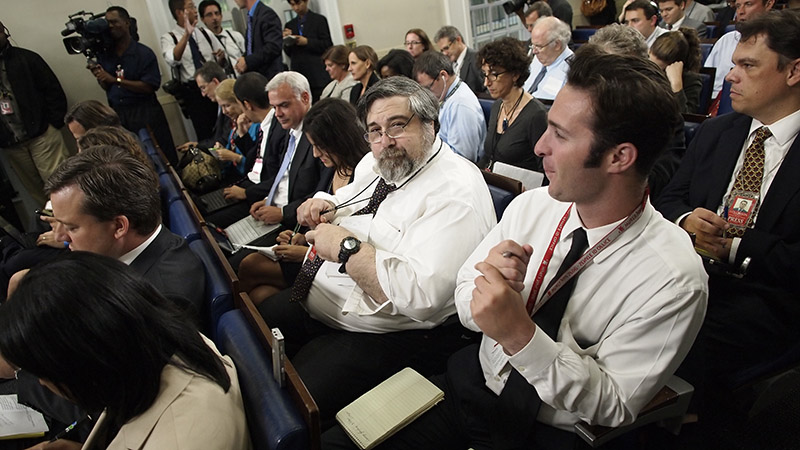 Mark Knoller of CBS News, center, waits for the start of the daily press briefing by White House Press Secretary Jay Carney at the White House in Washington, Wednesday, Sept. 7, 2011. (AP Photo/Charles Dharapak)
Mark Knoller may officially be known as CBS News' White House Correspondent, but to the members of the president's press corps, he's "the keeper of the lists."
"I keep records, you know, every day at the end of the day I go through what thepPresident of the United States did," Knoller explained to Michael Smerconish on Tuesday.
And Knoller's lists have become a valuable resource. "I keep a log, a daily dairy, a list of all his speeches, any events that [the president] did."
For instance, by his count, the Chicago Cubs' visit to the White House was the 86th sports event with a championship team at the White House — and his tally included everyone from little league champions to Olympic athletes.
"It helps to build an interesting mosaic about the presidency by the numbers," Knoller explained. "There are lots of policy stories you can write, but also the numbers help tell a lot about the nature of the presidency that we've just been through, eight years."
It's not just the press that takes note of Knoller's vast knowledge — past presidents have paid close attention to his lists.
"I remember W., President Bush, was upset because of your calculation as to how many days he'd been at Crawford [Ranch]," Smerconish recalled to Knoller, who responded with chuckles affirming that his memory was "exactly right."
He added, "the most angry reaction I've gotten to any of the things — the lists that I keep, are vacation and golf."
Looking to the new Donald Trump administration, Knoller doesn't plan to change his style of keeping lists.
"It's been my experience with each new administration, I just start new logs, but pretty much on the same issues," he added. "I'm not sure that Donald Trump can do anything that any of his predecessors haven't done, but if I find that he does, I'll just start a new log on that."
He added, "We're going to cover the president as best we can, no matter what the conditions — whether we're on the grounds of the White House or not. Whether we're in the West Wing Press Office or not. Whether they have daily briefings or not. It's still our job to cover the president and it's my determination to do that as best we can, no matter what the circumstances we're working under."
The Michael Smerconish Program airs weekdays at 9 am ET on SiriusXM P.O.T.U.S.
For a free 30-day trial, check out siriusxm.com/freetrial/blog  
AP Photo/Charles Dharapak
---
---
---