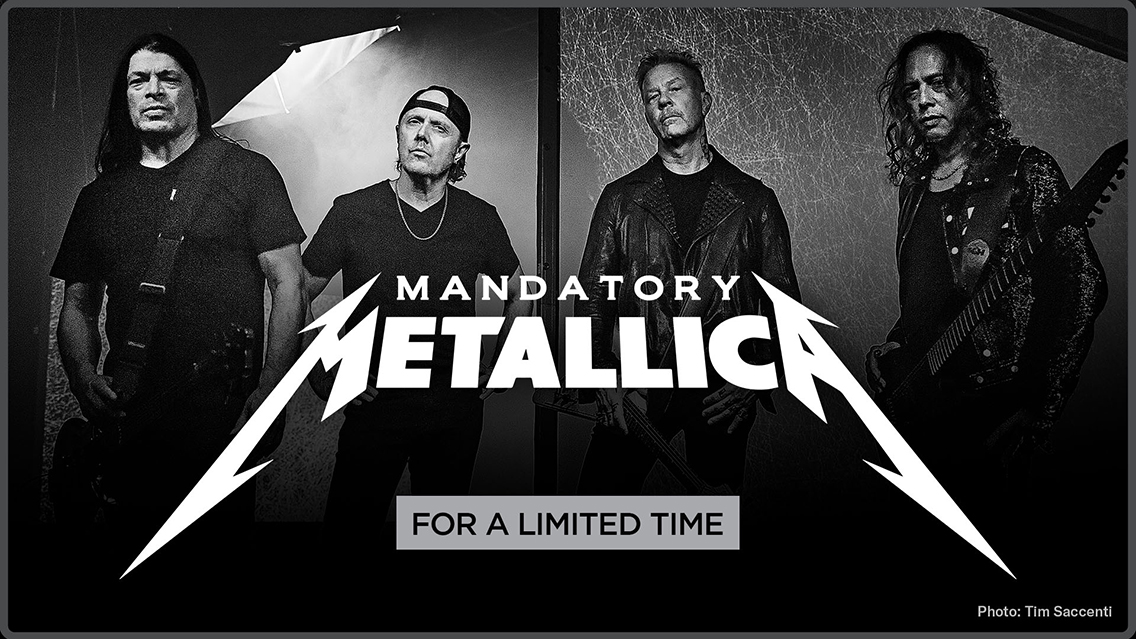 Mandatory Metallica — Metallica's exclusive SiriusXM channel — is back for a limited time in celebration of their upcoming album, 72 Seasons! From today (April 4) through May 3, tune in to Channel 105 on your radio or the SXM App to hear music and content curated by Rock & Roll Hall of Fame band Metallica.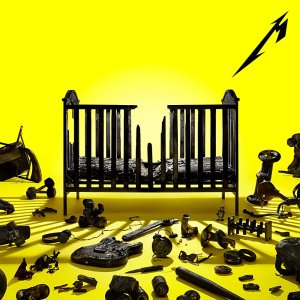 Mandatory Metallica will feature the rock great's ferocious, heavy music, including their remasters, demos, alternate mixes, live concerts, and favorite songs by other artists. Additionally, tune in from April 14 at 3am ET through April 16 to hear a special simulcast on both Mandatory Metallica and Liquid Metal (Ch. 40) for the release of 72 Seasons, Metallica's highly anticipated 11th studio album, due out April 14. Produced by Greg Fidelman, the new LP features 12 songs, including the previously released "Lux Æterna," "Screaming Suicide," "If Darkness Had a Son," and "72 Seasons" (see full tracklist below).
Also, listen as Metallica members James Hetfield and Robert Trujillo deliver an exclusive track-by-track special about 72 Seasons featuring commentary about each song on Mandatory Metallica. Both Hetfield and Trujillo will also share their music they grew up listening to in special Guest DJ sets in honor of 72 Seasons, the title of which refers to how the first 72 seasons (or 18 years) of your life shape who you are. See the broadcast schedule for both specials below.
Need more Mandatory Metallica specials? Throughout the channel's run, check out the following archival content anytime on the SXM App: Top 40 Best Metallica Songs (fan-voted poll); Metallica's Apollo Theater performance (from September 21, 2013); plus original programming curated by Metallica: James Hetfield – Road Dog Brothers; James Hetfield – Riff Life; Lars Ulrich – New Wave of British Heavy Metal Show; Lars Ulrich – Heavy '70s Deep Cuts; and Robert Trujillo – Aces of Bass.
---
Mandatory Metallica Broadcast Schedule (all times ET)
---
Lars Ulrich Interview (hosted by Shannon Gunz):
Tues 4/4 @ 5pE/2pP
Wed 4/5 @ 12pE/9aP
Thurs 4/6 @ 8pE/5pP
Fri 4/7 @ 2pE/11aP
James Hetfield 1st 72 Seasons Guest DJ Special:
Fri 4/7 @ 12pE/9aP
Sat 4/8 @ 6pE/3pP
Sun 4/9 @ 3pE/12pP
Mon 4/10 @ 9aE/6aP
Tues 4/11 @ 6pE/3pP
Wed 4/12 @ 9pE/6pP
Thurs 4/13 @ 12pE/9aP
Metallica 72 Seasons Track By Track hosted by James Hetfield & Rob Trujillo:
Fri 4/14 @ 7aE/4aP, 1pE/10aP, 9pE/6pP
Sat 4/15 @ 4pE/1pP, 11pE/8pP
Sun 4/16 @ 10aE/7aP, 6pE/3pP
James Hetfield Interview (Part 1 of Jose Mangin's Metal Ambassador Podcast):
Fri 4/14 @ 12pE/9aP
Sat 4/15 @ 7pE/4pP
Sun 4/16 @ 4pE/1pP
Mon 4/17 @ 8aE/5aP
Kirk Hammett Interview (Part 2 of Jose Mangin's Metal Ambassador Podcast):
Mon 4/17 @ 5pE/2pP
Tues 4/18 @ 10aE/7aP
Wed 4/19 @ 8pE/5pP
Thurs 4/20 @ 2pE/11aP
Rob Trujillo 1st 72 Seasons Guest DJ Special:
Fri 4/21 @ 12pE/9aP
Sat 4/22 @ 6pE/3pP
Sun 4/23 @ 3pE/12pP
Mon 4/24 @ 9aE/6aP
Tues 4/25 @ 6pE/3pP
Wed 4/26 @ 9pE/6pP
Thurs 4/27 @ 12pE/9aP
Rob Trujillo Interview (hosted by Shannon Gunz):
Fri 4/28 @ 12pE/9aP
Sat 4/29 @ 7pE/4pP
Sun 4/30 @ 4pE/1pP
Mon 5/1 @ 8aE/5aP
---
72 Seasons Tracklist
1 "72 Seasons"
2 "Shadows Follow"
3 "Screaming Suicide"
4 "Sleepwalk My Life Away"
5 "You Must Burn!"
6 "Lux Æterna"
7 "Crown of Barbed Wire"
8 "Chasing Light"
9 "If Darkness Had a Son"
10 "Too Far Gone"
11 "Room of Mirrors"
12 "Inamorata"
---
---
---