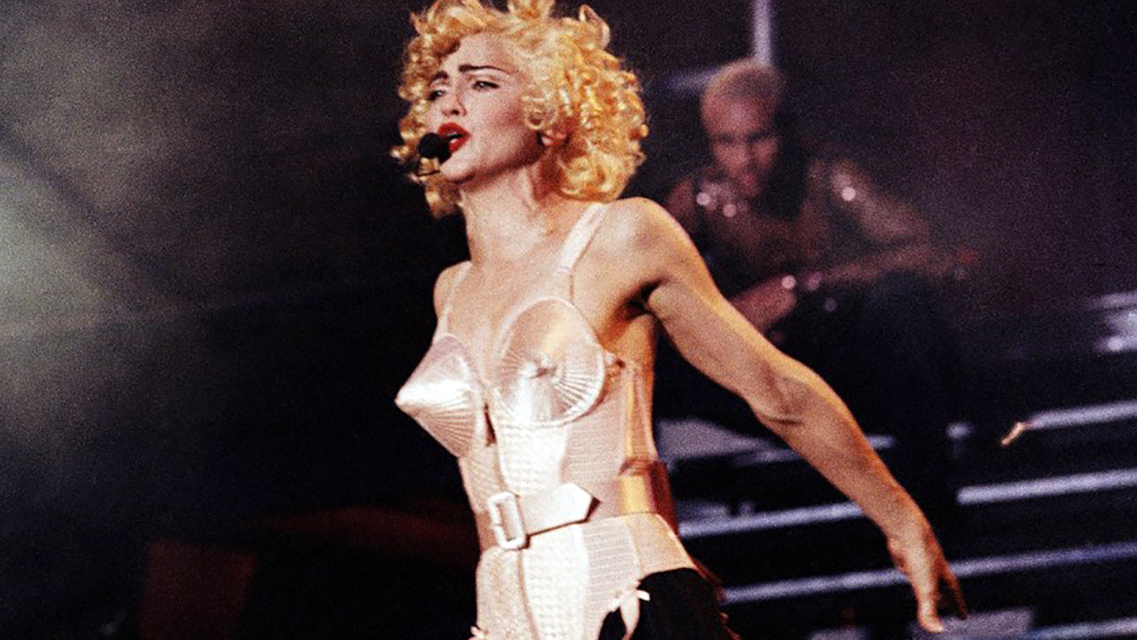 Madonna is 65! As we celebrate her birthday on August 16, let's take a nostalgic journey through some of the high points in her remarkable discography.
---
LISTEN: Dive into Madonna's greatest hits on the SiriusXM App now
---
Madonna's Discogpraphy
Madonna's discography is a testament to her enduring influence on the music industry. As the "Queen of Pop," she has consistently pushed boundaries and redefined the pop genre with her innovative and trendsetting music.
Madonna burst onto the scene with her self-titled debut album in 1983, featuring hits like "Holiday" and "Lucky Star." But it was her 1984 album, Like a Virgin, that truly launched her into superstardom. The title track became an anthem and solidified Madonna's status as a cultural icon. The album's provocative themes and catchy melodies marked the beginning of her reign as a pop provocateur.
In 1986, Madonna continued her winning streak with True Blue, an album that showcased her versatility as an artist. Tracks like "Papa Don't Preach" and "Live to Tell" displayed her ability to tackle socially relevant topics while maintaining her signature pop sound. The album's success further cemented her as a force to be reckoned with in the music industry.
The late '80s and early '90s saw Madonna at her creative peak. The 1989 album Like a Prayer is often hailed as one of her best works. Its title track, a gospel-infused pop song, was accompanied by a controversial music video that tackled issues of race and religion. Madonna's willingness to address sensitive topics in her music set her apart as an artist unafraid to challenge societal norms.
But Madonna didn't stop there. In 1990, she released The Immaculate Collection, a greatest hits album that not only showcased her string of chart-topping hits but also demonstrated her ability to evolve with the times. This collection is a timeless reminder of her impact on pop music and culture.
The turn of the millennium brought about another reinvention for Madonna. Her 2005 album, Confessions on a Dance Floor, combined electronic beats with introspective lyrics, resulting in tracks like "Hung Up" and "Sorry" that dominated dance floors worldwide. This album solidified her as a dance music icon and demonstrated her ongoing relevance in an ever-changing musical landscape. Dig into some of her biggest albums more below, and stream this journey through her classics on the SiriusXM App now.
---
Madonna quiz: Test your musical knowledge of the Queen of Pop
---
Madonna's Biggest Albums
Like a Virgin (1984): Madonna's second studio album, "Like a Virgin," marked a turning point in her career. The title track became an iconic anthem, symbolizing her ability to challenge societal norms and provoke discussions about sexuality. The album's blend of pop, dance, and rock elements showcased Madonna's evolving sound and set the stage for her reign as the Queen of Pop.
True Blue (1986): This album solidified Madonna's position as a global superstar. With hits like "Papa Don't Preach" and "Live to Tell," she exhibited her songwriting prowess and willingness to tackle complex themes. "True Blue" showcased a more mature and introspective side of Madonna, earning critical acclaim and further cementing her place in music history.
Like a Prayer (1989): Widely regarded as one of Madonna's most introspective and controversial albums, "Like a Prayer" pushed artistic boundaries while addressing issues of religion, racism, and personal empowerment. The title track, with its gospel-infused sound, and the provocative "Express Yourself" demonstrated her ability to merge pop sensibilities with social commentary.
Ray of Light (1998): In a career marked by reinvention, "Ray of Light" was a standout moment. Teaming up with producer William Orbit, Madonna embraced electronic and trance influences, resulting in a forward-thinking sound that captured the essence of the late '90s. The album's title track and "Frozen" are emblematic of this era, showcasing her ability to adapt to changing musical landscapes.
Confessions on a Dance Floor (2005): Returning to her dance-pop roots, Madonna's "Confessions on a Dance Floor" was a high-energy masterpiece that reinvigorated her career. Blending disco-inspired beats with her signature catchy hooks, the album produced hits like "Hung Up" and "Sorry," reaffirming her relevance in the ever-changing music industry.
Madame X (2019): Demonstrating her artistic fearlessness, "Madame X" saw Madonna experimenting with global sounds and collaborating with a diverse array of artists. This album showcased her ability to remain innovative even after decades in the spotlight. Tracks like "Medellín" and "Crave" demonstrated her willingness to push boundaries and explore new musical territories.
---
---
---