LSU tops College Sports Nation's list of college football's 16 best mascots
The calendar still says "June" but don't let that fool you, college football is just two months away. To get you in the mood for tailgates, touchdowns and "ye olde alma mater" we thought we would breakdown our College Sports … Continued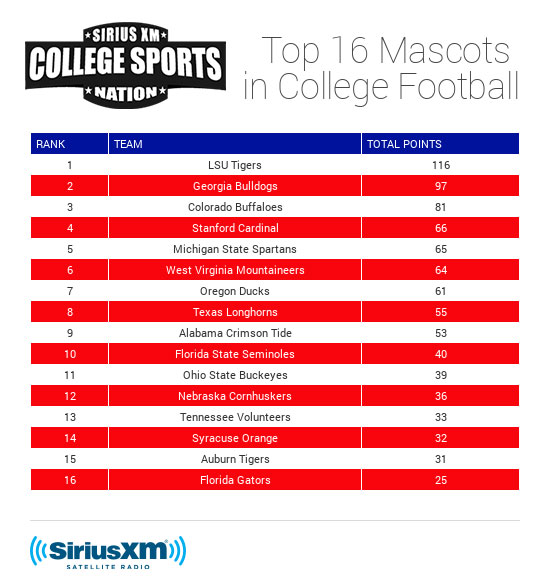 The calendar still says "June" but don't let that fool you, college football is just two months away. To get you in the mood for tailgates, touchdowns and "ye olde alma mater" we thought we would breakdown our College Sports Nation experts' picks for best mascots in college football. Let's take the deep dive together and review why (or why not) these mascots deserve their prestigious rank.
LSU Tigers: No quibble with this. Yellow and purple Bayou Bengals have classic helmets and, well, an actual live damn tiger on campus. Of course, Mike, VI was diagnosed with a very dire cancer prognosis late last month. Godspeed, Mike, you'll live on in Mascot Valhalla devouring all the other SEC mascots/delicious steaks as is your wont.
Georgia Bulldogs: Again, no quibble here. Mind you, "tigers" and "bulldogs" are right up there with "wildcats" for super-generic school mascot, but LSU and UGA's mascots are so singularly owned by the institutions that it's okay. Yale used to have the Bulldog mascot on lockdown, but until that campus up in New Haven gets serious about football again, Georgia's got this mascot.
Colorado Buffaloes: It's a hard-charging beast that's larger than most domestic autos from the 1950s. Furthermore, it's the National Mammal of these United States and, oh yeah, the University of Colorado has a team of crazy people run out onto the field with one for every home game. If you don't like bison (or at the least, bison burgers) I want you to fix your bad attitude, mister.
 Stanford Cardinal: This is where the problems start. Stanford's band? Unimpeachable. Just hilarious college kids making "the olds" upset. Stanford's mascot? No. Is it a tree? Is it a crimson hue? It doesn't matter. Every tree iteration needs to be killed with fire and Harvard's already got all crimson hues taken care of. We expect more out of an academic institution of such prestige.
Michigan State Spartans: I wish Nike wouldn't mess with MSU's color schemes so much (gold? black?) but you can't beat the classics. White, green, and mean is what Sparty football is about and the Spartans are a perfect mascot to match that smash-mouth attitude.
West Virginia Mountaineers: West Virginia's mascot is known for sporting a buckskin suit, a coonskin cap and carrying an actual "old-timey" rifle at games. In any case, Never tell a man in a buckskin suit, coonskin cap and ornery mood to not bring his gun to your football stadium, kids.
Oregon Ducks: "How much ya bench, brah?" Puddles the Duck is easily the most bad-ass non-animal/non-Mountaineer mascot. Routinely doing a gajillion push-ups to match Oregon's potent offense on the scoreboard, the Duck (and human within) has gotta be impossibly jacked. Also, screw you, Stanford Cardinal. Puddles would thrash you.
Texas Longhorns: A classic mascot with the regional ties you like to see in a school's mascot choice. Seriously, regional mascots are the best. Bevo is one of the best and most iconic mascots around and it's not for nothing. Hook 'em, Bevo, may you chew on your cud and MESS with anyone who dares to mess with you, you living, breathing totem of Texas.
Alabama Crimson Tide: Can we just not have 'Bama be in the top ten of one list? Your dumb elephant/Biblical tide thing doesn't even make sense, Alabama. Yes, yes, all those "national titles" are great, but come back when you have a real mascot.
Florida State Seminoles: I don't know. The horse/flaming spear thing is pretty corny to me. Maybe people were more excited about this 25 years ago? The school's weak uniforms as of late do them no favors here either. Yes, my personal bias is showing.
Ohio State Buckeyes: I'm from the Buckeye State and finding one of these things on the ground as a kid was very cool. Buckeyes are a very pretty seed that drops from the branches of, you guessed it!, the buckeye tree. The candy Buckeyes (chocolate and peanut butter) are delicious, don't eat actual buckeye nuts #TOXIC.
Nebraska Cornhuskers: Here's where I start to get upset. Nebraska as a program hasn't been relevant in years. And although they get all due respect for having a regionally iconic totem (corn, uhh, husker) as the mascot, there are many better mascots …COUGH. Wisconsin Badgers. COUGH… that did not make this list. Smh.
Tennessee Volunteers: A mascot that truly deserves a higher slot than down here with the Nebraskas of the world. The nickname derives from the fact that folks from Tennessee during covered wagon times were willing to volunteer their services in combating against ne'eer-do-wells …COUGH. The British. COUGH… trying to battle the nascent United States of America during the War of 1812.
Syracuse Orange: [refuses to acknowledge this selection]
Auburn Tigers: Granted, Auburn doesn't have an actual live tiger the way LSU does, but it does seem weird to put a tiger this low (below SYRACUSE?) This is some bulletin-board material if I ever saw it. Just remember that when Auburn wins the national title in January of 2017.
Florida Gators: Mad props to alligators. These charmingly ugly and eccentric reptiles are one of America's most unique beasts. The Gators definitely deserve to be higher up on this list, but maybe there's a pro-mammal bias in the College Sports Nation office?
---
---
---