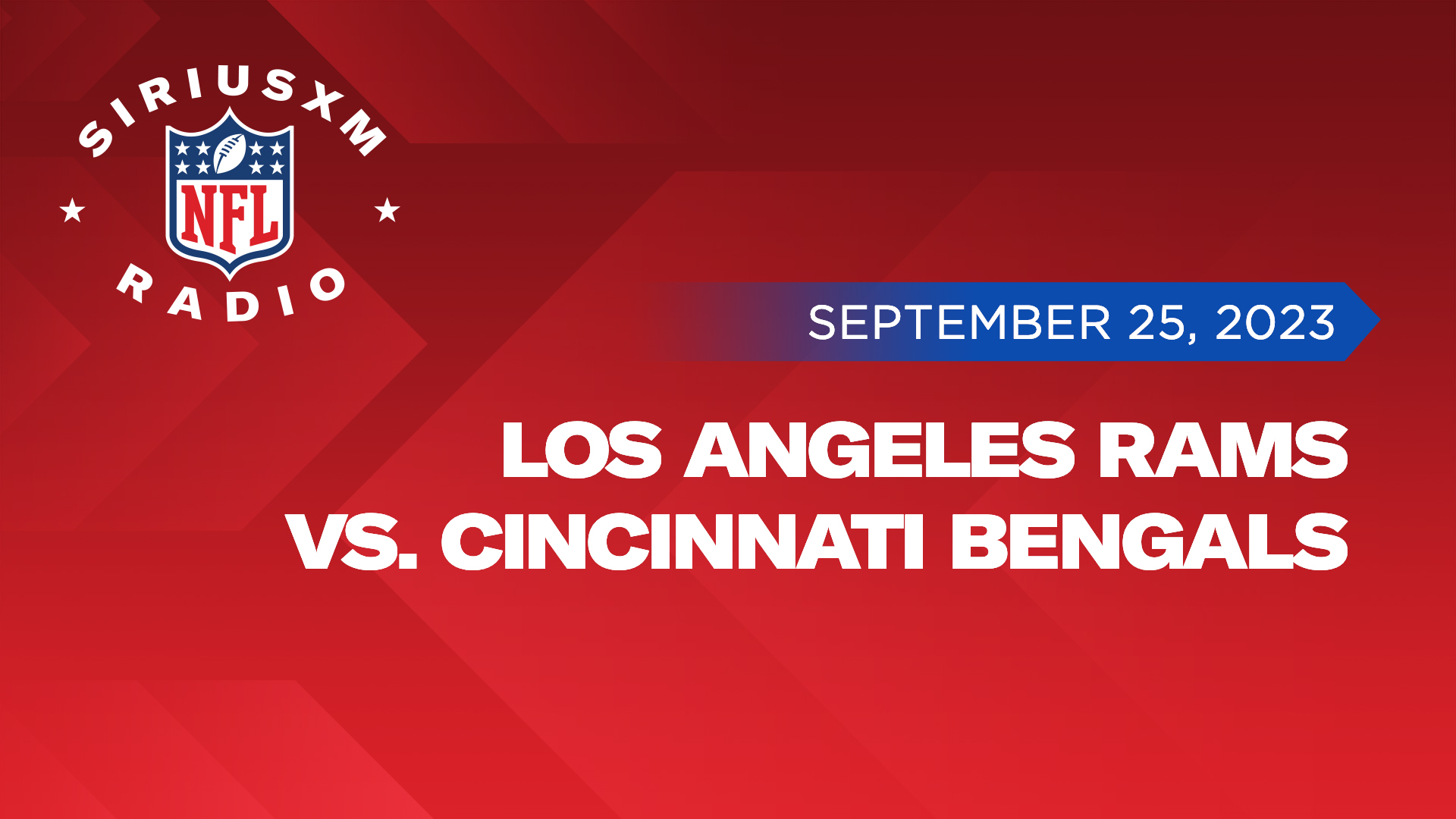 Get ready for a Monday Night Football showdown that's sure to be a can't-miss event as the Los Angeles Rams take on the Cincinnati Bengals in Week 3. Both teams have shown impressive performances early in the season, setting the stage for an electrifying clash under the lights.
Listen live to your choice of the home, away, or national feed on the SiriusXM App and car radios. Kick off is September 25 at 8:15pm.
---
Stream the Los Angeles Rams broadcast (Ch. 818)
Stream the Cincinnati Bengals broadcast (Ch. 806)
Stream the National broadcast (Ch. 88)
---
Away: Los Angeles Rams
The Rams come into this game led by quarterback Matthew Stafford, who showcased his prowess by passing for an impressive 307 yards in Week 2. Stafford has been on fire, joining an elite club of quarterbacks with 300+ passing yards in each of the first two weeks of the season. Stafford also made history by surpassing Hall of Famer Peyton Manning in career passing yards within his first 200 games in the NFL. In Super Bowl LVI, he threw for 283 yards and three touchdowns against the Bengals.
Running back Kyren Williams has been a revelation, setting career highs in catches (6) and scrimmage yards (100) last week. He's the only player to score two touchdowns in each of his team's first two games.
The Rams' rookie sensation, wide receiver Puka Nacua, made waves in Week 2 with 15 receptions for 147 yards, setting a rookie record for most receptions in a single NFL game. Nacua is also the first player ever to achieve 10+ catches and 100+ receiving yards in each of his first two games, leading the league with an astonishing 25 catches.
On the defensive side, the indomitable Aaron Donald, who had two sacks in Super Bowl LVI against Cincinnati, continues to wreak havoc with his pass-rushing skills. Linebacker Ernest Jones is a tackling monster, leading team with 10 tackles in Week 2, his 5th career game with 10+ tackles.
The Rams' young guns, linebacker Byron Young and linebacker Michael Hoecht, are hunting for sacks, while safety Jordan Fuller is riding high after his first-career forced fumble.
---
Cincinnati Bengals Home Feed
SiriusXM channel 228 in your vehicle
Channel 806 on the SiriusXM App
Los Angeles Rams Away Feed
SiriusXM channel 229 in your vehicle
Channel 818 on the SiriusXM App
National Feed – 7:15pm ET
SiriusXM channel 88 in your vehicle
Channel 88 via on SiriusXM App
En Español
SiriusXM channel 230 in your vehicle
Channel 832 via on SiriusXM App
---
Home: Cincinnati Bengals
The Bengals, led by quarterback Joe Burrow, are no slouches themselves. Burrow threw for 222 yards and two touchdowns in his last outing. In his only previous start against Los Angeles, in Super Bowl LVI, he put up 263 passing yards and a touchdown without an interception, earning a 100.9 passer rating. Burrow excels in primetime, with 1,400 passing yards, 11 touchdowns (10 passing, 1 rushing), and a 101.3 rating in five career primetime starts. Keep an eye out on his injury, he may miss starting this matchup.
Running back Joe Mixon is a key component of the Bengals' offensive arsenal. He led the team with 95 scrimmage yards last week and aims to make it three consecutive games with 70+ scrimmage yards. Mixon has a history of success against the Rams, with 150 scrimmage yards and a receiving touchdown in two career matchups, including Super Bowl LVI.
Wide receiver Ja'Marr Chase is on fire, boasting a streak of five or more catches in 10 consecutive games. He's a prime target for Burrow and has consistently delivered in primetime games. His fellow receiver, Tee Higgins, is coming off a stellar performance with eight catches, 89 yards, and two touchdowns. Higgins has a penchant for finding the end zone in primetime.
The Bengals' defense features pass-rushing specialist Trey Hendrickson, who aims to notch his third consecutive game against the Rams with a sack. Linebackers Logan Wilson and Germaine Pratt are adding up their tackles this season, and cornerback Chidobe Awuzie has a history of success against Los Angeles, including an interception in Super Bowl LVI.
Safety Dax Hill leads the team in tackles and looks to continue his impressive run of six or more tackles and passes defensed in his third straight game.
---
For more on SiriusXM's NFL programming, visit SiriusXM.com/NFL.
---
---
---