Loretta Lynn comes 'Full Circle' on SiriusXM
Loretta Lynn is back with her first new album in more than ten years. Aptly titled Full Circle, the record takes us on a journey through the country icon's musical biography — from the Appalachian folk songs and gospel music … Continued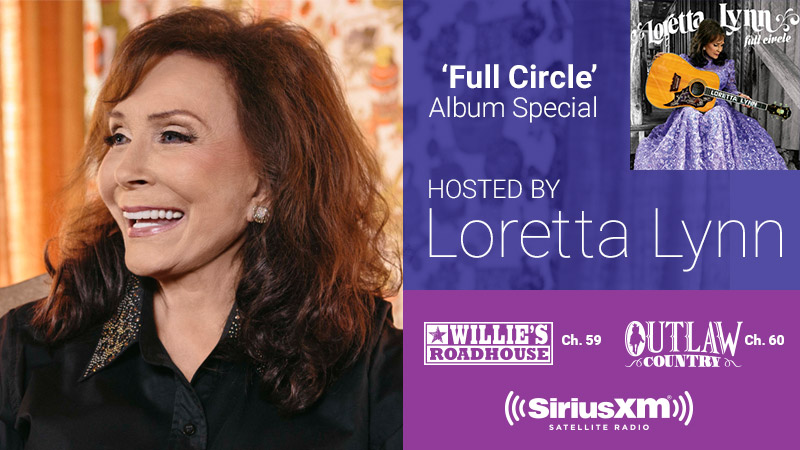 Loretta Lynn is back with her first new album in more than ten years. Aptly titled Full Circle, the record takes us on a journey through the country icon's musical biography — from the Appalachian folk songs and gospel music she learned as a child, to new interpretations of her classic hits and country standards, to songs newly-written for the project.
Lynn will be playing her 13-track effort – which includes guest appearances by Willie Nelson and Elvis Costello – along with her own unique commentary, when she hosts her exclusive album release special on Willie's Roadhouse and Outlaw Country.
In the meantime, check out some previews of the broadcast:
Speaking of her collaborator Willie Nelson, the proprietor of SiriusXM's Willie's Roadhouse channel, she explained that they had both arrived in Nashville around the same time and "neither one of us had anything."
"Oh I love Willie," she said. "Willie Nelson is what you see on TV. He never changes. I mean he's just Willie all the time, and he's not a loud person. He's really laid back, and he's a good guy."
She also talked about the inclusion of and the stories behind the songs Everybody Wants to Go To Heaven and Whispering Sea:
At 83 years old with more than 50 years of recording and touring under her belt, Lynn's voice is still as strong as ever. No wonder the Country Music Hall of Fame member remains the undisputed Queen of Country Music.
The special premieres Friday 3/11 at 6 pm ET on Willie's Roadhouse with replays Saturday 3/12 at 10 am and 3 pm ET and Sunday 3/13 at 8 am and 8 pm ET. Outlaw Country will the broadcast the special Monday 3/14 at 11 am ET, Wednesday 3/16 at 2 pm ET, Saturday 3/19 at 5 pm ET, and Sunday 3/20 at 9 pm ET. For more information on Loretta Lynn and Full Circle go to www.LorettaLynn.com.
For a free 30-day trial, check out http://www.siriusxm.com/freeTrial.
---
---
---