Longtime ESPN host John Saunders dies at 61
ESPN announced Wednesday morning that longtime host John Saunders had died at the age of 61.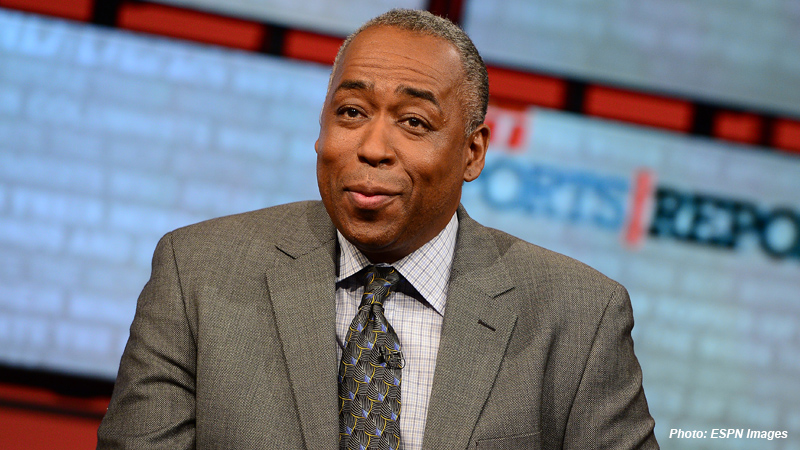 Photo by Joe Faraoni / ESPN Images
ESPN announced Wednesday morning that longtime host John Saunders had died at the age of 61.
Saunders worked at ESPN for nearly 30 years, hosting studio shows as well as play-by-play programming. He covered college football, basketball and the NHL during his time as one of the most recognizable on-air faces at the company.
Anchor Hannah Storm delivered the news in an emotional report on Sportscenter.
"Our sympathy, love and support goes out to all of those who love and respected our colleague, John Saunders," Storm said.
FOX Sports' Tim Brando joined Chris Childers on College Sports Nation (Ch. 84) and reflected on the life of Saunders. He and Saunders both started work at ESPN at the same time in December 1986.
"John wasn't just a contemporary and friend, he was my best friend in the industry, and best friend in life," Brando said. "There is no more impactful, and no greater hire in the history of ESPN, in my opinion, than John Saunders."
Whether it was baseball, football or hockey, Brando said Saunders could do it all.
"Making the others better is what John was all about," he added.
ESPN broadcaster Jeremy Schaap appeared on Above The Rim on SiriusXM NBA Radio (Ch. 207) and shared his emotions on the passing of his colleague.
John Skipper, ESPN President, released a statement following Saunders' death.
"He was one of the most significant and influential members of the ESPN family, as a colleague and mentor, and he will be sorely missed. Our thoughts are with his loved ones at this extremely difficult time," Skipper said.
A cause of death was not immediately released.
Saunders' colleague and SiriusXM host Stephen A. Smith tweeted about the loss Wednesday morning, saying he was beyond devastated.
"If you think about this profession and what it entails, he is an iconic figure that should be revered, not just remembered," Smith said during his show on Mad Dog Sports Radio (Ch. 82).
Refresh for further updates and news on this developing story. Photo by Joe Faraoni / ESPN Images
---
---
---