Lollapalooza 2022: Listen to Live Sets and Behind-the-Scenes Coverage All Weekend
Tune in to hear epic performances from Metallica, Green Day and more headliners at the can't-miss festival.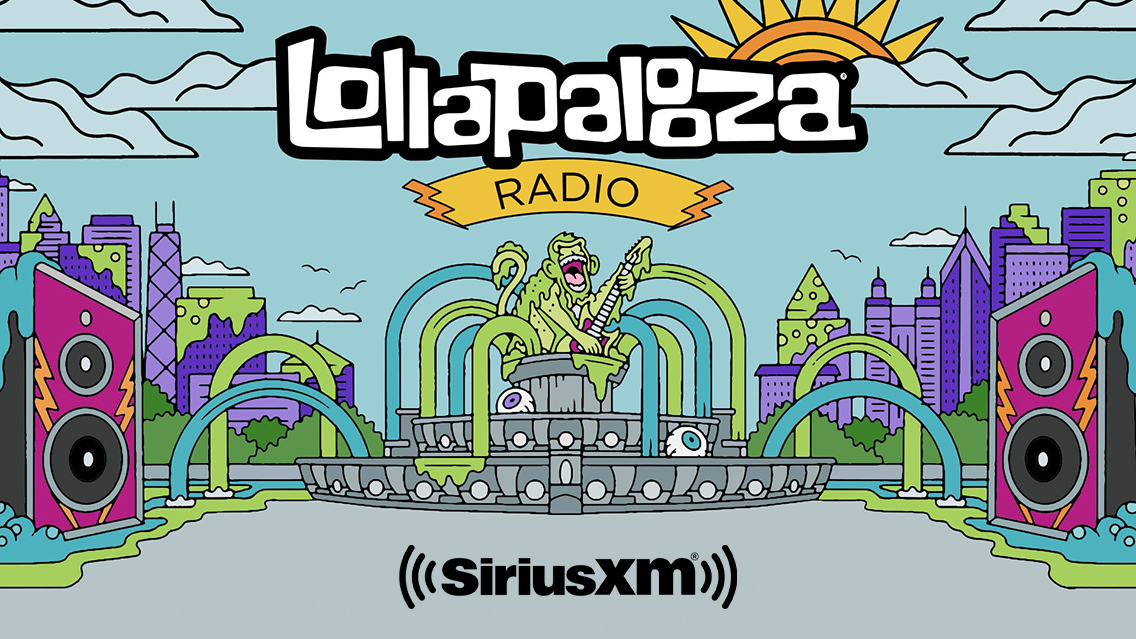 Don't miss your chance to experience Lollapalooza 2022 as, once again, SiriusXM brings you live sets and behind-the-scenes coverage from Chicago's biggest music extravaganza on the limited-engagement Lollapalooza Radio and across multiple channels.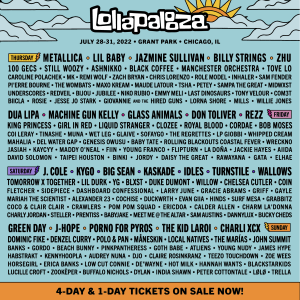 From July 28 through July 31, turn up the volume in your car or head to the SXM App for performances and interviews with the biggest artists on the cross-genre Lollapalooza Radio (taking over the Alt Nation channel on July 28) and seven other channels: Diplo's Revolution (EDM), BPM (EDM), The Spectrum (decade-spanning rock), SiriusXMU (indie), Octane (new hard rock), Liquid Metal (Heavy Metal) and Hip Hop Nation (hip-hop). Additionally, Lollapalooza Radio will be available through August 2 (after the festival ends on July 31) and some channels will air replays of sets on August 1.
---
Related: Look back at the biggest moments from Gov Ball 2022
---
See the broadcast schedule for every channel below, and check back soon for updates.
Broadcast Schedule (all times ET)
---
Lollapalooza Radio (Ch. 36)
---
July 29
3pm – Manchester Orchestra
4pm – Metallica
7pm – The Wombats
8:45pm – girl in red
10pm – Metallica
11pm – Sam Fender
11:30pm – Still Woozy
July 30
12am – Manchester Orchestra
1am – girl in red
2am – Wombats
3am – Royal Blood
4am – Tove Lo
4:30am – Sam Fender
5am – Metallica
6am – Still Woozy
7am – Wombats
8am – ZHU
8:30am – Royal Blood
9am – Sam Fender
9:30am – girl in red
11am – Manchester Orchestra
1pm – Wombats
5pm – Dashboard Confessional
6:45pm – Coin
9:30pm – Kygo
July 31
5:15pm – Måneskin
6:15pm – Beach Bunnny
8:15pm – The Kid LAROI
9:15 pm – Green Day

---
Diplo's Revolution (Ch. 52)
---
July 31
12pm – Biicla
12:45pm – Bijou
1:45pm – LP Giobbi
2:45pm – CloZee
3:45pm – Duke Dumont
4:45pm – GORDO
7:45pm – James Hype
8:45pm – Habstrakt
9:45pm – Rezz
August 1
5pm – James Hype
6pm – Duke Dumont
7pm – GORDO

---
BPM (Ch. 51)
---
July 30
9:30p – Kygo
July 31
12pm – Kygo
1:30pm – Surf Mesa
2:45pm – Kaskade
4pm – Sidepiece
5pm – ZHU
6:15pm – Kygo
7:45pm – Kaskade
9pm – Whipped Cream
10:15pm – Rezz
August 1
6pm – Sidepiece
7pm – John Summit
8pm – James Hype
9pm – Zookeper
9:45pm – Sidepiece
10:45pm – Kygo

---
The Spectrum (Ch. 28)
---
July 29
2pm – Sam Fender
6pm – Manchester Orchestra
11pm – Inhaler
July 30
7am – Sam Fender
2pm – Inhaler
July 31
12am – Porno for Pyros
12pm – Porno for Pyros
6pm – Green Day

---
Hip Hop Nation (Ch. 44)
---
July 29
7pm – Cordae
July 30
1pm – Cordae
7pm – Cordae
8pm – Blxst
July 31
6pm – Blxst
9pm – Cordae
August 1
12am – Cordae
1am – Blxst

---
Octane (Ch. 37)
---
July 29
7pm – Metallica
July 30
10am – Metallica
5pm – Metallica
July 31
2pm – Metallica
9pm – Metallica

---
Liquid Metal (Ch. 40)
---
July 29
10pm – Metallica
July 30
12pm – Metallica
8pm – Metallica
July 31
11am – Metallica
5pm – Metallica

---
SiriusXMU (Ch. 35)
---
July 30
8am – girl in red
10am – girl in red
July 31
7pm – Goth Babe
August 1
12am – Beach Bunny
1am – Goth Babe
2pm – Beach Bunny

---
---
---