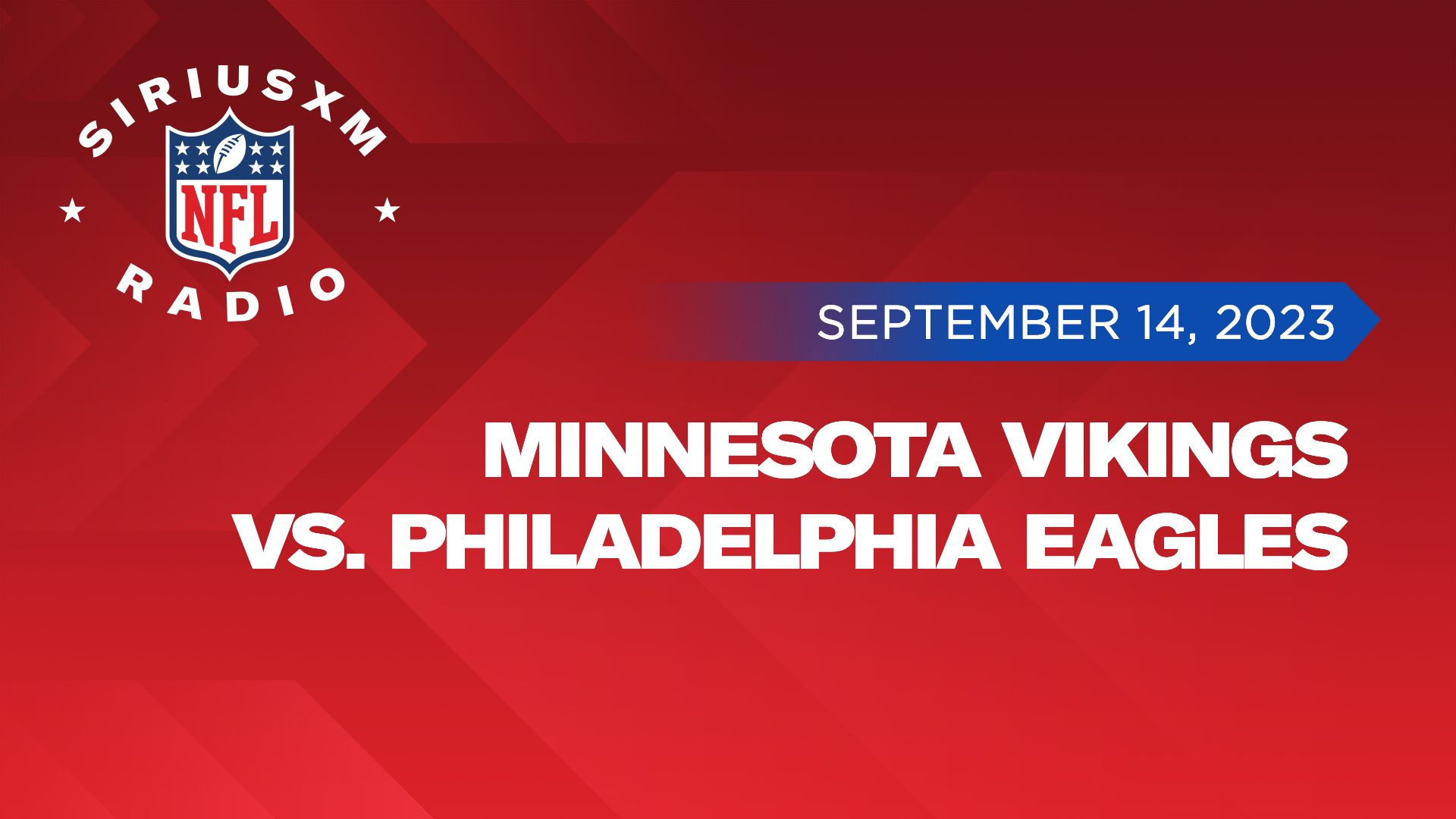 Get ready for an exciting Thursday Night Football showdown in Week 2 as the Minnesota Vikings take on the Philadelphia Eagles. With both teams looking to build on their season openers, this clash promises to be a must-listen event. Kickoff is September 14 at 8:15pm ET.
---
Listen to the Philadelphia Eagles broadcast (Ch. 825)
Listen to the Minnesota Vikings broadcast (Ch. 820)
Listen to the National broadcast (Ch. 88)
---
The Vikings are eager to bounce back quickly after a frustrating 20-17 loss to the Buccaneers in their season opener. Although they showed glimpses of promise, three costly turnovers and a handful of penalties proved to be their downfall. The challenge doesn't get any easier as they face the defending NFC champions, the Philadelphia Eagles, in a Thursday night thriller.
On the other side of the field, the Eagles managed to secure a 25-20 victory against the Patriots in their season opener. Despite a somewhat shaky performance, a pivotal Darius Slay interception return for a touchdown propelled them to an early 16-0 lead. Although the Patriots mounted a comeback, Jalen Hurts and the Eagles' offense did enough to secure the win.
---
Philadelphia Eagles Home Feed
SiriusXM channel 225 in your vehicle
Channel 825 on the SiriusXM App
Minnesota Vikings Away Feed
SiriusXM channel 226 in your vehicle
Channel 820 on the SiriusXM App
National Feed
SiriusXM channel 88 in your vehicle
Channel 88 via on SiriusXM App
---
Eagles' Outlook
Looking ahead, the Eagles are poised to remain a top contender in the NFL this season. With a 16-4 record in the previous year, including playoffs, and a close encounter with the Chiefs in the Super Bowl, they have the talent and resilience to continue their success. Despite losing key personnel in the offseason, their core remains strong, and they've restocked through the draft.
Vikings' History With Eagles
For the Vikings, facing the Eagles in a primetime matchup at Lincoln Financial Field brings back memories of a tough loss last year. In a Monday Night Football clash in Week 2, the Eagles handed them a 24-7 defeat. Kirk Cousins struggled with three interceptions, and the defense was unable to contain Jalen Hurts, who scored three touchdowns in the first half.
Justin Jefferson
One player to keep a close eye on is Minnesota wide receiver Justin Jefferson. In their opener against Tampa Bay, he racked up an impressive nine receptions for 150 yards. Notably, Jefferson set records by becoming the fastest player to reach 25 career games with at least 100 receiving yards in NFL history, surpassing legends like Lance Alworth and Randy Moss. His explosiveness on the field makes him a game-changer for the Vikings.
---
For more on SiriusXM's NFL programming, visit SiriusXM.com/NFL.
---
---
---