Listen to former FBI Dir. James Comey's Senate testimony on SiriusXM P.O.T.U.S.
Comey will testify before the Senate Intelligence Committee.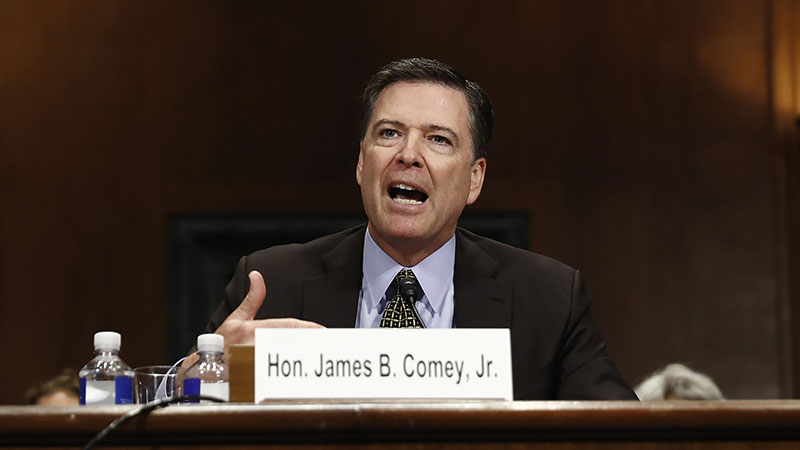 FBI Director James Comey testifies on Capitol Hill in Washington, Wednesday, May 3, 2017, before the Senate Judiciary Committee hearing: "Oversight of the Federal Bureau of Investigation." (AP Photo/Carolyn Kaster)
Former FBI Director James Comey's testimony before the Senate Intelligence Committee is one of the most anticipated political events in recent memory. SiriusXM P.O.T.U.S. will begin coverage with Michael Smerconish Thursday morning, then air the hearing without interruption beginning at 10 am ET.
Comey's seven page opening remarks were released in advance of his testimony. In recalling the now infamous January 27th dinner, which is the subject of the so-called Comey Memo, he writes:
"A few moments later, the President said, 'I need loyalty, I expect loyalty.' I didn't move, speak, or change my facial expression in any way during the awkward silence that followed. We simply looked at each other in silence."
Comey's statement also revealed the last time he spoke with the President was on April 11th via phone.
You can hear Comey's full testimony on June 8th at 10 am ET on SiriusXM P.O.T.U.S. (Ch. 124), as well as on SiriusXM's news channels including CNN, Fox News, Fox News Headlines 24/7, MSNBC, and NPR.
Photo Credit: AP Photo/Carolyn Kaster
---
---
---