Listen to Andy Cohen's Passover playlist: Top 10 Jews in dance music
Get into the "Shalom" spirit this Passover with Andy Cohen's latest Utopia Ten. Each week, the Radio Andy host, Bravo boss and professional Housewives peacemaker counts down 10 songs he's obsessed with — and this one's got a holiday message. "Recently … Continued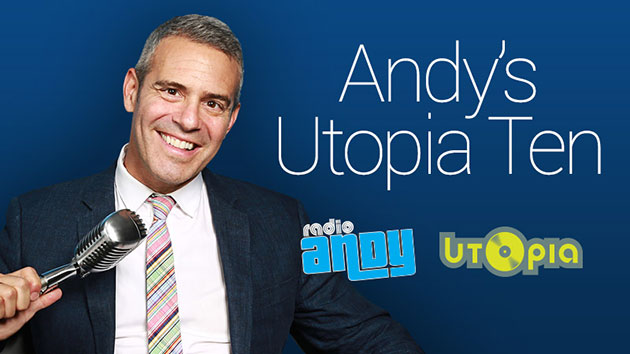 Get into the "Shalom" spirit this Passover with Andy Cohen's latest Utopia Ten.
Each week, the Radio Andy host, Bravo boss and professional Housewives peacemaker counts down 10 songs he's obsessed with — and this one's got a holiday message.
"Recently on this show I shared my favorite stoner songs, so I thought this week we'd repent for our sins with my Passover playlist!" says Cohen, 47. "Back by popular demand after my Hannukah countdown, it's some of the top Jews in dance music! Believe me, our research department has been hard at work on this one … and some surprises are in store!"
Check out Cohen's choices below, and bump and grind to more jams from the 1990s and 2000s by listening to SiriusXM's Utopia (Ch. 55).
10. BECK/FATBOY SLIM – LOSER REMIX 

9. LENNY KRAVITZ/DOUSK & JMP – BELIEVE IN ME REMIX 

8. PINK/ERNIE LAKE – GET THE PARTY STARTED REMIX 

7. MARK RONSON/WILL SPARKS – UPTOWN FUNK! REMIX 

6. TAYLOR DAYNE – TELL IT TO MY HEART 

5. BEASTIE BOYS – FIGHT FOR YOUR RIGHT

4. HAIM/CALVIN HARRIS – PRAY TO GOD 

3. ADAM LAMBERT – GHOST TOWN 

2. CRAZY TOWN – BUTTERFLY

1. DAVID GUETTA/FELGUK/FLO RIDA – CLUB CAN'T HANDLE ME REMIX 

---
---
---