LISTEN: Sen. John McCain tells Jim Parsons the U.S. Supreme Court's 'worst decision'
"If money is speech, then the person with the most money gets to speak the most."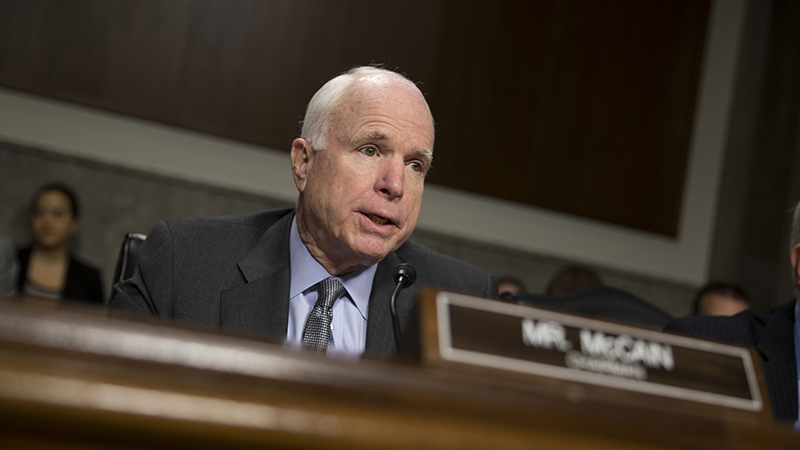 FILE – In this Feb. 9, 2016 file photo, Senate Armed Services Committee Chairman Sen. John McCain, R-Ariz., speaks on Capitol Hill in Washington. Millennials have emerged as the nation's largest living generation yet you wouldn't know it from the power brokers in the Republican-controlled Senate. The body's eldest members wield the gavel as committee chairmen, and several of them are asking voters to give them another six years. (AP Photo/Evan Vucci, File)
Cycles of "reform and corruption" have long been part of the U.S. government, but Sen. John McCain explained to Radio Andy's Jim Parsons on Friday evening that he sees a pending scandal on the horizon.
"There will be a scandal and it will probably be with foreign money sooner or later in our system," he said. "There's just too much unaccounted foreign money washing around."
McCain, a three-decade veteran of the U.S. Senate, said that because he was in the arena, he saw "money was having a corrupting influence."
"And by the way," McCain added, "the worst decision I think the United States Supreme Court [made] was when the Chief Justice of United States Supreme Court said, 'Well, money is speech.' Think about that. If money is speech, then the person with the most money gets to speak the most."
Jim Parsons Is Too Stupid for Politics airs Fridays at 7 pm ET on SiriusXM Radio Andy (Ch. 102).
For a free 30-day trial, check out http://www.siriusxm.com/freetrial/blog 
AP Photo/Evan Vucci, File
---
---
---