LISTEN: Sen. Cory Booker on Comey's firing: 'We are in a crisis'
"[Trump] wanted to send a message," Sebastian Gorka added.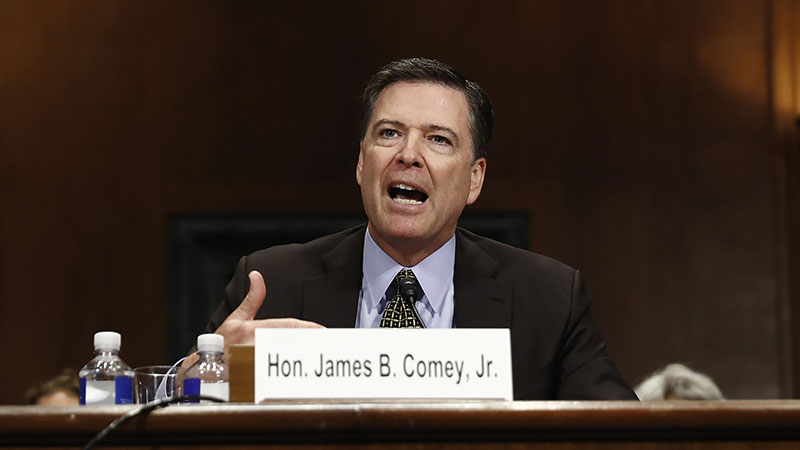 FBI Director James Comey testifies on Capitol Hill in Washington, Wednesday, May 3, 2017, before the Senate Judiciary Committee hearing: "Oversight of the Federal Bureau of Investigation." (AP Photo/Carolyn Kaster)
Pres. Donald Trump's termination of FBI Director James Comey sent shock waves throughout the country on Tuesday evening. Comey — who was speaking at the FBI's Los Angeles field office at the time of the breaking news — was unaware of his firing.
"We are in a crisis," Sen. Cory Booker told Joe Madison on Wednesday. "Clearly it's a crisis of public confidence in an investigation that goes to the root of who we are as a country."
Many were quick to make analogies between Trump's move and the so-called "Saturday Night Massacre" — the evening in October 1973 when Pres. Richard Nixon fired Archibald Cox, the special prosecutor leading the Watergate investigation.
"As we saw in the time of Nixon, we need courageous public leaders on both sides to be stepping up and saying 'look, I'm not jumping to conclusions,' and I'm one of those people to say 'we do not know for sure if any Trump associates colluded with the Russians,'" Booker said. "But dear god, we must have an authentic investigation — a thorough one — that takes us to a full conclusion on whether or not that happened."
Since Tuesday's announcement, members of the administration have come out in defense of the president's decision.
"[Trump] is incredibly decisive," Dr. Sebastian Gorka, deputy assistant to the president, told Raheem Kassam. "And he wanted to send a message. And the recent testimony of the director just added that last straw to the camel's back and proved that he's unfit to serve and that he's lost the confidence not only of the president, but of the agents that serve under him."
And while politicians on both sides of the aisle are expressing outrage over the termination, former Secretary of State Condoleezza Rice reminded Yahoo News' Olivier Knox that this move was within his scope of power.
"The main thing is, the president does have the right to call for the resignation of people in his administration," she said. "And the FBI director is in the administration."
Rice continued, "I don't think it's going to effect the investigation because we have so many institutions that are independent of the presidency that even if the White House wanted to do that, I don't think that it could."
Joe Madison – The Black Eagle airs Monday – Friday at 6 am ET on SiriusXM Urban View (Ch. 126)
Yahoo News on POTUS airs Wednesdays at 2 pm ET SiriusXM P.O.T.U.S. (Ch. 124)
Breitbart News Daily airs Monday – Friday at 6 am ET on SiriusXM Patriot (Ch. 125) 
For a free 30-day trial, check out http://www.siriusxm.com/freetrial/blog
AP Photo/Carolyn Kaster
---
---
---