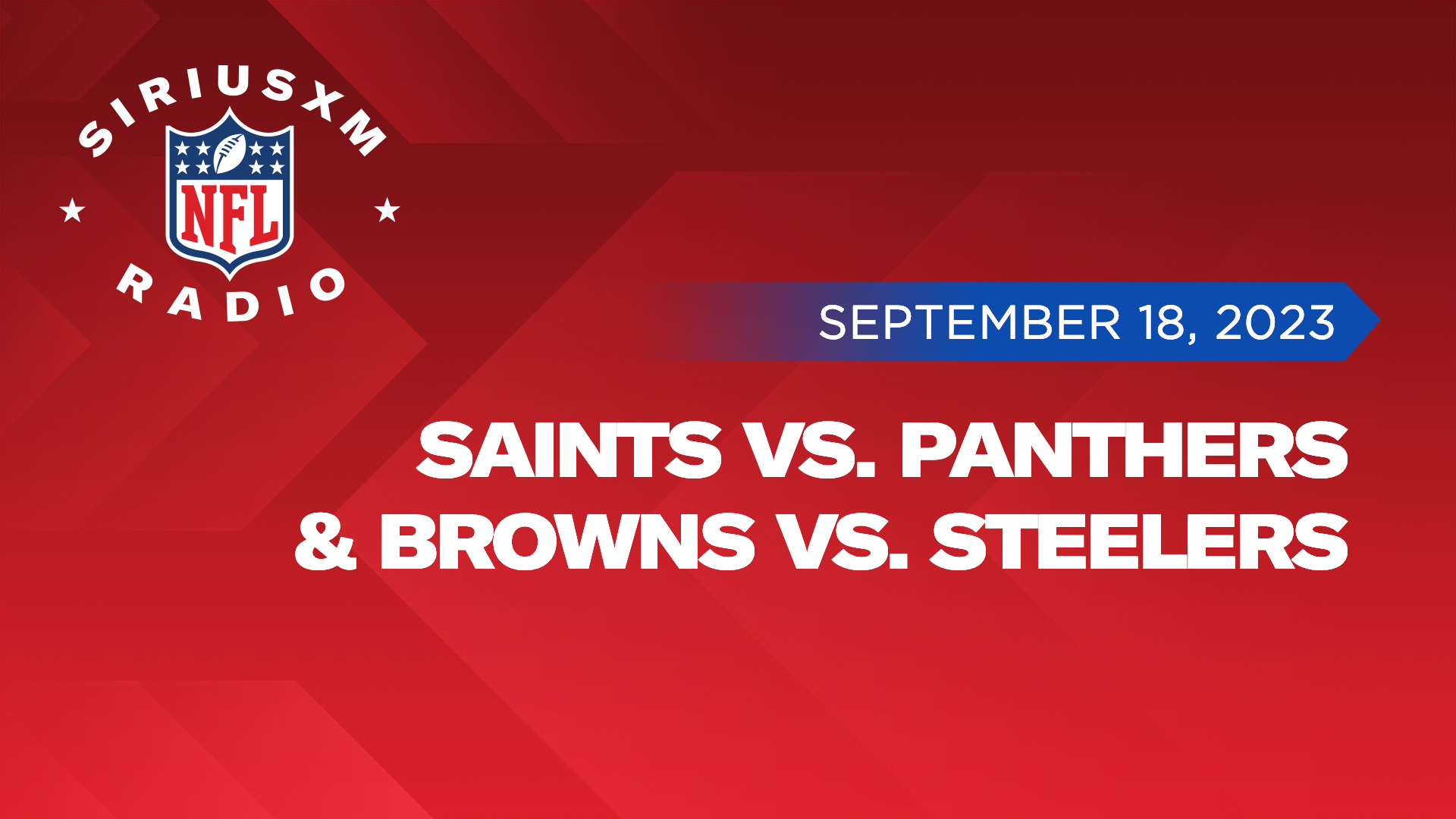 As the NFL's Week 2 matchups for Monday Night Football draw near, football fans are gearing up for an exciting doubleheader featuring four dynamic teams: the New Orleans Saints, Carolina Panthers, Cleveland Browns, and Pittsburgh Steelers. Let's delve into the recent performances and key takeaways from each of these squads as they prepare to clash on the gridiron. Listen live on September 18 at 7:15pm and 8:15pm ET.
---
Listen to the New Orleans Saints broadcast (Ch. 822)
Listen to the Carolina Panthers broadcast (Ch. 804)
Listen to the National broadcast (Ch. 964)
---
Listen to the Cleveland Browns broadcast (Ch. 807)
Listen to the Pittsburgh Steelers broadcast (Ch. 826)
Listen to the National broadcast (Ch. 88)
---
New Orleans Saints:
In Week 1, the New Orleans Saints delivered a gritty defensive performance to secure a 16-15 victory over the Tennessee Titans. While the offense had its struggles, they found success in reconnecting with star receiver Michael Thomas, who displayed glimpses of his true form. Thomas tallied 61 yards on five catches, signaling his importance for the upcoming season.
Despite a rocky start by Rashid Shaheed, who fumbled the opening kickoff, he rebounded impressively, finishing with 89 yards and a touchdown on five receptions. The Saints' offensive line faced early challenges, allowing three sacks in the first half, but adjustments in the second half improved their protection.
The Saints' defense shone brightly, limiting the Titans to just field goals, with three interceptions and several sacks. They also managed to contain Derrick Henry, allowing only 63 rushing yards. This defense promises to be a driving force for the Saints this season, as they aim to maintain their winning streak.
Carolina Panthers:
The Carolina Panthers faced a challenging start to their season, falling 24-10 to the Atlanta Falcons. Bryce Young, their rookie quarterback, displayed both promise and areas for improvement in his debut. Young exhibited poise and accuracy in his passing, earning 20 completions out of 38 attempts.
However, Young struggled with two interceptions on passes traveling over 13 yards. His two interceptions were notable for their timing and location, highlighting areas he needs to refine.
Defensively, Brian Burns made a statement with two early sacks and a crucial tackle for loss. The Panthers' offense moved the ball effectively at times but struggled in critical situations, such as a failed fourth-down attempt near the goal line. Despite the loss, there are promising elements to build upon as the Panthers look to rebound.
---
Carolina Panthers Home Feed
SiriusXM channel 225 in your vehicle
Channel 804 on the SiriusXM App
New Orleans Saints Away Feed
SiriusXM channel 226 in your vehicle
Channel 822 on the SiriusXM App
National Feed – 7:15pm ET
SiriusXM channel 227 in your vehicle
Channel 964 via on SiriusXM App
---
Cleveland Browns:
The Cleveland Browns had an impressive showing in Week 1, defeating the Cincinnati Bengals 24-3. The Browns' defense, led by Myles Garrett, shut down Joe Burrow and the Bengals' offense. Garrett's sack on Burrow sealed the game, capping off a dominant performance.
Burrow struggled with the adverse weather conditions, and the Browns' pass rush consistently applied pressure. Ja'Marr Chase, who playfully taunted the Browns before the game, was limited to just 39 yards on five receptions. Tee Higgins was completely neutralized, failing to record a catch on eight targets.
Despite the rain and wind affecting both teams, the Browns' defense contested every play, allowing only a field goal and forcing 10 punts. This defensive showcase was a much-needed validation of the Browns' offseason investments and their ability to compete in the AFC North.
Pittsburgh Steelers:
The Pittsburgh Steelers had a tough start to their season when they faced the formidable San Francisco 49ers. In a game that highlighted the gap between them and a Super Bowl contender, the Steelers struggled from the get-go. The 49ers seized control from the opening kickoff, ultimately handing the Steelers a resounding 30-7 defeat on their home turf.
Offensively, the Steelers faced early challenges, with quarterback Kenny Pickett's opening drive resulting in a punt. A slip by Diontae Johnson and an interception marred their early passing attempts. Despite some moments of promise, the offense couldn't find a rhythm. Kenny Pickett completed 31 of 46 attempts for 232 yards, 3rd-most completions among all QBs in Week 1.
On the defensive side, the Steelers had their share of frustrations as well. They managed to force field goals but couldn't contain the 49ers consistently. Levi Wallace's unnecessary roughness and a disputed strip-sack by T.J. Watt added to their woes.
T.J. Watt had 3 sacks, 2 forced fumbles, 1 fumble recovered and pass defended last week. It was his 6th career game with 3+ sacks, most in the NFL since 2017
---
Pittsburgh Steelers Home Feed
SiriusXM channel 228 in your vehicle
Channel 826 on the SiriusXM App
Cleveland Browns Away Feed
SiriusXM channel 229 in your vehicle
Channel 807 on the SiriusXM App
National Feed – 8:15pm ET
SiriusXM channel 88 in your vehicle
Channel 88 via on SiriusXM App
En Español
SiriusXM channel 230 in your vehicle
Channel 832 via on SiriusXM App
---
For more on SiriusXM's NFL programming, visit SiriusXM.com/NFL.
---
---
---