LISTEN: Pres. Trump sits down in the Oval Office with P.O.T.U.S. host Salena Zito
"You make a mistake here, there is nothing to work out. You know it's trouble."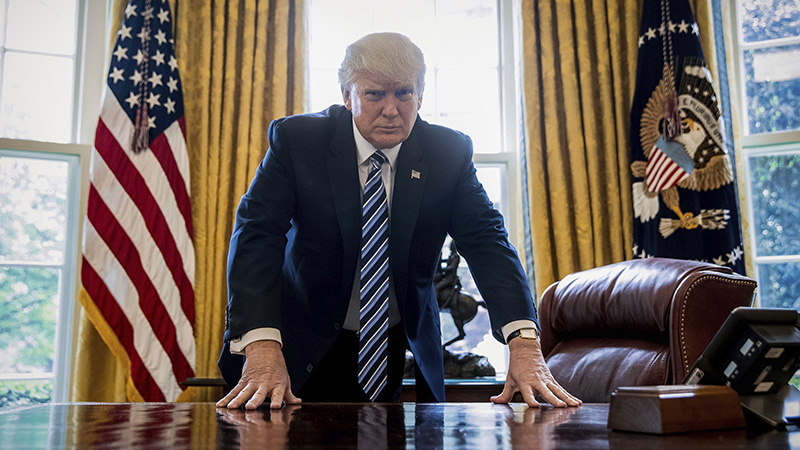 In this Friday, April 21, 2017, file photo, President Donald Trump poses for a portrait in the Oval Office in Washington.
Ahead of the 100-day mark, Pres. Donald Trump invited SiriusXM P.O.T.U.S. host and Washington Examiner reporter Salena Zito into the Oval Office for a sit-down interview. During their 40-minute conversation, Trump described the changes he's felt since taking the oath of office.
"You can make a mistake in deals, and you work it out," Trump explained to Zito. "You make a mistake here, there is nothing to work out. You know it's trouble. It could be big trouble. And it is life-threatening trouble for lots of people, potentially."
Trump also addressed a wide range of issues, including his stance on North Korea, the toughest decision he's made in the first 100 days (airstrikes in Syria), Andrew Jackson, and offered praise for his newly appointed Supreme Court Justice.
Hear Salena Zito's full interview with Pres. Trump on "Main Street Meets the Beltway" on SiriusXM P.O.T.U.S. (Ch. 124) on demand: https://siriusxm.us/2pp1I22 
SiriusXM Free Listening is right around the corner! Text LISTEN to 77917 to learn more and receive special offers. Message and data rates may apply. Reply STOP 2 end HELP 4 info.
For a free 30-day trial, check out siriusxm.com/freetrial/blog
AP Photo/Andrew Harnik, File
---
---
---