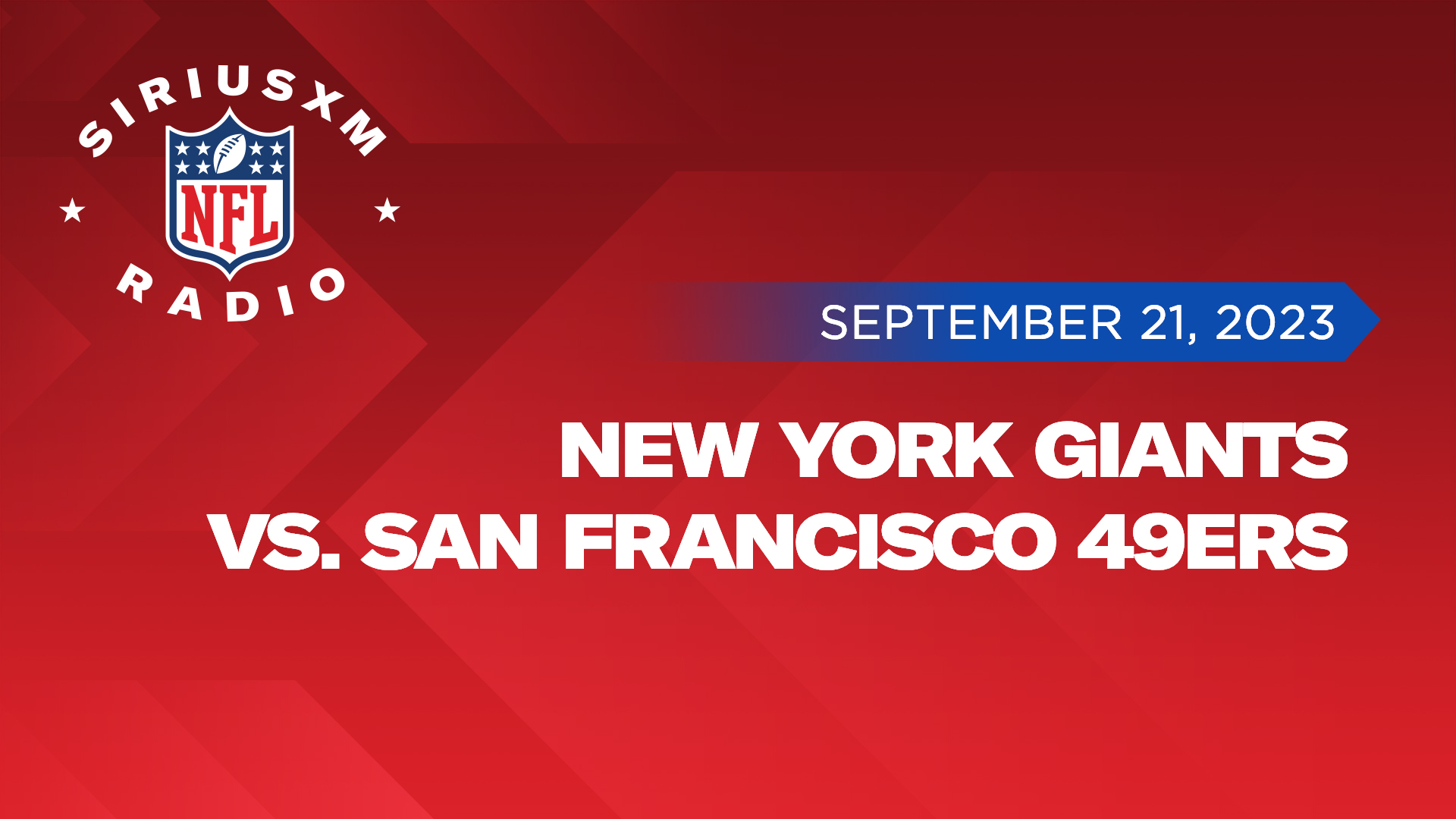 Get ready for an exciting NFL Thursday Night Football matchup in Week 3 as the New York Giants take on the San Francisco 49ers. With both teams looking to build on their wins last week, this showdown promises to be a must-listen event.
Listen live to your choice of the home, away, or national feed on the SiriusXM App. Kickoff is September 21 at 8:15pm ET.
---
Stream the San Francisco 49ers broadcast (Ch. 827)
Stream the New York Giants broadcast (Ch. 823)
Stream the National broadcast (Ch. 88)
---
Home: San Francisco 49ers
The 49ers have surged to a 2-0 record for the third time in the past five seasons, making them a formidable opponent for the Giants.
Quarterback Brock Purdy, with 206 passing yards in Week 2, is set to shine on home turf. Purdy boasts an impressive 132.8 rating in three career home starts, with eight touchdowns (seven passing, one rushing) and just one interception.
Running back Christian McCaffrey, one of the NFL's most dynamic players, had 135 scrimmage yards and a rushing touchdown in Week 2. McCaffrey ranks second in the league with 304 scrimmage yards and aims for his eighth consecutive game with a touchdown. He has a history of success against the Giants, with 221 scrimmage yards and a receiving touchdown in two previous meetings.
Wide receiver Deebo Samuel is a game-changer, coming off a Week 2 performance with 101 scrimmage yards and his 15th career rush touchdown. Samuel's explosiveness was evident in his last Thursday night game, where he recorded 191 scrimmage yards.
Tight end George Kittle, a red-zone threat, has four receiving touchdowns in his past four Thursday night games and is looking to continue his scoring streak at home.
Defensively, Nick Bosa has been a menace to opposing quarterbacks with 13 sacks and 14 tackles for loss in nine home games last season. Linebackers Fred Warner and Dre Greenlaw are tackling machines, and cornerback Isaiah Oliver secured his first interception of the season in Week 2.
---
New York Giants Home Feed
SiriusXM channel 225 in your vehicle
Channel 827 on the SiriusXM App
San Francisco 49ers Away Feed
SiriusXM channel 226 in your vehicle
Channel 823 on the SiriusXM App
National Feed
SiriusXM channel 88 in your vehicle
Channel 88 via on SiriusXM App
---
Away: New York Giants
The Giants showcased their resilience in Week 2 by completing a jaw-dropping 21-point comeback, marking one of the franchise's most memorable victories.
Quarterback Daniel Jones led the charge, demonstrating his prowess by completing 70.3% of his passes for 321 yards and two touchdowns. Jones also showcased his dual-threat abilities with 59 rushing yards and a 13th career rushing touchdown. In his quest for a third consecutive road start with over 300 passing yards, Jones looks to maintain his impressive Thursday night performance streak.
Running back Saquon Barkley, a force to be reckoned with, had a stellar Week 2 outing, amassing 92 scrimmage yards, including two touchdowns—one on the ground and one through the air. Barkley has a knack for finding the end zone in Thursday games, having scored a rushing touchdown in two out of three career appearances. Additionally, he has a history of success against the 49ers, with 100 scrimmage yards in their only prior meeting. Saquon Barkley will miss this week due to an ankle injury, leaving Matt Breida to start at running back.
Adding to the excitement, tight end Darren Waller is coming off a strong performance with six catches for 76 yards, while rookie receiver Jalin Hyatt led the team with 89 receiving yards. Watch out for Isaiah Hodgins, who aims for his third consecutive road game with a receiving touchdown.
On the defensive front, Dexter Lawrence and Bobby Okereke are primed to make an impact with their penchant for tackles and tackles for loss. Safety Jason Pinnock looks to continue his stellar play after setting career highs with 13 tackles and three tackles for loss in Week 2.
Cornerback Adoree' Jackson is a key player to watch, aiming for his fourth consecutive road game with a pass defended. Jackson also had an impressive outing against the 49ers in his only prior meeting.
---
For more on SiriusXM's NFL programming, visit SiriusXM.com/NFL.
---
---
---