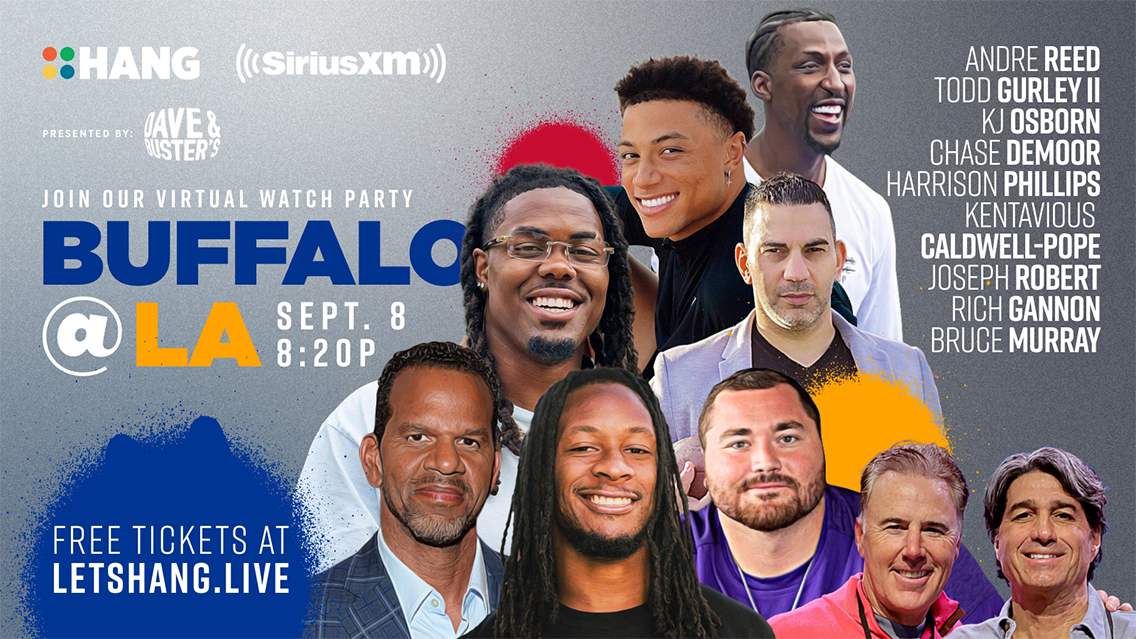 Let's Hang and SiriusXM are kicking off the NFL season with a can't-miss virtual watch party for the Buffalo-LA matchup on Thursday, September 8 (8:20pm-10:30pm ET). Instead of watching the highly anticipated game alone or just with family and friends, hang with professional athletes, analysts and more as they interact with you virtually while viewing the matchup live.

During the watch party, we're giving you the chance to join Andre Reed, Todd Gurley II, KJ Osborn, Chase DeMoor, Harrison Phillips, Kentavious Caldwell-Pope, Joseph Robert, Rich Gannon and Bruce Murray. To be a part of the free event, click here.
---
Related: Hear NFL Games, Analysis and Interviews on SiriusXM
---
About Let's Hang
Don't sit home alone watching the game anymore — now you can HANG with your sports heroes as they watch with you!
It's the best new way to watch sports on TV. With two easy options to HANG with the pros: Our VIP ticket gets you in the room LIVE — talk directly with the stars you've only ever seen from afar, for a full quarter. Or join our Spectator gallery and watch your heroes watching the same game you are — text chat with them and fans from all over the country! You can buy single seats or make it a group thing — take advantage of our deeply discounted blocs for your friends, family, fantasy league, or co-workers.
Sign up for your unique game-day link — one click and our HANG team ushers you into your virtual HANG out, where you'll come face to face with the greats! It's as easy as that! Game's on TV — party's in here!
Check out our other upcoming events from Let's Hang here.
Plus, don't miss SiriusXM's nonstop NFL coverage all season long here.
---
---
---