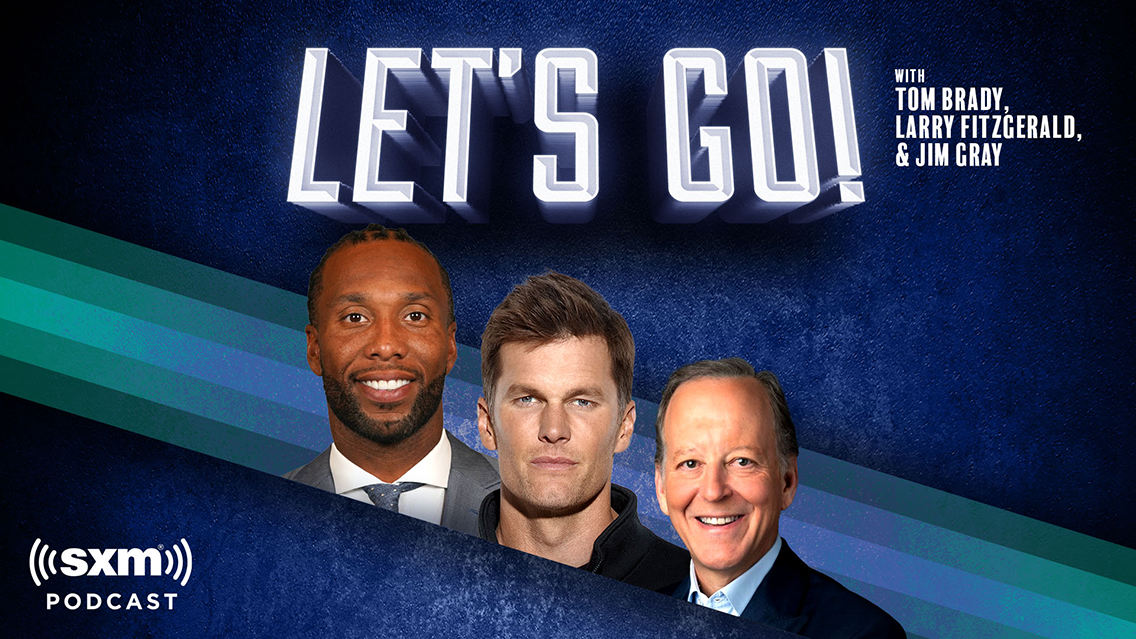 A third season of Let's Go! – the SiriusXM series hosted by 7-time Super Bowl Champion quarterback Tom Brady, former All-Pro wide receiver Larry Fitzgerald and Hall of Fame Emmy Award-winning broadcaster Jim Gray – is a go!
---
Listen to Let's Go! on the SiriusXM App now
---
The next season will debut on Monday, September 4, and air weekly throughout the 2023 NFL season.
Brady, who announced his retirement from a legendary on-field career following the 2022 NFL season, and Fitzgerald, a NFL Man of the Year and one of the greatest receivers to ever play the game, share their thoughts on the latest news around the league and beyond the field. Gray, who has known and interviewed both players since they came into the league, leads the conversations every week.
New episodes will debut every Monday at 6 pm ET/3 pm PT on SiriusXM's Mad Dog Sports Radio (channel 82) and replay at 6:30 pm ET/3:30 pm PT on SiriusXM NFL Radio (channel 88). Let's Go! will be available on all major podcast platforms, with additional bonus content from Tom, Larry and Jim available only on the SiriusXM App.
The first two seasons of Let's Go! have also featured appearances by an extraordinary list of guests – including Oprah Winfrey, Snoop Dogg, Bill Belichick, Tracy Morgan, Adam Sandler, Patrick Mahomes, Andrea Bocelli, Aaron Judge, Peyton Manning, Kevin Durant, Andy Reid and many more.
Let's Go! is produced by 199 Productions, Scratchy Productions, Shadow Lion and SiriusXM.
Check out more sports shows and channels, plus live play-by-play of games and matches, on SiriusXM here.
---
---
---