NBA Roundup: LeBron was "awful" in Game 3; Enes Kanter speaks out on being detained
Mad Dog Sports Radio's Adam Schein doesn't want to hear the excuses.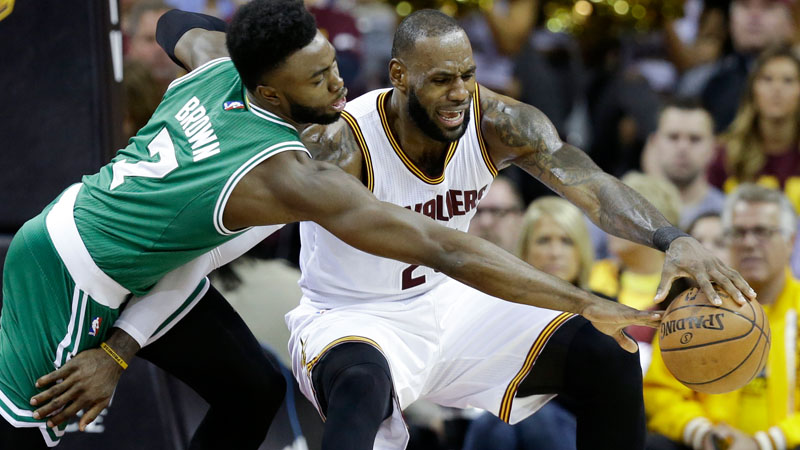 Boston Celtics' Jaylen Brown (7) defends against Cleveland Cavaliers' LeBron James (23) during the first half of Game 3 of the NBA basketball Eastern Conference finals, Sunday, May 21, 2017, in Cleveland.
Mad Dog Sports Radio's Adam Schein doesn't want to hear the excuses. The fact is, LeBron James was awful against the Boston Celtics in Game 3 of the Eastern Conference Finals.
Despite having to play without star point guard Isaiah Thomas on the road, the Celtics managed an improbable win against Cleveland Sunday night. LeBron managed just 11 points and was a non-factor on both sides of the ball.
Schein isn't a LeBron hater, but he calls them like he sees them. And that includes the excuses for King James.
"Ty Lue I thought embarrassed himself a little post-game saying, 'Well, LeBron was so used to being a facilitator feeding Kyrie and Kevin Love, never got into the flow,'" Schein said. "Ty Lue, LeBron was awful."
In non-game related news this weekend, Oklahoma City Thunder center Enes Kanter was detained at a Romanian airport by police. Kanter said he believes he was held because of his outspoken views on Turkish president Recep Tayyip Erdo.
Following his detention, Kanter says he is now attempting to become an American citizen. He explained his situation on SiriusXM NBA Radio with Joel Meyers and Tim Legler.
---
---