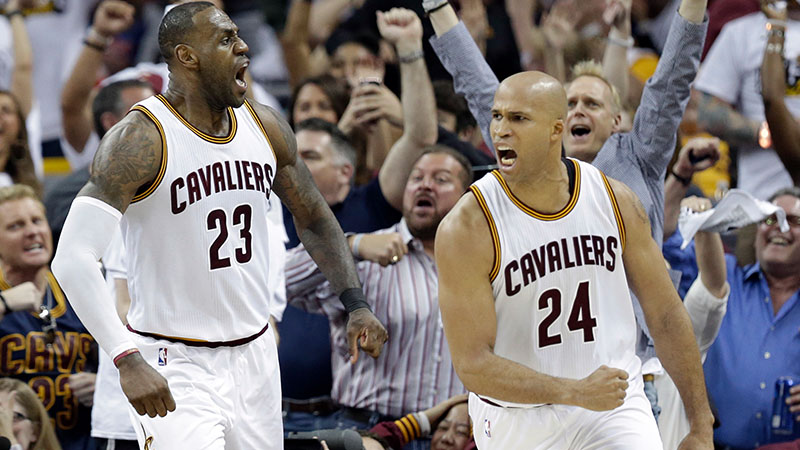 Cleveland Cavaliers' LeBron James (23) and Richard Jefferson (24) celebrate after James makes a basket in the second half in Game 1 of a first-round NBA basketball playoff series against the Indiana Pacers, Saturday, April 15, 2017, in Cleveland. The Cavaliers won 109-108.
LeBron James might not be the MVP of the NBA every year, but he's still the very best player in basketball. And when "The King" decides to retire, there will be one record (of many) that Cavaliers teammate Richard Jefferson thinks will be "next to impossible to break."
"He just passed Michael Jordan all-time in playoff scoring, and by the time he's done that record will be untouchable," Jefferson told SiriusXM NBA Radio ahead of Game 4 of the NBA Finals. "Whoever comes in is going to have to play in 10 NBA Finals in a 14-year, 15-year stretch just to play enough games. And they're going to have to average 30 (ppg)."
That's why in Jefferson's mind, no matter how you slice it, James is the best player in basketball.
Listen to the interview below:
For more NBA news, listen to SiriusXM NBA Radio (XM 86, Sirius 207).
---
---