Laugh out loud with legendary 'Tonight Show' moments on The Johnny Carson Channel
Don't miss a month of hilarious episodes, exclusive interviews, iconic sound bites, and more in celebration of the late television host.
Heeere's Johnny! Literally — SiriusXM is paying tribute to the late talk show host with the return of The Johnny Carson Channel. Fans can enjoy one of the original architects of late-night television as we revisit the best Tonight Show Starring Johnny Carson moments all month long, starting on Sunday, March 1 on Channel 105.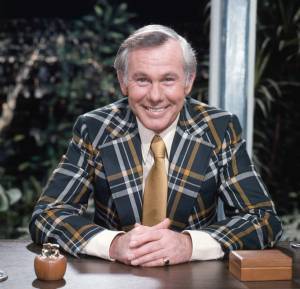 The limited-run channel will feature hand-picked Tonight Show episodes that highlight Carson's immeasurable wit, charm, and endless stream of notable guests. Listeners can laugh out loud while reminiscing on segments and interviews featuring legends like Richard Pryor, Rodney Dangerfield, Lucille Ball, Muhammad Ali, Bob Hope, Dean Martin, Billy Crystal, and Oprah Winfrey. On top of that, they'll relive the first Tonight Show stand-up appearances of some of today's biggest names in TV and comedy, including Jerry Seinfeld (1981), Jay Leno (1977), Ellen DeGeneres (1986), and even the debut of Eddie Murphy (1982).
No walk down Tonight Show memory lane would be complete without the incomparable voice of Ed McMahon, complemented by the sounds of musical guests, the show's iconic theme song, and opening guest monologues. To further celebrate Carson's impact, the channel will air interviews with over 50 of the most respected comedians in the world as they reflect on their favorite moments. This includes Leno, Bob Newhart, Mel Brooks, Carl Reiner, Howie Mandel, Jeff Foxworthy, Larry the Cable Guy, Kevin Nealon, Rita Rudner, Joel McHale, and Bob Saget, to name a few.
Don't miss your chance to experience Tonight Show magic again from Sunday, March 1 through Wednesday, April 1 (and, no, this isn't an April Fools' Day joke).
---
---