Las Vegas Mayor: With downtown site, Raiders 'probably' could be in new stadium in 2019
If the Oakland Raiders are looking to begin play in Las Vegas at the earliest possible time, the mayor of their next home has the solution. Go with a downtown stadium, and the Raiders could very well be kicking off the 2019 … Continued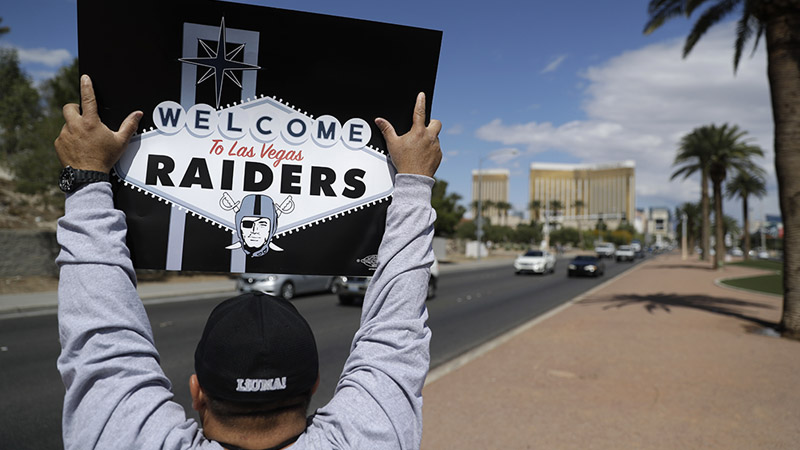 A man celebrates holding a Raiders sign, Monday, March 27, 2017, in Las Vegas. NFL team owners approved the move of the Raiders to Las Vegas in a vote at an NFL football annual meeting in Phoenix. (AP Photo/John Locher)
If the Oakland Raiders are looking to begin play in Las Vegas at the earliest possible time, the mayor of their next home has the solution.
Go with a downtown stadium, and the Raiders could very well be kicking off the 2019 season in Las Vegas.
'That infrastructure's already there'
"What the facts are is, if we came downtown, that infrastructure's already there," Mayor Carolyn Goodman told Jim Miller and Pat Kirwan on Movin' the Chains. "But more importantly, we could probably — I'm not going to say guarantee — but we probably, if, in fact, the Raiders got all their parts together quickly, we could be ready for the 2019 season downtown."
That would not be the case, Goodman said, when it comes to other locations off of Interstate 15, which runs through Las Vegas.
'Sites currently under the microscope, they're looking way out to 2021-2022'
"And what's come to pass is when we look at these sites that are currently under the microscope, they're looking way out to 2021-2022," she said. "And that's because it's right off of an interstate, which means federal environmental studies. There's so many things that have to happen. And, plus, we have to find more money to handle all the fly-overs and other infrastructure off the site of the stadium. And I don't know where that funding's going to come (from).
"I think the most important fact is it doesn't work in the best interest of the Raiders to wait. And if, in fact, they had their designs finalized, they only have to go through City Council and our city planning department to move this through because we own the complex where we want it to go. And we would give them that complex because obviously, ultimately, we would be getting property tax, but it's in a redevelopment area in the heart of downtown, and so there are tax advantages.
'It's wonderful for the Raiders, it's wonderful for Las Vegas'
"It's so exciting. It's wonderful for the Raiders, it's wonderful for Las Vegas, it's wonderful for Raider Nation. We have so many Raider fans here, you wouldn't believe it. And, of course, they're all over the world. Shame on Steve Ross (the Miami Dolphins' owner who cast the lone dissenting vote on the move). I don't know why he wasn't interested in us … and we can't wait for the Dolphins to come in here and play."
---
---