Lady Gaga tells Howard Stern how 'Joanne' helped her land the Super Bowl halftime show
Lady Gaga opened up about her new album Joanne on The Howard Stern Show.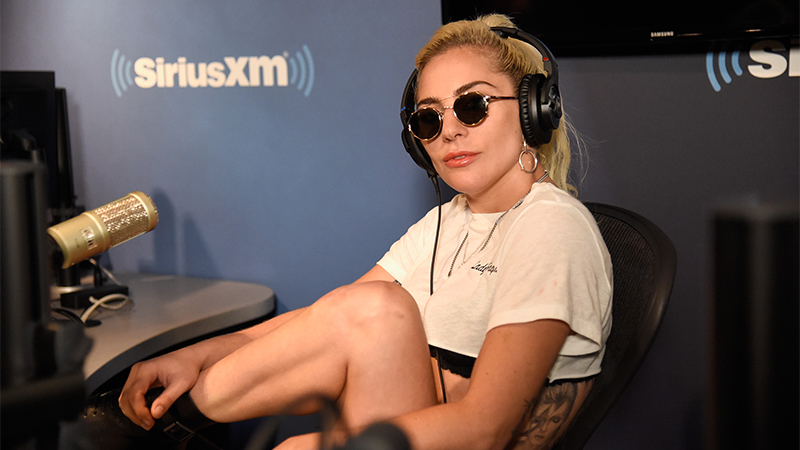 NEW YORK, NY – SEPTEMBER 12: Lady Gaga visits the SiriusXM Studios on September 12, 2016 in New York City. (Photo by Kevin Mazur/Getty Images for SiriusXM)
Lady Gaga's fifth album, Joanne, is a touch-down for music critics and sports commissioners.
On The Howard Stern Show, Gaga recounted how the NFL signed her to perform at the next Super Bowl after she sang the national anthem last time.
"Basically the NFL wanted to talk to us about doing the half-time show, but they wanted to hear the new record," she said Monday. "So I played them Joanne, the new album, and they loved it. And it was the record that sealed the deal."
Asked if she'll expose herself a la Janet Jackson, the Mother Monster laughed and admitted her stylist glues her into the garments, even doing so without her knowledge over the weekend on Saturday Night Live.
"He didn't tell me, he just did it, so when the show was over he went to the bathroom and I'm like, 'What the f***? I can't get my underwear off!'" she said.
The conversation hit a serious note when Gaga explained why she named the album after the late aunt she never knew, her father's sister who died at 19 of lupus.
"She's like this goddess that we worshiped in our family our whole life. Her picture was always up and it was framed so beautifully in the house and we talked about her all the time, and every meal she was brought up," she said. "For me she was like my guardian angel or spirit guide. My grandma would always say, 'Joanne's looking out for you.'"
Eventually, Gaga learned Joanne suffered a traumatic experience while in college — one that mirrors her own life.
"She was sexually assaulted in her dorm room, and it caused her disease to flare up and she died very suddenly," she said. "So my father, I never understood why my father drank so much and why he was so angry and why he was so overprotective and why his eyes would just blister out of control when I showed a sign of independence or wanting to leave the house or be on my own, and I always thought it was my fault. And so this album for me was about healing the wounds of being a young woman growing up in a tough family and figuring that out."
Gaga also talked about how her ex-fiance Taylor Kinney influenced her album and her next acting gig: a remake of the 1954 classic A Star Is Born directed by her friend Bradley Cooper, who will also play her love interest.
"Do you think a true romance could come out of this?" Stern asked. I'm thinking maybe …"
"Absolutely not," Gaga said.
"You know as well as I do, as an actor you can fall in love so easily on the set. You know it," he pressed.
"But the thing is I already love everyone," she said. "And the idea is if you really love somebody, you put the most important thing first, and that is the film. And the truth is, what's most important to me is that we tell a story that touches the hearts of the millions of people that come to see it."
Joanne is available for purchase now. Hear Gaga bring Robin Quivers to tears with her song A Million Reasons below:
For more coverage of The Howard Stern Show, follow @sternshow on Twitter. Hear more Howard on SiriusXM Ch. 100 and 101.
For a free 30-day trial, check out http://www.siriusxm.com/freetrial/blog.
---
---
---