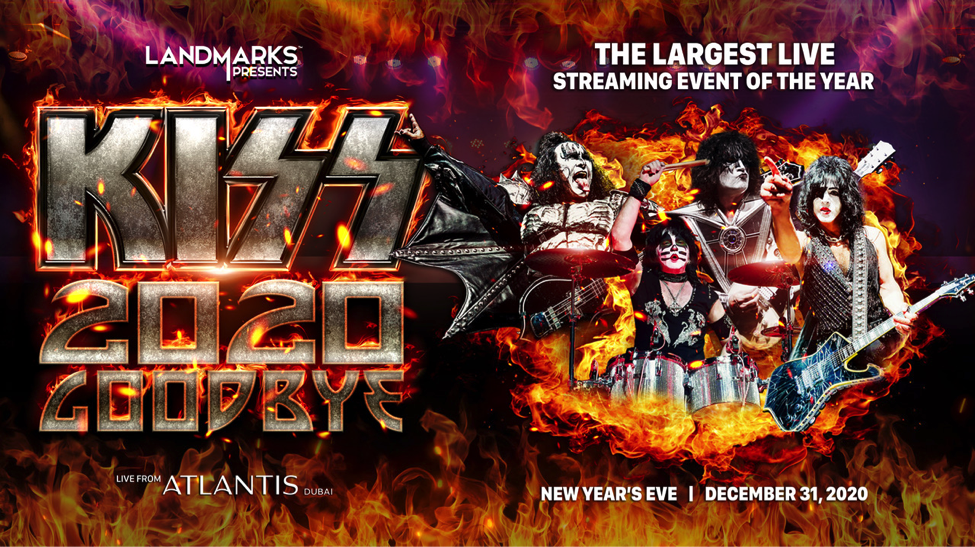 It's been 296 days since they had to kiss the stage goodbye, but KISS is roaring back to life and proving that they never do anything small with a once-in-a-lifetime concert experience, which fans can watch via livestream and hear on SiriusXM.
---
CLICK HERE FOR TICKETS TO THE LIVESTREAM: KISS2020Goodbye.com
---
SiriusXM listeners can hear the iconic Rock & Roll Hall of Fame and multi-platinum-selling band's KISS 2020 GOODBYE concert at Atlantis, The Palm in Dubai on New Year's Eve at 8pm ET on Ozzy's Boneyard (Ch. 38). Encores will air through January 3 on Ozzy's Boneyard, Classic Rewind (Ch. 25), and Hair Nation (Ch. 39). Scroll for the full rebroadcast schedule (all times in ET)!

"After nine months of this pandemic darkness, the world may finally be seeing the light of day. On New Year's Eve, KISS will rock the heavens, shake the earth, and blaze the way out of 2020 with the largest and most bombastic celebration in our and anyone else's history. We all need it. We all deserve it. Here's to 2021," KISS said.
In a year when stages have been dark globally and fans have been craving a true live music experience, Landmarks Live Presents is set to deliver the largest KISS show of the band's storied career, with numerous world record attempts for the largest-ever pyro display. Putting nearly 400 crew members back to work for the first time in eight months, the production will take extraordinary on-site Covid protocols including daily testing and biometric crew wristbands to ensure the highest safety standards for the entire event.
Performed in front of a live Covid-screened and safe audience in Dubai, this will be a first-of-its-kind, hybrid, live-ticketed, and livestreamed event. Filmed with more than 250 cameras and 360-degree views, the show will be filmed in 4K and can be seen globally with a 1080p livestream and ticketing powered by Tixr and available on any computer, mobile, and Apple TV. Tickets for the live stream portion are available now at KISS2020Goodbye.com.
The show will also feature a live pre-show that can be streamed for free. The KISS concert and pyro show will feature numerous price points to accommodate all New Year's Eve revelers safely from home. While the show will be broadcast live timed to midnight in Dubai, all of the streaming packages allow a replay option so fans can rewatch timed to their own midnight festivities.
Full SiriusXM Broadcast Schedule
Ozzy's Boneyard
December 31 at 8pm (premiere)
January 1 at 1am, 7am, and 4pm
January 2 at 1pm
January 3 at 12am and 6pm
Hair Nation
January 1 at 12pm and 7pm
January 2 at 2am and 9pm
January 3 at 2pm

Classic Rewind
January 1 at 10pm
January 2 at 8am and 5pm
January 3 at 11am and 10pm

---
---