Behind the Scenes of 'Kimberly Akimbo': A Candid, Live Interview with the Talented Cast
Go inside the acclaimed musical now!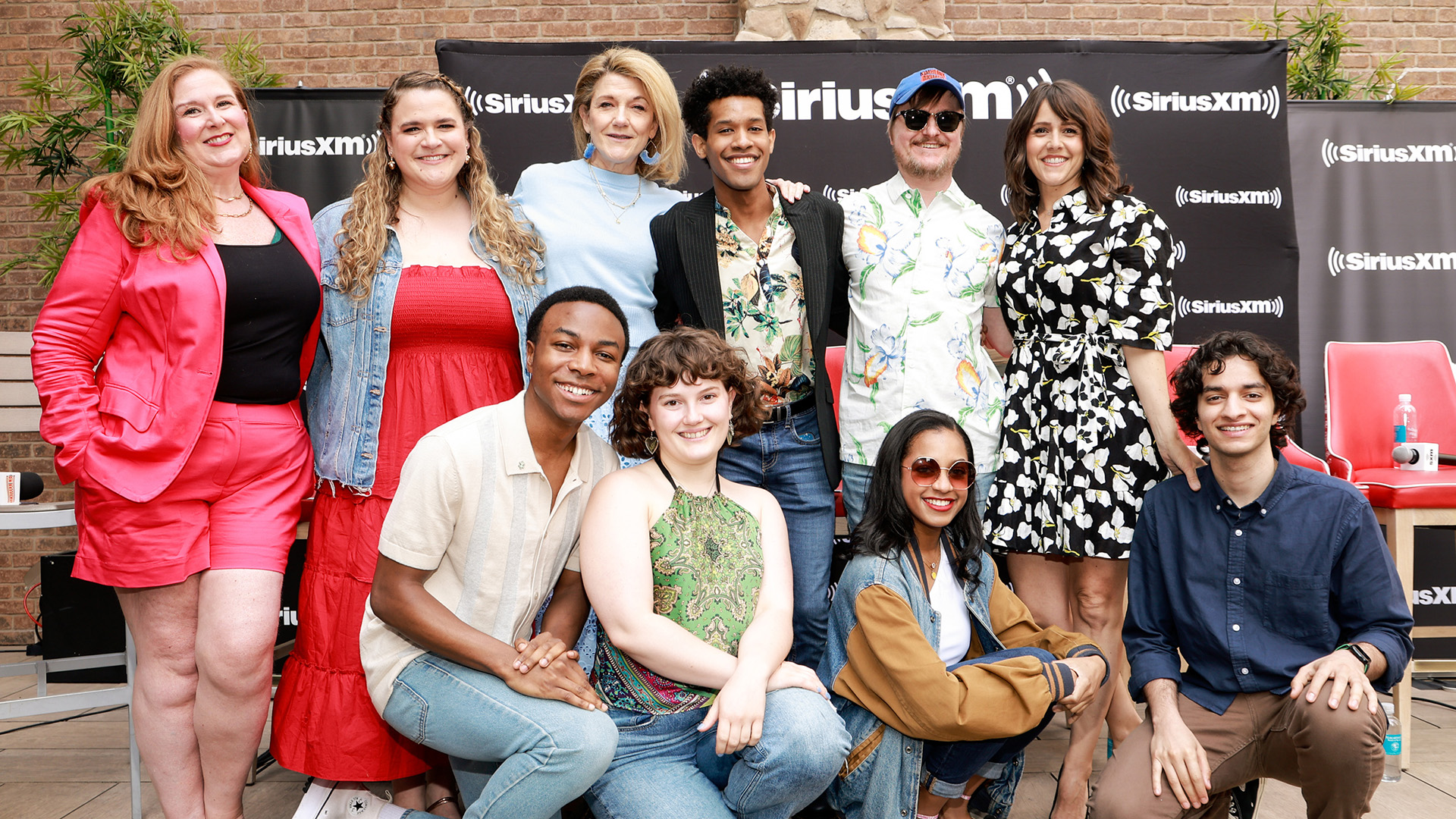 SiriusXM took Broadway fans straight to the heart of Times Square with a captivating Town Hall-style interview featuring the talented cast of the eight-time Tony-nominated musical Kimberly Akimbo.
Recorded live at Margaritaville with an enthusiastic audience, the event showcased the incredible chemistry and camaraderie among the stars, including Victoria Clark, Bonnie Milligan, Justin Cooley, Steven Boyer, Alli Mauzy, Olivia Elease Hardy, Nina White, Fernell Hogan, and Michael Iskander. Hosted by Julie James, the interview offered an exclusive glimpse into the behind-the-scenes world of this critically-acclaimed production.
---
Hear the Kimberly Akimbo Town Hall on the SXM App
---
Victoria Clark & Justin Cooley Share Their Special Bond On and Off Stage
During the discussion, Tony Award-winning actress Victoria Clark opened up about her connection with co-star Justin Cooley, saying, "I feel like we're soulmates in a way. When I met Justin, there was an instant connection. Obviously, there are some maternal feelings there as well. I'm very protective of him because this is his first time being away from his family in the big, bad city. But all of these young people in our show have given me my youth back in a way. They are incredibly talented, generous, and loving, and they are really the backbone of our show."
Reflecting on working with Victoria, Cooley shared his initial apprehension, stating, "I was very intimidated by the prospect of working with her because I knew she was illustrious and talented and so acclaimed. But she wasn't annoyed by my inexperience; instead, she extended a hand to me and made us all feel like we had something special to say. She's not only a mentor and a maternal figure but also a best friend and a sister in everything."
Victoria Clark Rediscovers Her Silly Side & Champions Women in Leading Roles
Victoria Clark, known for her exceptional talent and grace, expressed how much fun she has had working on Kimberly Akimbo. "It's the most fun I've had in so long without drinking! This role has allowed me to reenter the world of my teenage years. Kimberly, in many ways, is just an unedited version of myself. I do have a very silly side, and this particular piece is bringing it out. It's been very liberating," she shared.
Addressing the importance of showcasing older women in leading roles, Clark emphasized, "They intentionally wrote a role for an older woman because there aren't enough of them. We are sidelined in general in this culture, and the older we get, the more we're sort of dismissed. The great thing about this piece is that it's been a real rebirth for me personally. I've had an opportunity to really rethink what I thought I wanted and focus on the stories I want to tell. This has been a huge gift."
Olivia Elease Hardy & Nina White's Journey from Friends to Co-stars
Olivia Elease Hardy recalled her audition process and how she ended up staying at Nina White's place in New York City. "I got the initial self-tape from my agent back in 2021, and then I got a callback in the spring. I had just moved to New York, and I needed a place to stay. Nina generously offered her couch, and that's how it all began," Olivia recalled.
Nina chimed in, adding, "I had just moved to New York myself and had a futon but not much furniture. When Liv needed a place to stay, I offered her the futon. We ended up reading with each other and quickly developed a deep bond … It's been amazing to have one of my closest friends beside me throughout this entire journey."
The interview allowed fans to witness the camaraderie, genuine friendship, and shared passion for storytelling among the cast members of Kimberly Akimbo. With Victoria Clark leading the way and a talented ensemble supporting her, this award-winning Broadway show continues to captivate audiences and make a powerful impact on the stage. Listen to the full Town Hall on the SXM App now.
Note: The quotes in this article have been transcribed and edited for clarity and coherence.
---
---
---