Kevin James returns home to Long Island for 'Kevin Can Wait'
Kevin James chatted with SiriusXM Comedy Greats' Jim Breuer about the Mets, the Jets and his new show Kevin Can Wait.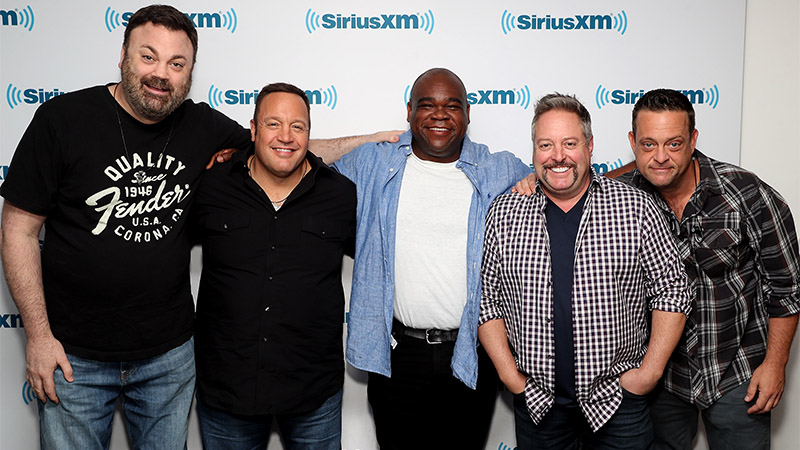 NEW YORK, NY – SEPTEMBER 19: (L-R) Actors Chris Roach, Kevin James, Leonard Earl Howze, Gary Valentine and Lenny Venito attend SiriusXM Studios to promote 'Kevin Can Wait' on September 19, 2016 in New York City. (Photo by Cindy Ord/Getty Images for SiriusXM) *** Local Caption *** Chris Roach;Kevin James;Leonard Earl Howze;Gary Valentine;Lenny Venito
Kevin James lives like a normal Long Islander: He's a family man, die-hard Mets and Jets fan and knows how to fold his pizza just right.
But then there are the moments you're reminded of his celebrity status as a blockbuster comedian … like when he casually mentions hanging out in pal Billy Joel's home.
James was practicing playing piano with the pianoman for a comedy bit Joel wanted to do at a concert, he said during an interview with SiriusXM's Jim Breuer about his new sitcom, Kevin Can Wait.
"It came out unbelievable. And the joke was he was going to say, 'I don't recognize that song' and then sit down and play the right one, but I thought that the song it really sounded so good, the beginning part, I said, 'I don't know if the joke's going to work now because it's so much like the song,'" James said. "I go, 'Should I play it worse?' And he literally without missing a beat said, 'I don't think you can.'"
At our studios, James was joined by Kevin Can Wait stars Leonard Earl Howze, Lenny Venito, Christopher Brian Roach and Gary Valentine (his real-life brother).
The show about retired cops brings him back to his roots — and not just figuratively. It's his return to the small screen after nine seasons of The King of Queens, and production is actually on Long Island, where he was born and raised.
"I want Long Island to be a character. I want to go to the exterior shots of just delis and pizzas — all these places on Long Island that you see and hear, and all the people we're using, a lot of great comics from Long Island," he said. "And people are so funny and fantastic that you might not be able to get the shot here or there. That's what I want to use, this homegrown talent that's there. It just became a big thing. I want to be at Citi Field, I want to be here or there. It's such a great place, and there's never really been a sitcom that's show here before."
Kevin Can Wait airs Mondays at 8:30 p.m. ET on CBS, and you can hear Breuer's full interview with the cast on SiriusXM Comedy Greats (Ch. 94) at 6 p.m. ET Thursday.
For a free 30-day trial, check out http://www.siriusxm.com/freetrial/blog. 
---
---
---