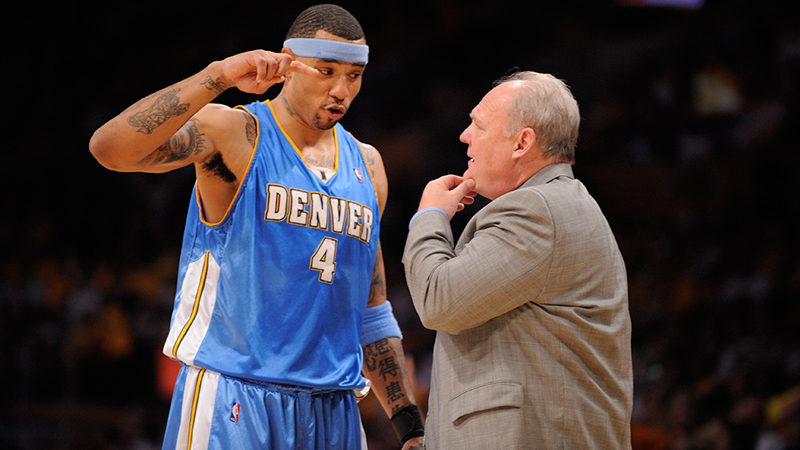 Denver Nuggets forward Kenyon Martin and George Karl talk during the first half against the Los Angeles Lakers at Game 1 of the NBA Western Conference finals playoff basketball series, Tuesday, May 19, 2009, in Los Angeles. (AP Photo/Mark J. Terrill)
Kenyon Martin isn't going to sit back and let George Karl's comments slide.
The former NBA power forward joined "Off the Dribble" on Thursday to comment on Karl's new tell-all book, "Furious George," which suggests that Martin, as well as Carmelo Anthony, didn't learn to "act like a man" because they had no father present while growing up and compared them to "spoiled brats you see in junior golf and junior tennis."
Martin, of course, took issue with the statements.
"George didn't know me; George didn't know my mother, how I grew up; George didn't know anything about me," Martin said. "It was reckless, it was careless and it was uncalled for."
Having played under Karl in Denver for seven seasons, Martin dished it out as well when talking about his former head coach.
"I wasn't the only (Nuggets) player that had issues with George Karl," Martin said. "I'm going to speak up, I'm not going to sit back and let him attack my character and disrespect the job that my mother did raising me and my sister."
Listen to the full comments below:
Catch the latest on SiriusXM NBA Radio, XM ch. 88, Sirius 207.
Photo Credit: AP Photo/Mark J. Terrill
---
---
---