Kelly Clarkson kicks off Jenny McCarthy's new Inner Circle series talking about parenting & singing
Jenny McCarthy interviewed Kelly Clarkson for her first Inner Circle event.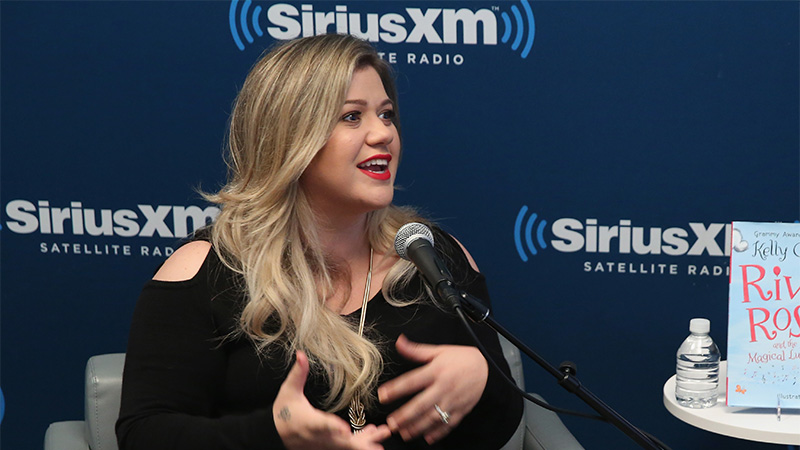 Jenny McCarthy launches new series, "Inner Circle," on her SiriusXM show "The Jenny McCarthy Show" with first guest Kelly Clarkson on October 5, 2016 in New York City.
Kelly Clarkson loves her transformation from Miss Independent to mom of two. Pregnancy? Not so much.
"If something happens, it's a miracle of God," she joked, telling Jenny McCarthy she and husband Brandon Blackstock both got "fixed" after welcoming son Remington Alexander in April. "I literally told my OB-GYN on the table … I was like, 'If I get pregnant again, I will find you.'"
The original American Idol kicked off McCarthy's new monthly motherhood series, Inner Circle, which will feature conversations with celebrity guests and experts focusing on everything from pregnancy and parenting styles to women's health and self-esteem issues. During the show's inaugural episode, Clarkson talked about parenting, singing and her new children's book inspired by her 2-year-old daughter, River Rose and the Magical Lullaby.
"Nothing is beautiful, nothing is magical," she added of giving birth. "I remind my children every day of their lives what I did."
Though the pop star is now hard at work on a new album, a fan watching our Facebook Live asked if she'd ever consider judging a talent show like the one that catapulted her career.
"I think I've done that quite a bit," she said.  People always ask me that, especially The Voice — my husband manages Blake [Shelton] — but people always ask me if I'd ever do it, and I love shows like that. I just don't know if people are like over that. Like, 'Oh good, you're doing a singing competition, that's new.'"
As for The Voice, Clarkson threw her support behind new coaches Miley Cyrus and Alicia Keys: "Two chicks, I love that. … I just love that they're all very different personalities. I think that's entertaining."
Something else entertaining: McCarthy challenging her to a sing-off in which they tried to sing the correct lyrics to New Kids on the Block and Clarkson's own songs. (Clarkson admitted that back in the day, she was into "bad boy" Donnie, aka McCarthy's now husband.)
Will River follow in her famous mother's footsteps?
"She sings off-key. But she's 2, I don't know if it'll get better. … I always say, though, you don't have to sing on key to make it in this industry," Clarkson quipped. "People have proved that, but I don't want her to do this. If she wants to do it, great, but I'm going to push for teacher or doctor or anything else. … I just think she's going to grow up too privileged to not grow thick enough skin. I grew up and I had a pretty thick skin with my upbringing. Yeah, I just don't think she'll be able to handle it well. Because people are mean, you know?"
She shared a story about just how mean haters can get.
While pregnant with River, someone wrote to her, "I hope your baby chokes on their umbilical cord and dies.'"
"Right?" she said after the audience in SiriusXM's New York City studio gasped. "I'm like, 'You're going to hell, whoever said this.' … I've gotten [people calling me] ugly, fat troll. I've gotten everything."
The Jenny McCarthy Show airs live Monday to Friday at 10 a.m. ET (with rebroadcasts Monday to Friday at 8 p.m. ET) on SiriusXM Stars (Ch. 109).
Hear the full interview with Clarkson on Friday at 8 p.m. ET.
For a free 30-day trial, check out http://www.siriusxm.com/freetrial/blog.
---
---
---