Kate Hudson tells Howard Stern she loves being single
Kate Hudson opened up on The Howard Stern Show.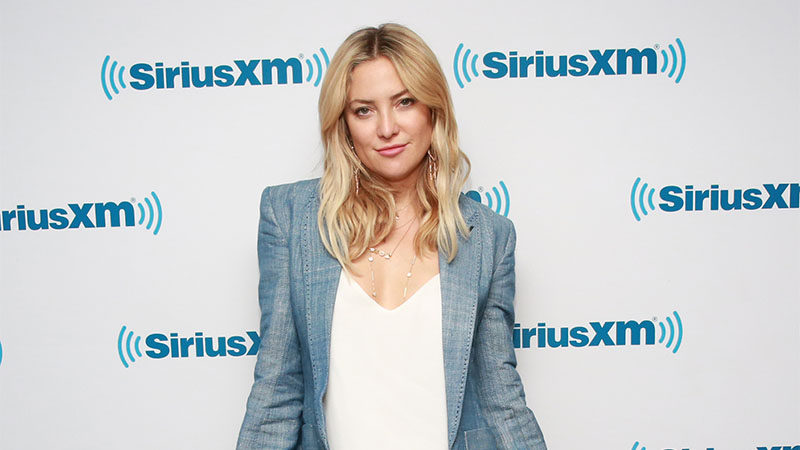 Click to hear Howard Stern's full interview with Kate Hudson On Demand.
Given her seven-year marriage to The Black Crowes' Chris Robinson and three-year engagement to Muse frontman Matthew Bellamy, there's a misconception that Kate Hudson only dates rockers.
"When people are always like, 'You like musicians,' it's like, no, I like music people," the actress told Howard Stern on Wednesday. "I'm more attracted to musicianship. … I have such appreciation for really good songwriters. And there's certain voices, they do little things that make you crazy. You're like, it's such a God-given gift."
Unlike the Almost Famous role that became her big break, Hudson isn't a groupie. She's a talented singer in her own right, wowing the world with an impromptu performance of Prince's Nothing Compares 2 U at her mom Goldie Hawn's charity event last spring, and continues to write her own music.
It could be in her blood: The Deepwater Horizon star's biological father is musician Bill Hudson, though she and brother Oliver consider Hawn's longtime love Kurt Russell to be their dad.
"My mom never spoke poorly of [Bill Hudson], and I was a real tough little girl. I understood what was going on. I did understand that it didn't have to do with me and Oliver. We did understand that. Maybe not at a cellular level, but on a cognitive level, yes," she said. "It was whatever that issue was for them, I did understand … and my mom and Kurt were so great at not putting us in the middle."
Joking that she has her therapist "on speed-dial," Hudson added, "I think forgiveness in any aspect of something that is complex is the greatest tool to be able to separate that attachment. So for me, I really do recognize whatever those issues are [they] are just something he has to live with, and that must be painful for him. So I forgive him."
As for Russell: "When you have a father like Kurt, who's sort of been there for the hard stuff … he's not a perfect man, no one is. But the trust that I got from him in terms of his dependability was just priceless for me."
Being raised by acclaimed actors wasn't always an advantage, though.
"I was aware of the fact that I'd always get asked questions about my family, and I really wanted to just do it on my own terms," she said.
"Which is good your name is Hudson," Stern quipped.
"Yeah, it allowed me to kind of go a little under the radar for like five seconds," she said with a laugh. "The first role I got was Escape from L.A. with Kurt, and I remember sitting with my family and they were kind of like, 'OK, well this is gonna happen, you're gonna start getting movies and stuff,' and I just didn't want to do anything that was affiliated with my family at the time. I just wanted to do it on my own. And the truth is I do have a family that is an encouraging family, so for us, we grew up with parents that would only ever want all of us kids to be better at anything than them. And I understand that now having my kids. I want them to fly as high as they can."
Hudson also revealed that she was originally cast as "the sister" in Almost Famous and fought hard to land the role of Penny Lane, auditioning four times despite director Cameron Crowe's hesitations.
"I'll never forget that phone call, when I got that part," she said.
With sons Ryder, 12, from her marriage to Robinson and Bingham, 5, from her relationship with Bellamy, Hudson has been a single mom for more than two years — and she's "really happy."
"I've got great kids and friends. I'm not like shutting out men. But for the first year after Matt, I did," she said.
"I'm a jump in the deep-end girl, always have been since I was little," she explained. "As you get older and you realize that some of those moments in your life haven't served you the best … the more observant I got, I actually felt way more in my own skin. And less reactive and less … impulsive."
"And now you're able to discern a little bit better who's right for you and who's wrong, because even your friends say you pick the wrong kind of guy. You even just said a few minutes ago," Stern said.
"Yeah, but they're still hot," she admitted, laughing. "The ones that you know are like 'ugh, you're so bad.'"
"You're attracted to the wrong guys,' Stern surmised.
"It's fine," Hudson said. "No, I'm attracted to the good ones too!"
Hear Oliver Hudson's hilarious call into the show — and insight into his sister — in the clip below:
Deep Water Horizon hits theaters Friday. For more coverage of The Howard Stern Show, follow @sternshow on Twitter. Hear more Howard on SiriusXM Ch. 100 and 101.
---
---
---