Celebrating K-Pop Stars This Korean-American Day
For Korean-American Day, we're looking at the enormously successful K-Pop idols who can call both the United States and Korea home.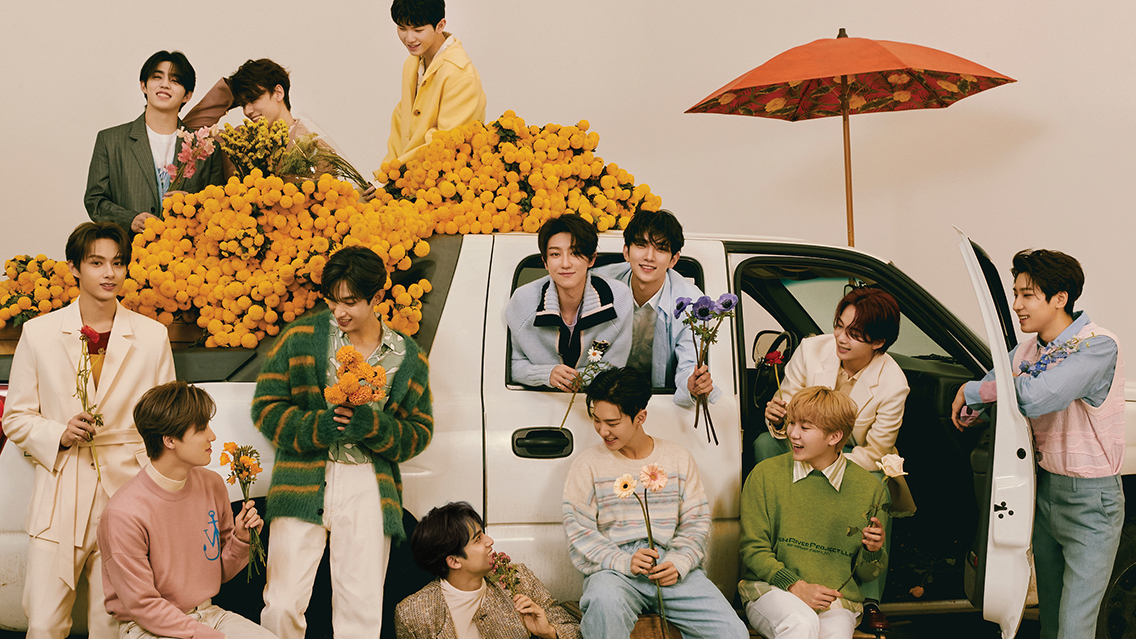 Today, January 13, marks Korean-American Day, which is the perfect opportunity for us to celebrate some of our favorite Korean-American K-Pop idols making their mark in the industry.
These talented artists all share the same experience of leaving their hometowns at a young age to head to South Korea in search of stardom. For many of them, the journey towards achieving their dream is also a chance to connect with their cultural background and family history. And, when they have finally reached inconceivable levels of success, Korean-American idols give back to both countries by introducing Korean entertainment and culture to the United States.
To keep on top of all things K-Pop, listen to SiriusXM K-Pop on the SXM App.
---
SEVENTEEN — Joshua and Vernon
The deceptively-named boy group SEVENTEEN actually boasts 13 members who come from all over Korea, China, and the United States. Lead vocalist Joshua, hailing from California, and rapper Vernon, born in New York, comprise the group's Korean-American line. On SEVENTEEN's ninth mini album, Attacca, the duo wrote and performed the English-language bonus track "2 Minus 1." The song evokes a nostalgia for the early 2000s pop-punk music scene — a setting Joshua and Vernon would be all too familiar with, having grown up in the States during its peak.
Watch Vernon and his members DK and Seungkwan play a game of "Hot or Not" while visiting SiriusXM:
Soloist  — Jessi
In recent years, the K-Pop world has been shaken to its core by one artist in particular: Jessi. Born in Queens, New York, Jessi is hip-hop through and through. She's outspoken, rebellious, and bursting with self-confidence. Until recently, she was signed to PSY's (of "Gangnam Style" fame) label, where her songs "Nunu Nana" and "Zoom" sky-rocketed her to fame. Her high-octane beats and punchy, provocative lyrics make her stand out from other K-Pop artists. When she left America for Korea, she certainly didn't leave her attitude behind.
NCT 127 — Johnny
Chicago-born and raised, Johnny was accepted into SM Entertainment, one of the most famous K-Pop companies in the industry, after a global audition event held in the city. He recently thanked Chicago for an epic homecoming when his group, NCT 127, brought their second world tour to the city's United Stadium. With his rap, dance, and bilingual skills, Johnny has contributed immensely to the group's success in the States. He's always ready to inject some eccentric American humor into any situation, never failing to make NCTzens and his members, especially fellow North American Mark, cry with laughter.
Watch Johnny and NCT 127 talk to Hits 1 (Ch. 2) about their US fans:
LE SSERAFIM — Huh Yunjin
In her rock star introductory teaser for LE SSERAFIM, Huh Yunjin says, "I wanna change the idol industry." With only eight months since her debut, Yunjin has certainly held true to such an immense promise. K-Pop artists are not always given the creative freedom by their companies to express themselves truly, but this hasn't stopped Yunjin from writing and releasing two of her own songs, "Raise y_our glass" and "I ≠ DOLL." Yunjin's defiance in conforming to industry norms makes her a perfect fit for LE SSERAFIM's girl power image. And with her guitar and piano skills, background in opera singing, and vivacious stage presence, Yunjin is showing herself to be one of this generation's most unique idols.
Tomorrow X Together — Huening Kai
Born in Hawaii to a Korean mother and German-Brazilian-American father, Huening Kai fills the maknae position of the five-piece boy group Tomorrow X Together, also known as TXT. The group is with the same company, BigHit Music, as global phenomenon BTS. Though their sunbaenims are definitely not easy acts to follow, TXT has been able to distinguish their own unique identity and emerge as leaders of K-Pop's fourth generation. Huening Kai's impressive vocals are a vital part of the group's popularity, and his musicality is definitely a family trait. His dad performed as a singer in China, and his younger sister, Huening Bahiyyih, recently debuted in the idol group Kep1er.
Check out Huening Kai, fellow TXT members, and iann dior discuss how their insane collaboration came about:
---
Love all these K-Pop artists? Listen to their music and more on SiriusXM K-Pop on the SXM App.
---
---
---