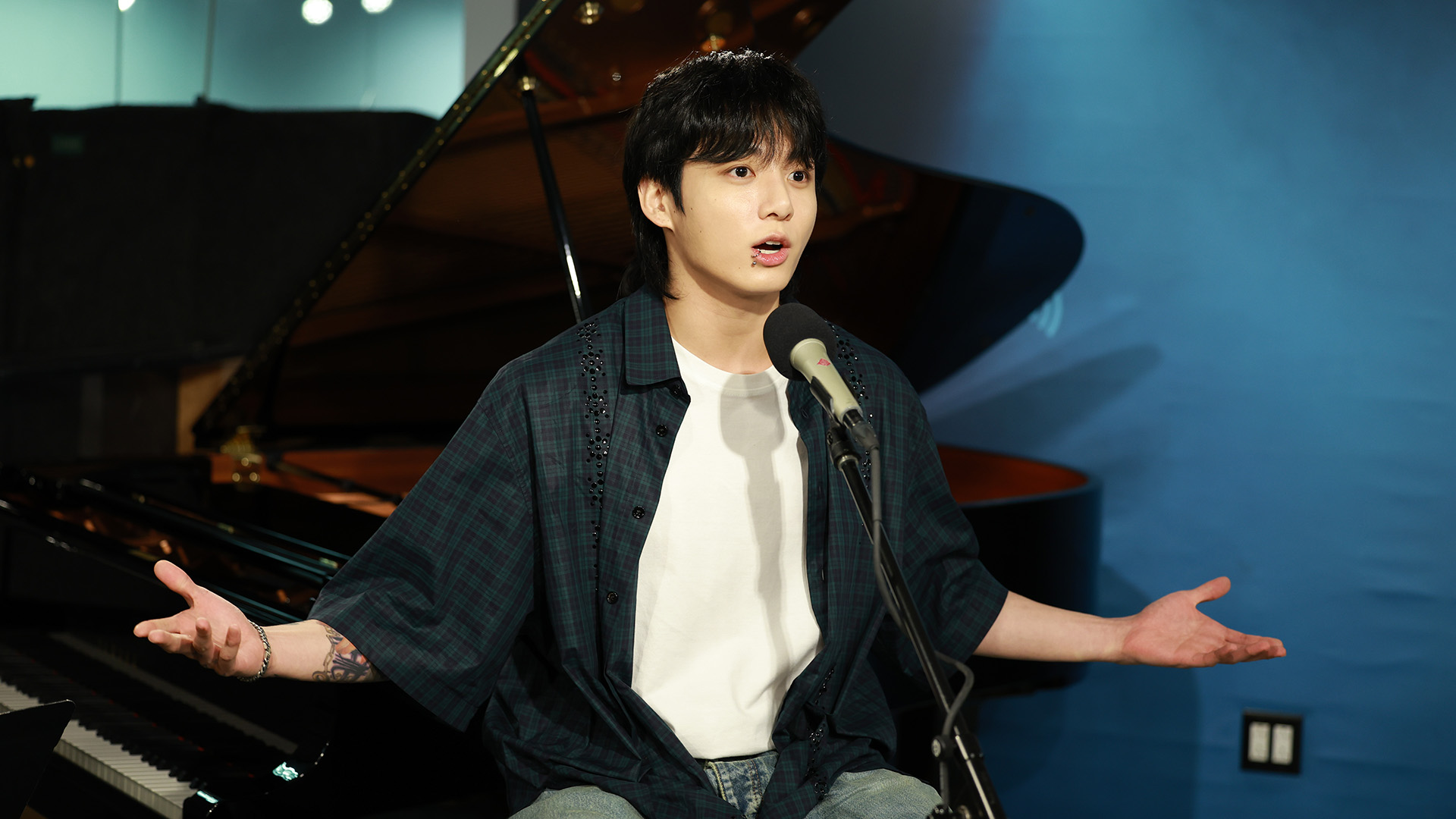 Jung Kook's first solo release outside of BTS, the single "Seven" featuring Latto, broke records the day it was released and continues to make history.
With K-Pop's popularity growing globally by the day, as evidenced by the chart success of "Seven," Jung Kook stopped by the SiriusXM Studios in New York City to speak with host Michael Tam about all things K-Pop on the SiriusXM K-Pop channel. The exclusive channel, which is available year-round on the SiriusXM App, is currently airing on SiriusXM Channel 105 through August 22 at 3am ET.
---
Hear Jung Kook, BTS, and more chart-toppers on the SiriusXM App now
---
"Seven" just spent its fourth consecutive week at No. 1 on both the Global 200 and Global Excl. U.S. (which ranks the top songs based on streaming and/or sales activity from more than 200 territories around the world excluding the U.S.) charts, and Jung Kook became the first Korean solo artist to top either chart for that long. BTS' "Dynamite" is the only other song to stay at No. 1 for that long. Jung Kook is also the second Korean solo artist to spend four consecutive weeks in the top 30 of the Billboard Hot 100, behind only PSY for his 2012 hit "Gangnam Style."
Jung Kook recognizes that he and BTS are still an entry point for many new listeners. When it comes to the perfect song to introduce the genre, he recommended BTS' "IDOL" because "this song has a powerful vibe that can show this is what Korean Idol is," he said.
Despite the language barrier, K-Pop continues to resonate with people of all over the world. "RM said this once," Jung Kook remembered of his BTS bandmate. "Of course, performance is one of the main features of K-Pop, and K-Pop is a pleasure to the eyes and ears. But there are also a lot of related elements and contents that come along with. And RM said that it's like a 'full package.'"
Jung Kook's interview with Tam comes a few weeks after he appeared on SiriusXM Hits 1's The Morning Mashup, where he revealed how he counts on his BTS bandmates like they're older brothers and also delved into "Seven."
"You could think that 'Seven' is just a light song about love, but if you watch the music video, there are a lot challenging situations," Jung Kook told The Morning Mash Up. "It sends a message that 'I'll always be by your side no matter what.'"
---
---
---