Julia Louis-Dreyfus remembers shooting her 'bittersweet' last Seinfeld scene
Julia Louis-Dreyfus is already earning rave reviews for Veep season 5 as President Selina Meyer, who's trying to tighten her white-knuckle grip on the Oval amid a (hilariously) unprecedented tied election. "She's a heinous person, and yet I love her profoundly," … Continued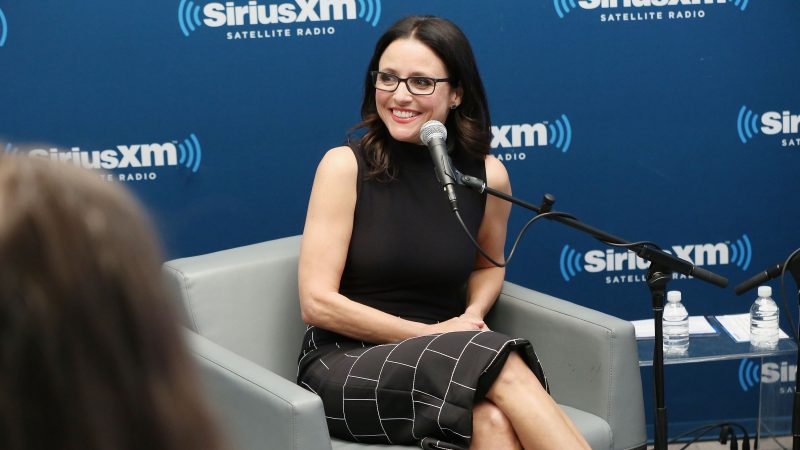 Julia Louis-Dreyfus (Photo by Cindy Ord/Getty Images for SiriusXM)"
Julia Louis-Dreyfus is already earning rave reviews for Veep season 5 as President Selina Meyer, who's trying to tighten her white-knuckle grip on the Oval amid a (hilariously) unprecedented tied election.
"She's a heinous person, and yet I love her profoundly," Louis-Dreyfus said last week during SiriusXM's Town Hall with Jess Cagle.
The actress has been playing comedic TV characters since her breakthrough role in Seinfeld, the show about nothing that she admitted didn't exactly seem like it had the makings of a pop culture phenomenon back in 1989.
"NBC had given it a four-episode order, so it's not like anybody thought, 'We're on to something huge here,' " she said. "And then we shot those four episodes, and I remember thinking, 'These shows are great, but they're too stupid to pick it up.' "
But NBC did, and Seinfeld ran for nine critically acclaimed seasons.
"I have to say that when we were making that show, we enjoyed it maybe even more than the public," said Louis-Dreyfus, 55. "We were the show's biggest fans, and you can't beat that."
Filming the 1998 series finale, she added, was "definitely bittersweet."
"That night of our last show was a night I will not soon forget," she said. "We used to say the motto of our show was no hugging, no learning, which is true, and we were never trying to teach anything or have a sentimental anything. But in fact, we were very sentimental, and that night when we all sort of bid goodbye was unbelievably wrenching, I have to say."
Watch the videos above for more Seinfeld memories and her favorite Veep one-liner. (Hint: It involves a croissant and a sex toy.)
Listen to the Town Hall on SiriusXMs' Entertainment Weekly Radio (Ch. 105).
For a free 30-day trial, check out http://www.siriusxm.com/freeTrial.
---
---
---