Jordan Rodgers teased JoJo Fletcher about bad kissers on The Bachelorette
"I kind of underestimated the spotlight that's on the show," The Bachelorette winner said.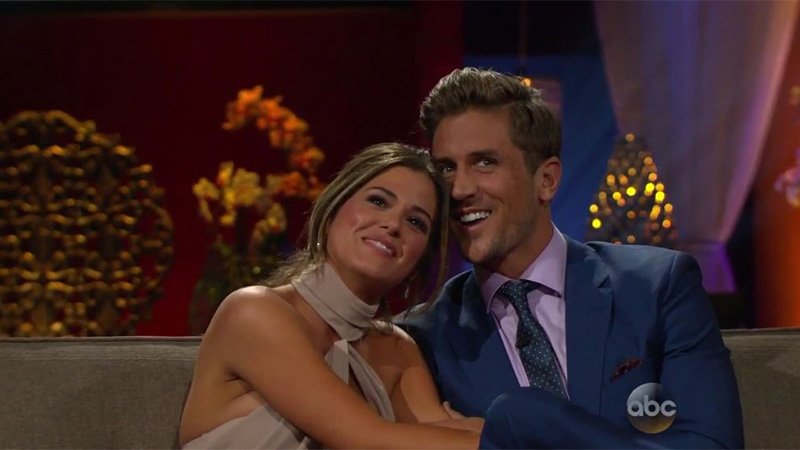 Jordan Rodgers understandably didn't watch more than the first few episodes of The Bachelorette's latest season, now fiancée JoJo Fletcher's journey — to borrow the franchise's favorite word — of dating him and 25 other handsome suitors.
But what little action he saw, he made light of.
"What was funny early too was finding out who all the bad kissers were and the ones that she didn't quite enjoy," he said Tuesday on The Jenny McCarthy Show. "We have that fun kind of relationship, we tease each other, so I definitely gave it to her a few times."
Now that their engagement is public, Fletcher and Rodgers moved into a new home in Dallas, Texas, currently devoid of Internet or furniture — but full of pre-wedding bliss.
The former pro football player discussed the downside of finding love on reality TV, including the exposure of his personal life. (The whole country now knows he's estranged from his brother, Packers quarterback Aaron Rodgers, and that an ex-girlfriend accused him of infidelity.)
"I kind of underestimated the spotlight that's on the show after filming and when it starts airing, but I made a promise to myself that I was going to be open to the process and open to falling in love, and if I was going to have that happen or if I was going to better myself through the process even if I didn't find love, I had to open up and be honest about everything," he said. "You have to kind of be true to yourself, and that's what I tried to do at every step of the way. That's one of the reasons I didn't the first time with her dad ask for her hand in marriage. I was being honest, I was being true to what I thought that conversation should be, the trust and faith you should have in me, and I felt like I wasn't quite there yet, so just at every step of the way I tried to act as if this were real life, if this wasn't in Thailand and I was at the grocery store, would I be having these feelings, would I be having these conversations and being honest along the way. But it's not easy."
The Jenny McCarthy Show airs weekdays from 10 am to 12 pm ET on SiriusXM Stars (Ch. 109).
For a free 30-day trial, check out http://www.siriusxm.com/freetrial/blog. 
---
---
---