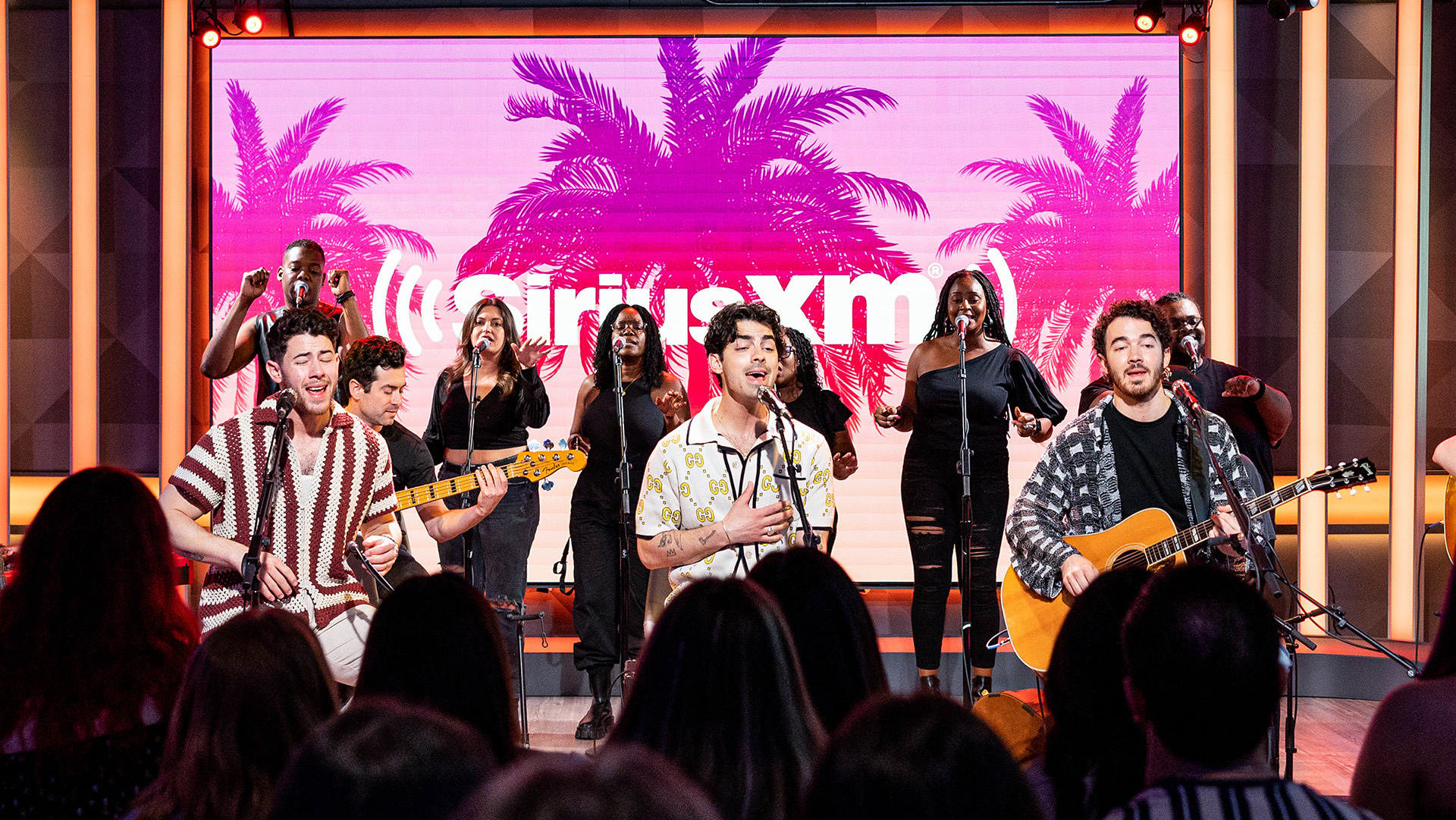 Jonas Brothers have gifted us both the song of the summer and the album of the summer. Eighteen years later, we're still catchin' feelings for you!
Kevin, Joe, and Nick Jonas helped us celebrate the grand opening of the SiriusXM Miami Studios with the first-ever Celebrity Session on SiriusXM Hits 1 (Ch. 2) from the 305, featuring a live performance and interview. The brother trio performed "Summer Baby" — the newest single from The Album, out today (May 12) — "Wings," and "Waffle House" before speaking at length with Mack and Jen in front of a live studio audience during an exclusive interview.
Stream it all on the SXM App now.

What are their wives' favorite songs off The Album?
The three biggest Jonas Brothers super fans are Kevin, Joe, and Nick's wives — Danielle Jonas, Sophie Turner, and Priyanka Chopra Jonas. Nick revealed that Priyanka's favorite songs off The Album are "Wings" and "Summer Baby." Joe said Sophie gets mad is "Walls" isn't on their setlist, so he assumed that must be her favorite. And according to Kevin, Danielle loves "Little Bird" and "Vacation Eyes."
The Album Tracklist
"Miracle"
"Montana Sky"
"Wings"
"Sail Away"
"Americana"
"Celebrate!"
"Waffle House"
"Vacation Eyes"
"Summer in the Hamptons"
"Summer Baby"
"Little Bird"
"Walls" feat. Jon Bellion
---
Jonas Brothers Announce 'Five Albums, One Night' Stadium and Arena Tour
---
What is the hardest Jonas Brothers song to perform live?
Jonas Brothers are heading out on a new tour this year where they'll be playing all five of their albums every single night. After telling the Morning Mash Up that as they've gotten older, some of their earlier songs have become difficult to perform live because of the tempo, the brothers admitted that their 2007 song "Inseperable" is still a challenge.
"It's not that it's hard, it's that it's really fast," Nick clarified.
"Some of those earlier albums, our voices were a little bit higher," Joe said. "So, naturally, adjusting for 2023 is a project in itself."
---
---
---