Jonah Hill describes the pressure of officiating pal Adam Levine & Behati Prinsloo's wedding
"They love each other and they match each other very much," Jonah Hill said of the happy couple.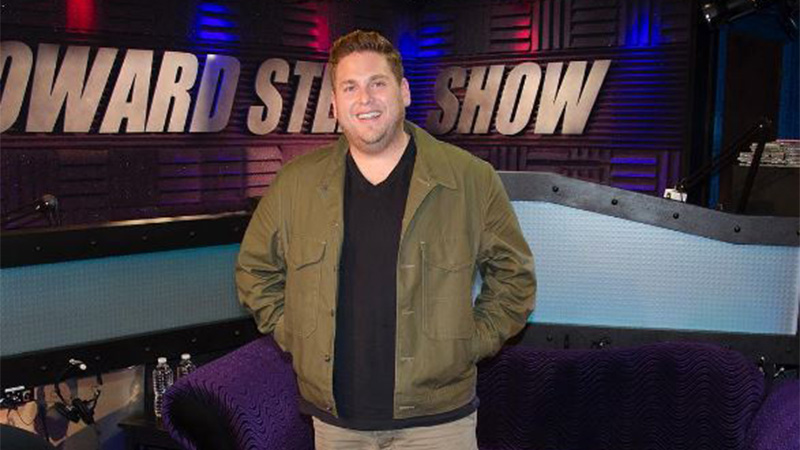 Jonah Hill: actor, producer and … wedding officiant?
The War Dogs star stopped by The Howard Stern Show on Wednesday and recounted his nerves over presiding over the 2014 nuptials of his lifelong friend Adam Levine to model Behati Prinsloo.
First things first: Hill clarified his relationship with the Maroon 5 rocker isn't some A-list arrangement.
"Genuinely, my dad moved to LA when he was 14 when his dad died, went in to check in to the junior high, and he sat next to Adam's dad. They didn't meet through some bulls*** Hollywood scenario," he said. "We're literally like brothers basically. And so even though our lives went in wildly different directions, he's a beautiful person … and like an older brother to me, very much so."
The expectant parents tied the knot in sunny Los Cabos, Mexico — but Hill wasn't exactly feeling relaxed.
"I'm writing all these things and I realize I have no jokes in the whole thing because I'm just trying to be thoughtful and respectful and loving to these people who asked me to do this main honor. And then the f**king sick egomaniac inside of you goes, 'Well I gotta kill a little bit, too,' you know? And then Adam's like, 'Yeah you should be funny, be funny,' you know?" he said. "I still had an amazing time, but afterwards, like I finished the thing but f**king like drained. I left the party after like 30 minutes."
He also had stiff competition in the bride's dad, a preacher from South Africa who took the podium for the religious part of the ceremony.
"He comes up and he kills it and he kind of goes back to sit back down. He looks back at me like, 'That's how it's done, motherf***er," Hill said, laughing.
"Yeah, f**k you. Maybe I'm not in the movies, but I know how to make a wedding ceremony," Stern cracked.
As for the actual vows, "I just talked about what they're both like," Hill said. "They are very easy people to say nice things about. You know some weddings you go to and you're like, 'These f**king people are gonna get divorced in like a month.' They love each other and they match each other very much, and it wasn't false."
The comedian did include one zinger, though.
"I think the joke I wrote was like Adam and I grew up together … and you know it's so nice to see all the people we grew up with skateboarding here, like, Gene and Stevie Nicks and Robert Downey Jr.," he said. "I was kind of giving him s*** because there were a lot of really famous people at his wedding."
For more coverage of The Howard Stern Show, follow @sternshow on Twitter. Hear more Howard on SiriusXM Ch. 100 and 101.
For a free 30-day trial, check out http://www.siriusxm.com/freetrial/blog. 
---
---
---