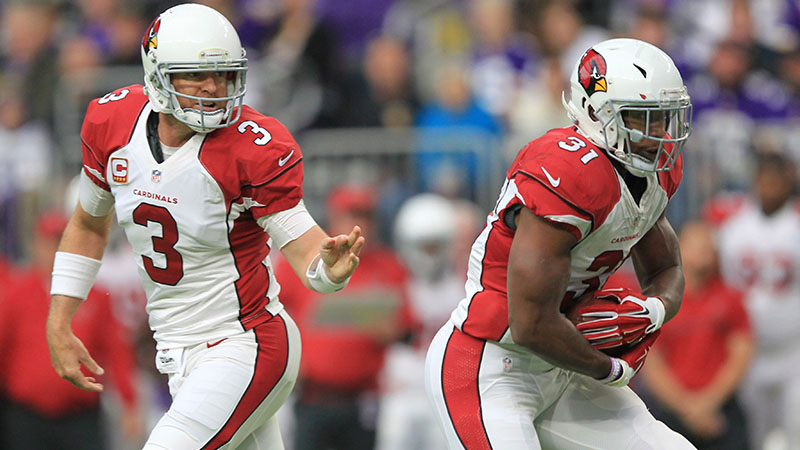 Arizona Cardinals quarterback Carson Palmer, left, hands the ball off to running back David Johnson, right, during the first half of an NFL football game against the Minnesota Vikings Sunday, Nov. 20, 2016, in Minneapolis.
Carson Palmer is 37 years old, which means the window of opportunity for the Arizona Cardinals to win a Super Bowl with him as their starting quarterback would figure to be nearly closed.
That is, unless David Johnson is doing the figuring.
'I feel like we're all just trying to get better'
As the Cardinals' running back explained to Bruce Murray and Brady Quinn on the SiriusXM Blitz, there is no greater sense of urgency because of Palmer's age.
"I don't feel like it, I don't feel like that's the case at all," Johnson said. "I feel like we're all just trying to get better, all just trying to learn and make sure that we, especially me, can bounce back from last season and improve and make sure and hopefully just put more wins under our belt."
'He's the one who was a big impact on me'
Johnson said he has seen no changes in Palmer since the running back joined the Cardinals as a rookie in 2015. All Johnson sees is someone who does his best to make him and the rest of his teammates better.
"He's the one who was a big impact on me learning the playbook and me learning what I needed to do, especially on blitz protection," the running back said. "So he's been doing that ever since I got in the league. And he's always been a leader, he's always the one who's trying to talk to us, make sure we're staying motivated, make sure our confidence stays up, our morale stays up. And really nothing has changed from my rookie year to last year and even this year. I feel like Carson is a great player, a great leader, and it really just comes down to me knowing what I've got to do to help him out."
'Oh, everything is feeling great, knee is feeling great'
As for his the MCL injury that Johnson suffered at the end of last season, he said his recovery his going well.
"Oh, everything is feeling great, knee is feeling great, no problem at all," Johnson said. "I'm able to run and cut and I've been doing everything throughout OTAs, throughout these practices, minicamp and it's feeling good."
---
---