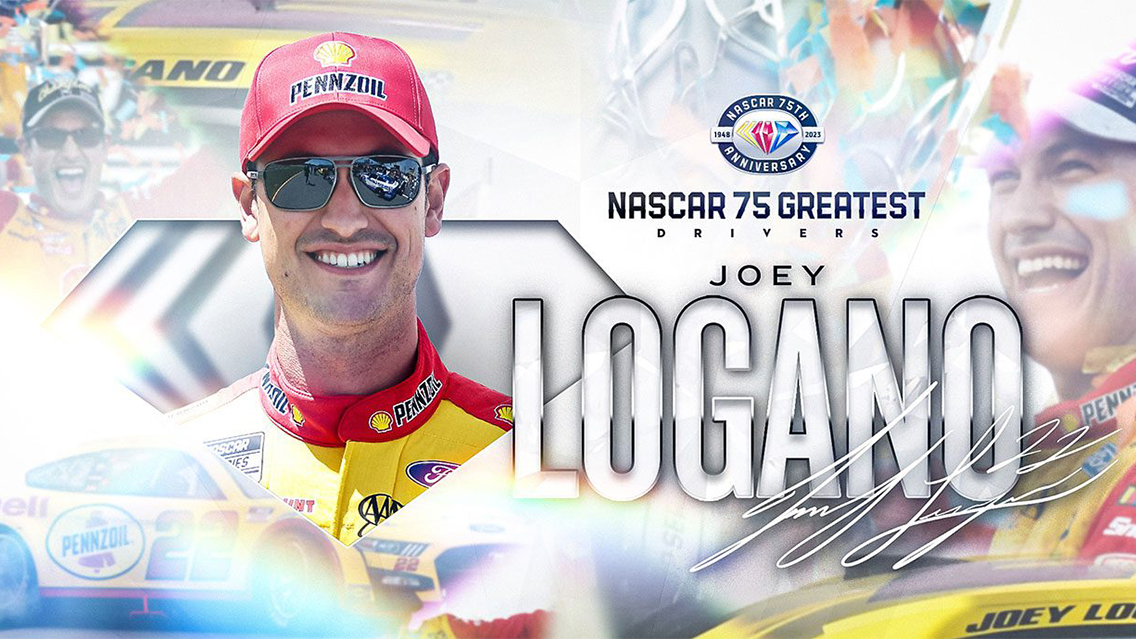 Joey Logano officially joined NASCAR's 75 Greatest Drivers list! Announced on SiriusXM NASCAR Radio on May 9, 2023, the two-time NASCAR Cup Series Champion joined an elite list that includes Dale Earnhardt, Richard Petty, Jeff Gordon, and many more.
---
24/7 Talk & Races: Stream SiriusXM NASCAR Radio (Ch. 90) on the SiriusXM App
---
Originally launched in 1998, NASCAR's best-drivers list expanded from 50 drivers to 75 drivers this year in honor of the sport's 75th anniversary.
Behind the Wheel with Joey Logano
Tuesdays on SiriusXM NASCAR Radio, Logano takes listener calls and tweets while discussing the NASCAR news of the week during this hourlong exclusive feature. Stream previous episodes of Behind the Wheel with Joey Logano.
Joey Logano's Road to the Top
Joey Logano is a name synonymous with speed and success in the world of NASCAR. Over the years, this NASCAR Cup Series (NCS) Champion has not only left his tire marks on the asphalt but has also made a significant impact through his philanthropic efforts.
Logano's journey into NASCAR began in 2013 when he joined Team Penske. Despite the pressure of being hailed as one of the sport's fastest rising stars, he wasted no time in proving his worth. In his first season with the team, Logano secured one victory, two pole positions, and an impressive 12 top-10 finishes.
The following year, he had a breakout season, amassing five wins, 16 top-five finishes, and lead 993 laps of competition. However, it was in 2015 that Logano truly became a household name, when he clinched a series-high six victories, including the iconic Daytona 500. His triumphant sweep of the Playoff Round of 12 solidified his status as a force to be reckoned with in NASCAR.
In 2018, Logano reached the pinnacle of his career, winning the NASCAR Cup Series championship. Behind three race victories, including a thrilling season finale at Homestead-Miami Speedway, he secured the coveted title, marking a significant milestone in his career and delivering Team Penske's second NCS crown.
Despite not securing another championship title in the years following his 2018 win, Logano continued to excel in the NCS. In 2021, he and his team claimed victory in the inaugural Bristol Dirt Race, earning a spot in the NASCAR Playoffs for the seventh time in eight seasons. Although they narrowly missed a Championship 4 appearance, they closed the season ranked eighth in the final series standings, showcasing their consistent performance.
In 2023, Joey Logano is gearing up for his 16th NCS season and his 11th year with Team Penske. With two Cup Series Championships under his belt, Logano remains one of the most prominent figures in the sport. He's set his sights on securing a second-consecutive title and his third championship in the last six seasons. NASCAR fans worldwide are eagerly anticipating what Logano will bring to the track in the upcoming season.
Joey Logano's Work Off the Track
Logano's impact extends far beyond the racetrack. Together with his wife Brittany, he was honored with the 2018 Comcast Community Champion of the Year award for their outstanding charitable efforts through the Joey Logano Foundation. With a focus on providing second chances to kids and young adults in crisis, the foundation has contributed over $4.99 million to various organizations.
In addition to his philanthropic work, Logano owns and operates Clutch Studios in Huntersville, NC, a state-of-the-art facility utilized by the NASCAR industry for various commercial needs. During the challenging times of the COVID-19 pandemic in 2020, Logano and his foundation partnered with Elevation Outreach to establish a $1 million disaster relief fund aimed at providing essential supplies and meals to affected children and young adults.
Beyond the racetrack and his charitable work, Joey and Brittany are devoted parents to two young sons, Hudson and Jameson, and a daughter, Emilia, making him not just a racing legend but a cherished family man as well.
Joey Logano is undoubtedly a champion in every sense of the word, not only on the racetrack but also in the hearts of those he touches with his generosity and unwavering commitment to making the world a better place. His thrilling career and inspirational off-track endeavors make him a true hero both on and off the asphalt.
25 New Additions to the 'Greatest Drivers' List
In addition to Joey Logano, the following 24 drivers were added in 2023:
Jimmie Johnson
Matt Kenseth
Kevin Harvick
Kurt Busch
Kyle Busch
Sam Ard
Larry Phillips
Brad Keselowski
Martin Truex Jr.
Bobby Labonte
Dale Earnhardt Jr.
Jeff Burton
Ron Hornaday Jr.
Carl Edwards
Chase Elliott
Denny Hamlin
Ryan Newman
Sterling Marlin
Greg Biffle
Kyle Larson
Randy LaJoie
Mike Stefanik
Kasey Kahne
Tony Stewart
---
Get live trackside coverage of every national series race, and unparalleled daily NASCAR talk and analysis. Plus driver and pit crew audio, as well as interviews with team owners and other pro stock car racing insiders. Learn more about NASCAR on SiriusXM.
---
---
---