Watch Jim & Jeannie Gaffigan play 'How well do you know your Catholic spouse?' with Cardinal Dolan
It's almost 12 years too late for Jim and Jeannie Gaffigan to play The Newlywed Game — so Cardinal Timothy Dolan challenged them to a Catholic version of the quiz during SiriusXM's Town Hall. The devout comedian and his executive-producer wife … Continued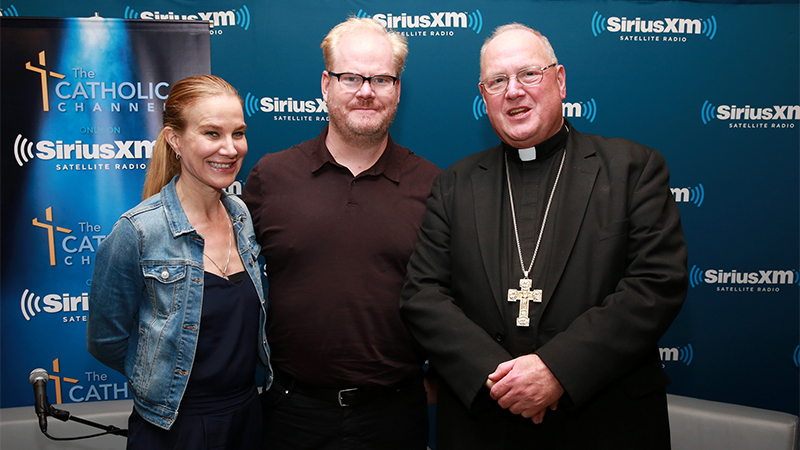 It's almost 12 years too late for Jim and Jeannie Gaffigan to play The Newlywed Game — so Cardinal Timothy Dolan challenged them to a Catholic version of the quiz during SiriusXM's Town Hall.
The devout comedian and his executive-producer wife were tested on each other's favorite pope, Bible verse and more.
Watch the video below to see how they did. (Spoiler alert: It's safe to say they're a match made in heaven.)

Cardinal Dolan also discussed his cameo as a bartender in season 2 of The Jim Gaffigan Show. During the second episode, Jim goes to hilariously great lengths to dodge a priest trying to get him more involved in parish extra-curriculars.
"What we wanted the episode to capture is some of the experience of being a Catholic and having this relationship with a priest that is asking you to do things," Jim explained. "But also providing a perspective that essentially this priest is helping everyone constantly, and just asking you to help other people."
"For one day, but that one day is just too much sometimes," Jeannie added.
"So we wanted to turn that on its side a little bit," Jim said.
The Jim Gaffigan show airs Sundays at 10 pm ET on TV Land. Listen to the full Town Hall on demand now on The Catholic Channel (Ch. 129).
For a free 30-day trial, check out http://www.siriusxm.com/freetrial/blog.
---
---
---