Jill Martin and Stacey Griffith Share Their Experiences with Breast Cancer
For Breast Cancer Awareness Month, friends Jill Martin (TODAY Show) and Stacey Griffith (SoulCycle) came together for a conversation about their health.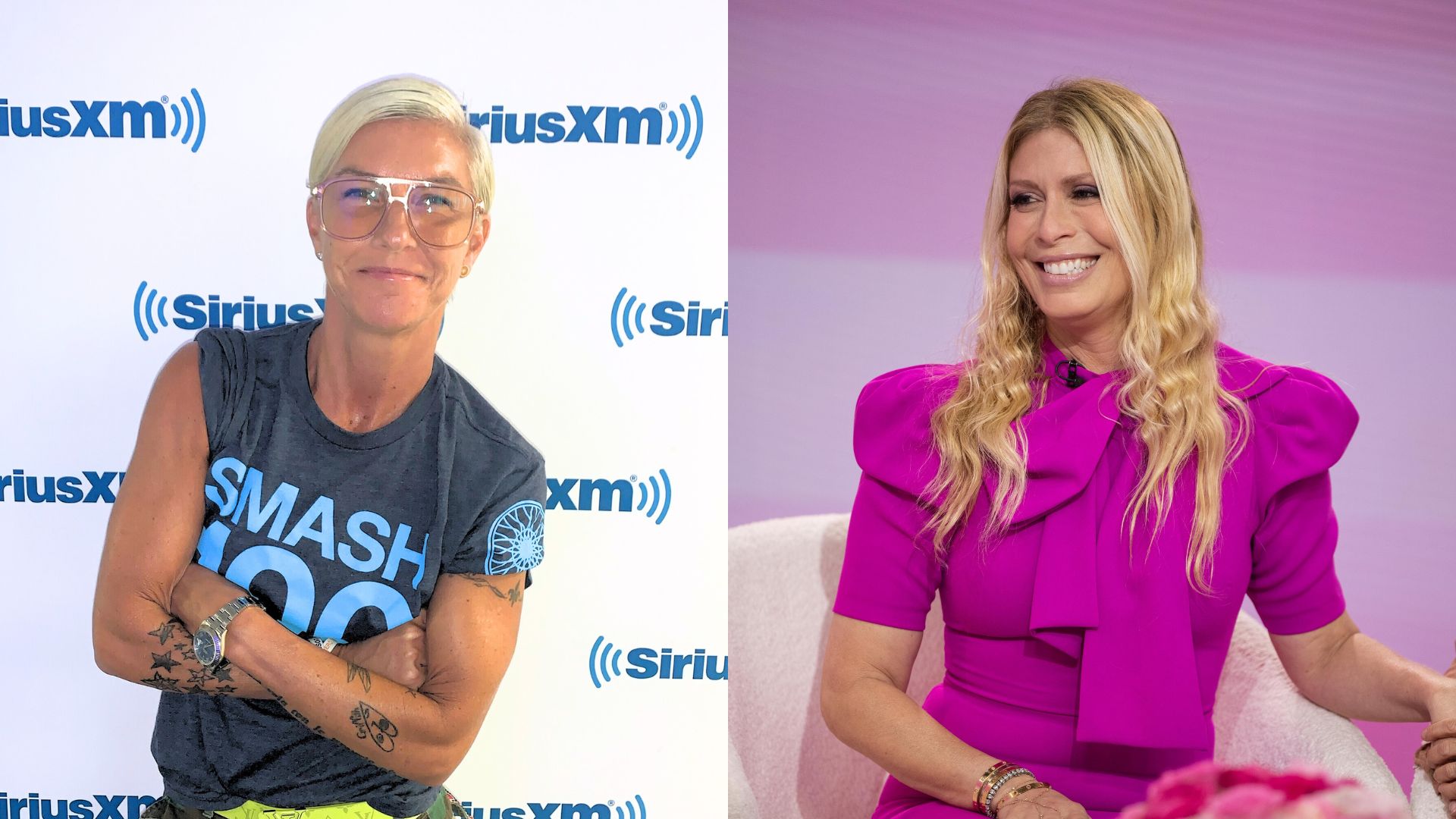 For Breast Cancer Awareness Month, TODAY Show lifestyle contributor Jill Martin and SoulCycle instructor Stacey Griffith came together for a powerful, heartwarming conversation on TODAY Show Radio (Ch. 108) about their experiences with breast cancer, as both women are currently undergoing treatment.
---
Listen to Jill and Stacey's breast cancer awareness special on the SiriusXM App
---
Close friends, Jill and Stacey spoke about testing, advances in technology, their own diagnoses, experiences with chemotherapy, cold-cap therapy, and their individual choices around working throughout treatment.
Jill's Family History & Genetic Testing
Jill and her surgeon, Dr. Elisa Port of Mount Sinai Hospital, first and foremost stressed the importance of testing for breast cancer in order to be proactive.
"I want to use this time properly because this could have been avoided, okay, through genetic testing," Jill shared at the start of the episode. "Again, for people who didn't know, my grandmother, we lost her to breast cancer. My mother is a 25-year breast cancer survivor … It's on my father's side. Doesn't run in my father's family. And if I had known, this could've been prevented, and so I could've taken steps."
Jill learned she was positive for the BRCA gene and scheduled preventative surgery, but unfortunately she had already developed breast cancer, and the need for preventative surgery turned into the need for immediate surgery. Had she known earlier about the BRCA gene, Jill said, she could've taken measures in her twenties that would've spared her the treatment she's undergoing today.
She also implored listeners not to put off their mammograms because "the alternative is worse." Jill continued, "Get the information, use it for your power, and you take the power into your hands so that you can take steps."
Dr. Port added, "Early detection, early diagnosis is key and gives you the best chance of survival, and also the best chance of survival doing less. There is no one-size-fits-all, and that's the huge advancement. Not everyone needs chemotherapy, but when you do, it certainly works."
Stacey's Path to a Diagnosis
Before her breast cancer diagnoses, Stacey shared, she had been experiencing serious menopausal issues, including brain fog and night sweats, before her partner, Michelle, noticed a lump in Stacey's breast.
"My mammograms had fallen behind because of Covid," Stacey explained. She'd struggled to get an appointment and eventually forgot about the lump, and it wasn't until an appointment with her gynecologist to address her menopausal symptoms that she remembered to have a professional breast exam.
Within 24 hours of that exam, Stacey had gotten an appointment with a breast specialist, who confirmed she did have breast cancer.
"At that moment, I became a Stacey Griffith that I did not know I was capable of becoming," Stacey said. "I never met this personality, I never felt her before. I was completely out of body, out of mind. I felt like I was on another planet."
Chemo: Meditation & Cold-Cap Therapy
While Stacey recently "rang the bell" to celebrate the end of her 12 rounds of chemotherapy, Jill is still in the middle of her treatment, and Stacey's next steps are surgery and radiation.
"The chemotherapy part for me, in my mind, with my mental health, is not the hardest part, which makes everybody go, 'What are you saying? Chemo sucks. It was awful. I don't know how you could say that.' And for me, I'm petrified of radiation," Stacey admitted, because she saw her late father go through it firsthand.
But, according to Stacey, Dr. Port told her that "this is the most amazing technology, this is how we zap it," and it's come a long way since her father's time.
To handle her anxiety, Stacey said, "I did so much meditating before everything," recommending the teachings of Dr. Joe Dispenza. "I had headphones in my ears all night long. I listened to him all night long. I would wake up early in the morning, take a cold outdoor shower in freezing cold water, and just — my meditations, I think, and the trial medicines and the chemo are what healed it. I really, positively think without the meditation part, I don't think that it would've been as easy for me."
Stacey — who regularly keeps her hair short and credits her lack of hair loss to her meditation — didn't choose to try cold-cap therapy the way Jill did. Mount Sinai describes cold-capping as an "approach [that] cools your scalp to a very low temperatures (-22 degrees Fahrenheit), which constricts blood vessels beneath the skin of the scalp. This reduces the amount of chemotherapy drugs that reach and are absorbed by the hair follicles. As a result, hair may be less likely to fall out."
"It is just such a brave choice to do that," Stacey said of Jill. "I'm an athlete, and I love ice baths, but I would not choose that just because I'm too much of a baby."
Even with the therapy, though, Jill shared that she lost an estimated 30 percent of her hair. "Everybody's choice is different," Jill said. "My choice to cold-cap — you know, my hair has always been my thing. I'm a secure person in the way I look. I always thought I'm pretty enough for whatever, I concentrate my efforts on other things. But it's definitely a commitment, and it's definitely something that I'm committed to doing through these last four [treatments]."
Choosing When to Work
Throughout her breast cancer treatment, Stacey made the decision to step back from both work and social media.
"I don't want to go into my job giving 50 percent of who I am as an instructor, because that's not who I am," Stacey said of her job with SoulCycle as a Founding Senior Master Instructor. "I have always shown up with 100 percent."
Although it's been hard, she explained that the choice not to work gave her more time to focus on her relationship and family. And even though she's now ready to become "a little bit more accessible" on social media, forgetfulness from chemotherapy and a quick temper from steroid treatment make tasks like posting regularly a frustration.
Stacey isn't yet sure when she'll return to teaching her spin classes. "The comeback class has changed its date many times," she acknowledged. "I thought I would be able to come back in January, which I doubt that will happen, just because everything starts in November, and then it's six weeks from that, and then there's another four weeks … so now we're already at February."
Stacey is anticipating a flood of new riders coming back to SoulCycle when she makes her return, as people who rode in her early classes almost two decades ago have promised to get back on the bike in honor of her breast cancer survival, and she wants the company to be ready for that as well.
"I just feel like the timing of me coming back has to be in-line with the timing of SoulCycle ready for a new generation of all of us riders," she said.
Jill, on the other hand, has continued working as best she can while in treatment because she wanted to document her journey in real-time and spread awareness of the importance of early detection. Her TODAY Show coworker Hoda Kotb went through her own breast cancer battle when she was diagnosed in 2007.
"The non-treatment weeks, I can get my mojo going, and I can look like myself, I can come to work. But the treatment weeks are f-ing hell," Jill shared. But, she added, "I want to leave this with hope and advancements in the technology so that you can live through chemotherapy and treatment if you need it."
---
---
---