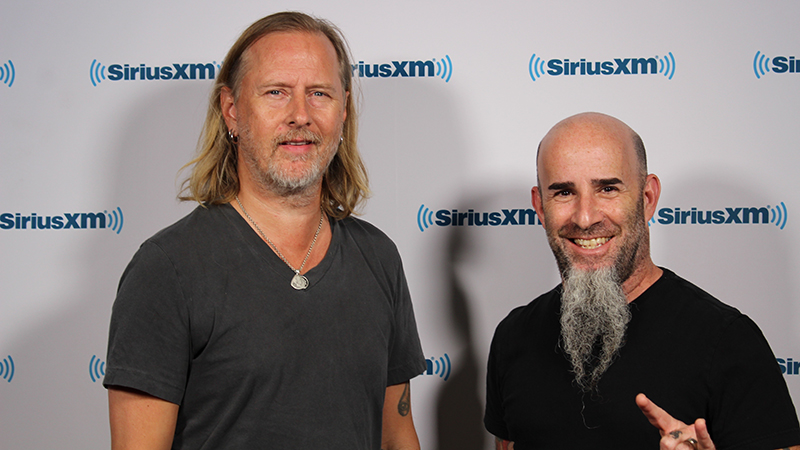 Throughout his career, Jerry Cantrell has performed double-duty as lead guitarist and principle songwriter for Alice In Chains. On the second episode of Never Meet Your Heroes on VOLUME (Ch. 106), host Scott Ian delved into Cantrell's approach to penning lyrics.
"It's mostly music first and then the music kind of evokes a vibe," Cantrell said. "Or [the lyrics] may just hit you at the time where something is stuck in your head or there's something that you feel passionately about."
Cantrell has penned some of Alice In Chains' most poignant and deeply personal songs like the hits Rooster, a tribute to his father, and Would?, a tribute to his close friend Andrew Wood. As he continues through his nearly 20-year career, Cantrell said it's getting more and more challenging to write lyrics that mean something to him.
"It gets a little more difficult to come up with stuff to write about because you've already written about so many vibes or subjects or situations or whatever," he said. "Music isn't really that hard, I can come up with riffs all day long, but lyrics always take the most time for me. I don't want to say something I don't mean or feel strongly about, so you kind of just got to wait until that happens."
As Ian writes music and lyrics for his band Anthrax, he empathized with Cantrell. However, the two agreed that the challenge of writing meaningful lyrics is part of the joy of making music.
"The cool thing about making music, and we're lucky enough to have been doing it for a number of years and been successful at it and still able to do it, is the fact that no matter what success you've had and no matter what you've written in the past, you have to start at a complete zero every time," Cantrell said. "It's terrifying. It's frustrating. It's a commitment. It's an amazing thing to go through. At the beginning of it, it feels for me, every time, like it's insurmountable, but you know that you've gone through it before, so you've got the benefit of the experience of 'this is the way it is every time.' What are we gonna come up with now? What are we gonna say now?"
Cantrell described the feeling of falling in love with music, citing Elton John and Fleetwood Mac as two of his early songwriting idols. Later in his career, Cantrell had the opportunity to work with John on a track and said, about the experience: "It's like a circle completing itself"
Besides songwriting, the Cantrell described Alice in Chains' first gig, a surprise 30-minute set that an artist sharing their rehearsal space offered.
He also touched on one night when the bandmembers, trying to survive as musicians, too advantage of a canned food drive taking place at the venue hosting their show.
Never Meet Your Heroes airs monthly on VOLUME (Ch. 106) on Thursdays at 7 p.m. ET with re-arings throughout the month.
---
---
---