Jackson sees 'improving, hard-working' Browns entering opener vs. Eagles
Everyone else — or so it seems — can laugh off the Cleveland Browns as the worst, or one of the worst, teams in the NFL before the season even starts. None of that seems to faze their first-year coach, … Continued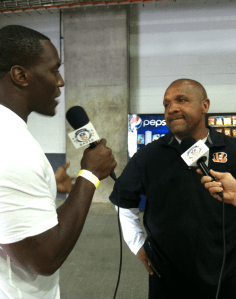 Everyone else — or so it seems — can laugh off the Cleveland Browns as the worst, or one of the worst, teams in the NFL before the season even starts.
None of that seems to faze their first-year coach, Hue Jackson. Despite all of the negative reviews from others, Jackson very much likes the team he is taking into Sunday's season-opener at Philadelphia.
'We have veterans that are class guys'
"I think we're a team that's improving, that's working hard each and every day," Jackson told Pat Kirwan and Jeff Rickard on Movin' The Chains. "We have some veteran players that I think are class guys, good players. We have a bunch of young players that are playing that I think we've done a good job of bringing along slowly.
"So you have an idea of maybe what it's going to look like on Sunday, but you never know until you play the game."
RGIII 'good player, good person'
One player Jackson fully expects to perform well from the start is the Browns' new starting quarterback. Robert Griffin III.
"I think he's a good player," Jackson said. "He's a good player, a good person, he's worked extremely hard and he's very talented, so he can play the position of quarterback and we feel very comfortable with him being our quarterback."
'Looks like a Jim Schwartz defense'
How comfortable does he feel about Griffin and the rest of Cleveland's offense facing the Eagles, who have one of the NFL's top defensive minds, Jim Schwartz, in his first season as their coordinator?
"It looks like a Jim Schwartz defense," Jackson said. "I mean, he is one of the best coaches in the National Football League. I think we all know that. I have great respect for him, great respect for his defensive football team and the players that they have. So we know it's a tall challenge, but every week there's going to be a challenge in the National Football League. We're going to always see the best of the best.
"We play in the AFC North, which we think is one of the toughest divisions in football, so we're up to the challenge. We've just got to go play sound football, take care of the football, try to get the football away from them and be really sound in the kicking game."
Jeff Fisher 'really pleased' with Jared Goff's progress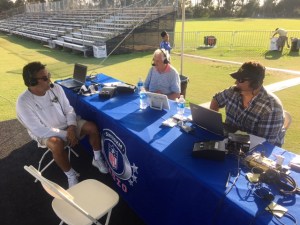 Don't worry about Jared Goff.
Going from the No. 1 overall pick of last April's NFL Draft to third on the Los Angeles Rams' quarterbacking depth chart is not an indication of a top talent's regression, according to his coach. Having Case Keenum begin the year as the starter, with Sean Mannion in the No. 2 spot, is part of a long-term plan at the position that will play itself out on its own schedule.
'He just got better and better'
"I thought he really had a good offseason, he finished strong through the OTAs," Fisher told Pat Kirwan and Jeff Rickard on Movin' The Chains while preparing his team for Monday night's opener against San Francisco. "He and Case threw at receivers and Sean threw at receivers during the break, and (Goff) came back and he just got better and better and better. And even though some negative things happened to him in the preseason, those things are OK. You learn from them. So really pleased with his progress and where he's at."
For now, Keenum has "the best feel" for playing quarterback in the NFL, and that's why he is starting. With Goff, it's all about giving him the best chance for success.
'Don't want to put Jared in position to fail'
"I just don't want to, we don't want to put Jared in a position to fail," Fisher said. "It requires time. … It's reps, and that's what you need, so he's getting mental reps. I wanted him to go through the first regular-season week in his career without the pressure of knowing that he's a play away from playing. So he can relax and take things in and go through it and experience it. He's done just that.
"Outstanding young man. Very, very mature for his age. Great in the huddle. Guys tease him here and there, he gives it right back to them. And the guys can really see why we did what we did and looking forward to whatever time that is and whenever that happens to him taking over the reins."
---
---