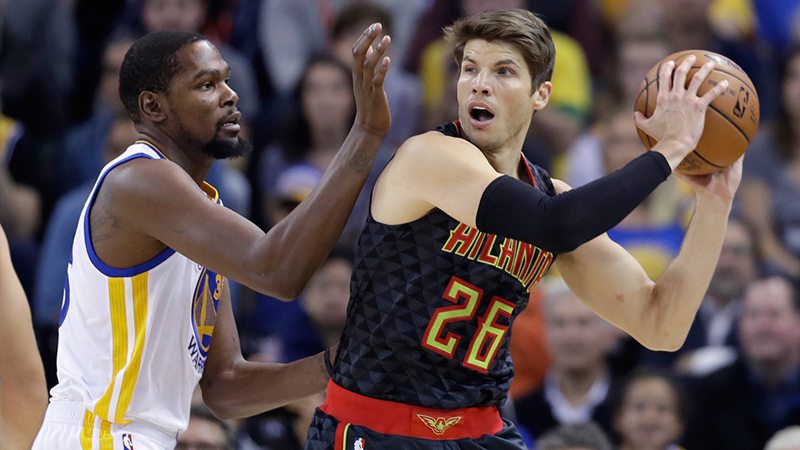 Golden State Warriors' Kevin Durant, left, defends on Atlanta Hawks' Kyle Korver (26) during the first half of an NBA
basketball game Monday, Nov. 28, 2016, in Oakland, Calif. (AP Photo/Marcio Jose Sanchez)
Milwaukee Bucks guard Jason Terry isn't a fan of a likely trade that will send Atlanta Hawks sharpshooter Kyle Korver to the NBA champ Cleveland Cavaliers.
The deal isn't done yet, but ESPN reports that "under the current framework of the trade, the Cavs will send Mo Williams, Mike Dunleavy and a protected 2019 first-round pick to the Hawks for Korver, sources said."
While Terry understands why the Cavs are leaping at the opportunity to land Korver, he can't wrap his mind around why the Hawks would send Korver to Cleveland.
"Why would you ever trade one of the best shooters you have in our game?" Terry said. "You don't trade him to Cleveland, send his ass to Utah…Sacramento!"
He added: "I would trade within the conference but not to the champs."
Catch all the latest NBA news on SiriusXM NBA Radio, XM ch. 86, Sirius 207.
Photo Credit: AP Photo/Marcio Jose Sanchez
---
---
---