Rep. James Clyburn on Black History Month, the John R. Lewis Voting Rights Act & more
James Clyburn joined 'Julie Mason Mornings' to discuss the John R. Lewis Voting Rights Act, President Biden's potential Supreme Court nomination, Black History Month, and more.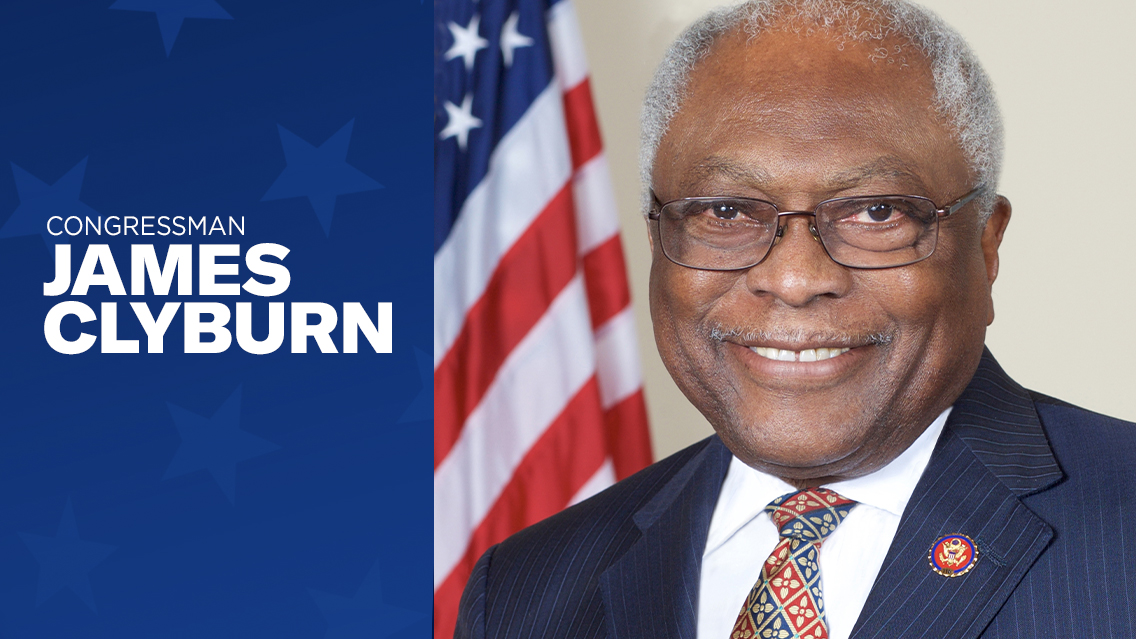 James E. Clyburn is the Majority Whip and the third-ranking Democrat in the United States House of Representatives. He joined Julie Mason, host of Julie Mason Mornings on SiriusXM's non-partisan POTUS Politics (Ch. 124), as part of SiriusXM's celebration of Black History Month. Stream the full episode on the SXM App now for a limited time.

The influential leader weighed in on the timetable for getting voting rights legislation passed and recent discussion of the Electoral Count Act, saying, "The electoral count, in and of itself, is limited to presidential elections, but the electoral count can be expanded and should be expanded to count all votes, irrespective of what the office might be. And so, when you've got states that have used the Supreme Court decision Holder v. Shelby County, that decision is being used to put forth legislation that would nullify votes. And so, what we are trying to do with the John R. Lewis Voting Rights Act, is to get beyond, or to get to the point, of addressing the issue of pre-clearance. So, the electoral account, or apply to all elections, not just presidential elections. So, I would hope that that is the window."
Mason asked Majority Whip Lewis if the idea is to add on to the Electoral Count Act, other measures perhaps contained in the Freedom to Vote John R. Lewis Act, to which he answered, "Yes. That's exactly what I'm saying."
In the wake of Justice Stephen Breyer stepping down, President Biden has vowed to nominate the first Black woman to serve on the Supreme Court. Majority Whip Clyburn has been a leader in the process and an advocate for US District Judge J. Michelle Childs, who was nominated by President Biden last month to the powerful D.C. Circuit Court of Appeals.
While her confirmation is still awaiting, she is already among the list of SCOTUS candidates. Clyburn told Mason that Childs has cross-party appeal, adding that "both the United State Senators from her home state are Republicans and both of them would vote for her."
This week, the Democratic caucus was surprised to learn of Sen. Ben Ray Luján's stroke diagnosis. The 49-year-old New Mexico Democrat is expected to make a full recovery, but it's unclear when he will come back to the evenly-divided Senate.
As to what it means for the immediate agenda, Majority Whip Clyburn told Mason, "It makes it harder to get anything done."
Clyburn started out Black History Month by speaking at Gonzaga High School. His message is one of respect for everyone's history, but noting to have respect for someone, you must know their history. He illustrated his point by saying, "Historically Thomas Edison was an outstanding inventor, maybe the greatest this country has ever produced, but his light bulb that we all give him credit for, was not perfected until he got the filament that had been invented by a Black guy, the son of former slaves. It was not until Lewis Latimer's filament was put into Thomas Edison's light bulb that it worked, and such is the case today. There is so much that many white people have to offer and just as much that many Black people have to offer, and it's not until we get to the point of understanding that and giving credence to that, that the world will improve."
Tune in to live, unfiltered conversations just like this one on Julie Mason Mornings, 6-9am ET every weekday on POTUS Politics, or listen anytime on the SXM App. For more information on POTUS Politics, click here.
---
---
---