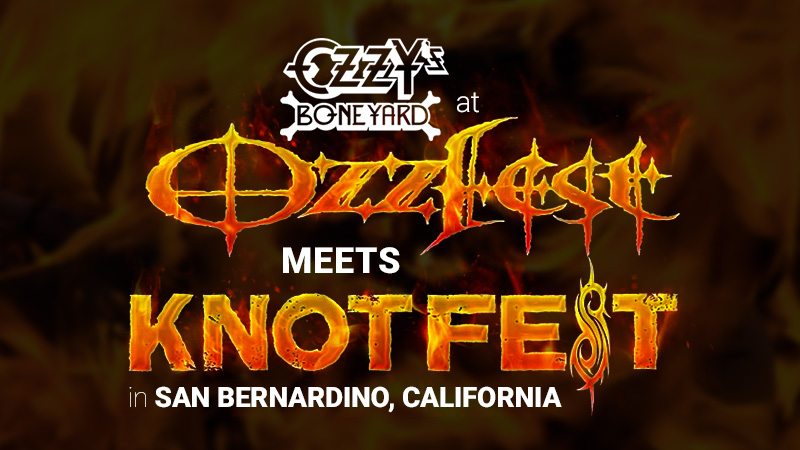 With Ozzfest 2016 quickly approaching, Jack Osbourne's anticipation was palpable during his preview special on Ozzy's Boneyard (Ch. 38). As a teenager, Osbourne had a hand in helping organize the hard-rock and heavy-metal festival with his parents and shared some of his favorite memories.
This year's festival will be a special two-day event called Ozzfest Meets Knotfest, held September 24-25 at the San Manuel Ampitheater. Saturday's Ozzfest is headlined by the Ozzy Osbourne-led Black Sabbath, and features bands like Disturbed, Megadeth and Hatebreed. Jack shares a close friendship with the members of Hatebreed thanks to a unique experience at Ozzfest 2002 in Denver.
"I was 15 years old. I proceeded to go to the back of Hatebreed's tour bus where a young man was tattooing people, I was probably not very sober, and proceeded to get a tattoo for the first time," he recalled. "And I totally forgot that I got a tattoo, and I woke the next day like, 'Ow, what's with my back?' It was very, very bad, but quite a funny story and now I'm covered in tattoos, thanks to Hatebreed."
Osbourne reminisced on how much the festival shaped his teenage years.
"I literally grew up on Ozzfest, that's how I spent my summer," he said. "As soon as we got done with school, head on out to Ozzfest and spend two months riding around on buses and getting in incredibly insane kind of trouble. Police sometimes, narrowly avoid arrests."
With his wild years behind him and the scope of fatherhood reshaping his outlook on life, Osbourne said he's not so sure he'd want the same experience for his two daughters.
"As a father, I don't necessarily know if I'd let my daughters grow up on Ozzfest," he said. "Definitely probably a safer environment for guys, that's for sure. Not that anything crazy evil goes on but I don't know, I just wouldn't want my daughters around all that."
Osbourne pointed to Ozzfest 1998, which featured a star-studded lineup with the likes of Black Sabbath, Tool, Limp Bizkit and System Of A Down, as the best installment of the festival.
"That's the year where it wasn't super crazy. It felt really organic and fun, all the bands knew each other and everyone just had such a great time. Anyone that has been with us since it started, Ozzfest '98 is the crowning jewel."
For a free 30-day trial, check out http://www.siriusxm.com/freetrial/blog
---
---
---